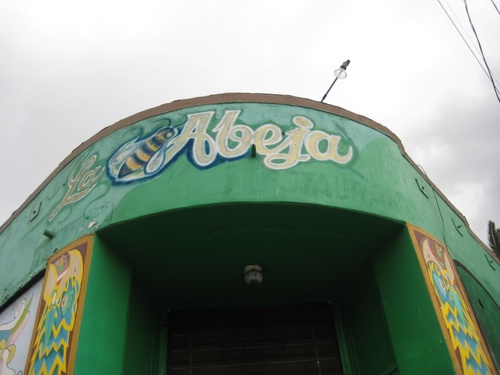 I've never understood why some people are so crazy over La Abeja, a Mexican-American eatery with a fanatic following. I always thought it was kinda whatever. I used to volunteer at Flor y Canto just a few doors down, and only ordered from La Abeja maybe 2 or 3 times, and that was within a 4 year span! Yet, people would always come in and mention how lucky it was the place was so close by, but I never told them I didn't eat there.  A few years ago I ordered the HR's during a sidewalk sale, they come in a plastic plate covered in saran wrap. I was surprised that they were pretty decent and had made a mental note to check them out properly sometime in the future. Well, the future was a few weeks ago, click ahead to see my review!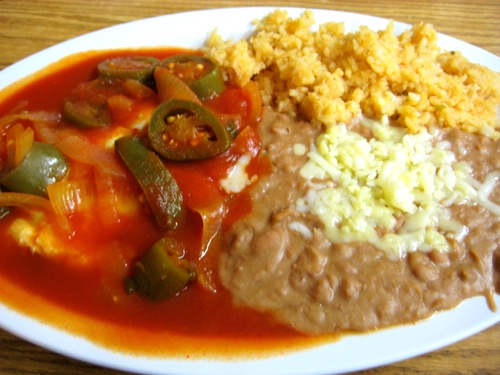 Just like I remember, they still use jalapeño rounds as a garnish. A unique touch, but I didn't eat those chiles. The sauce is actually quite good, with a spicy punch to it, and I like how they flood the perfectly cooked eggs with the sauce. I'm pretty sure there were some passed thru oil tortillas underneath, but I can't remember anymore. I really should take notes. But I can always go again, so what's the big deal? The rice is pretty good, as are the beans, but they taste like they have lard. This is an old school restaurant, so I bet they do. With tortillas de harina on hand, this was a good cruda breakfast. I forgot to check the price, but it's reasonable.
The family that runs this place are really good people, they're friendly and likeable. I bet that's the reason for the fascination with this place, because the food is good but nothing special. But this place is almost an institution, and I can't say they don't deserve the claim. I'm not going to be coming here regularly but I can understand why people like this joint. It's good for what it is.
La Abeja 323.221.0474
3700 N. Figueroa St.
LA, CA 90065
PS. Looks like Rogelio is letting the neighbor kids use the back wall for graf projects. See, how can you not like this place?