Y siguele con eso, Mr. Fake Vegetarian. Ah well, que se le puede hacer? If you read my posts over on LA Eastside, you'll know that I've been looking forward to lent just because of the appearance of a certain Mexican dish. It's pretty easy to find in Lincoln Heights, and I assume most of the Eastside, but it's hard to find over in that other LA. I work west of the river, called some of the Mexican joints nearby to see if they would have comida de cuaresma: 5 out of 5 said no. None of them even mentioned old standbys like Chiles Rellenos, enchiladas de queso, etc. That was kinda surprising, but I guess it makes sense since they cater mostly to a non-Mexican crowd. One person had to put me on hold to go get a Spanish speaker, oops! I guess I shoulda asked in English. Eye kan espeek en engleesh tambien.
In Lincoln Heights, finding tortas de camaron is much easier. The hard part is deciding which places to hit up on Friday. I tried to samples the ones from La  Llamarada, but they'd already run out by the time I got there. Darn. Oh well, there's always next week. Click ahead for some more exciting pics of Cuaresma signage!
Martha's Kitchen (aka the old site for the much missed Anita's) let's the passerby know they understand the Lenten season.  I haven't been back since their crappy HR's (which got me started on that subject, btw) but maybe I'll give them another chance.
The Salvadorean place also has Comida de Cuaresma. I wasn't too pleased with their version last time. I think I'll pass on it this year. But I like that they put out a sign!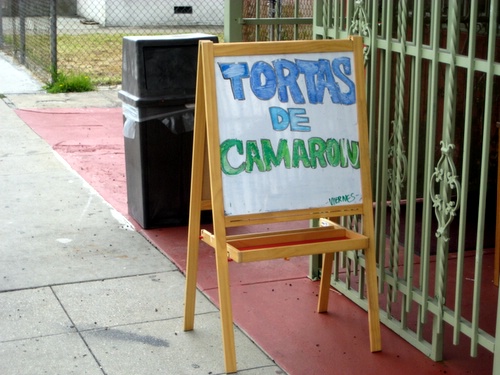 On the other side of the first pic. After my failed attempt at Llamarada, I decided to try Lencho's again. Different people were in charge this day, but I don't know if the ownership has changed or not.
Surprisingly good dish! The nopales had that snappy not overcooked texture, the tortitas were light and airy, and the chile sauce was decent enough. Yay! We sat outside because it was a really nice day and the waitress volunteered that "the gabachos like to sit outside because they bring their dogs and tie them to the gates". Ha, ha? Some truth to it but I didn't know what to make of that statement, other than to realize that everyone notices new practises in the neighborhood.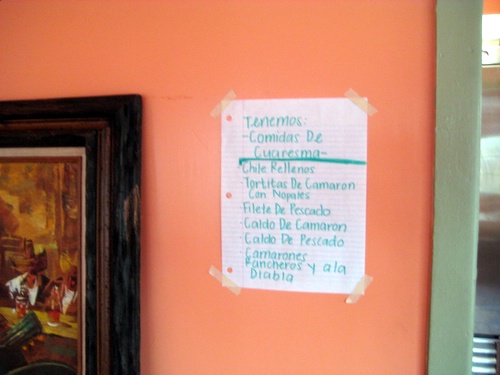 Lencho's List of Comida de Cuaresma.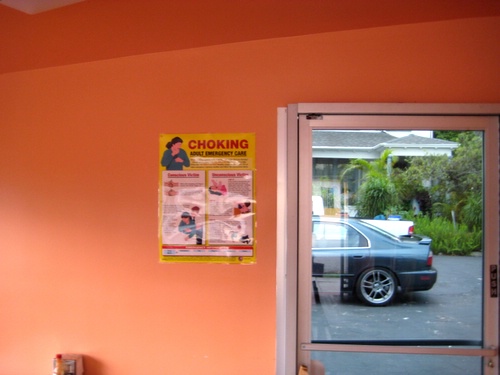 Lencho's sign that they might not have too much faith in their product! Or maybe they really want to save your life.
Hmm, I forgot to take a pic of Bonita's sign. Be right back!
UPDATE!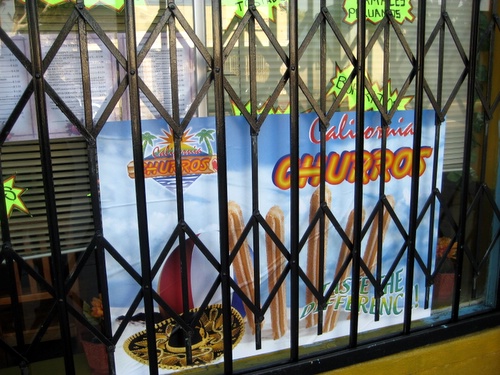 Because I care about you, dear reader, I dropped everything to go and take a pic of the Tortas de Camaron sign at Bonita Restaurant. Unfortunately, they were closed and all the signage of interest was safely hidden away inside.
But check out this bonus: they just put up a sign for California Churros, which has palm trees, a beach ball, a sombrero, and sunbathing churros on the sands of sunny So. Cal, exactly what I think about when I imagine a churro. Oh, oh, Bonita is sliding down a slope. If I ever eat a brand name churro I'm pretty sure I'll be able to  "taste the difference."