I've gone by this place in Pasadena many times, usually on my way to Pita! Pita! down the street (I love that excessive use of exclamations, I approve!) for the excellent veggie plate, and had kept meaning to eventually try out El Metate. Well last Sunday morning, the opportunity came up and now I'm just wondering why I waited so long; it's a great little restaurant.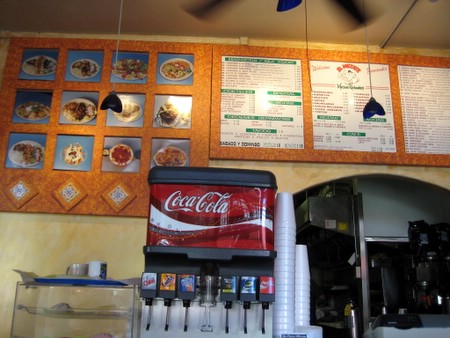 You can place your order at the counter or at the tables, we went for counter. I've been to new places where it's not obvious what you're supposed to do, and you spend a few seconds debating either to sit down and look stupid when nobody shows up, or stand around and look stupid when they tell you to sit. Oh, how terribly complicated modern life has become.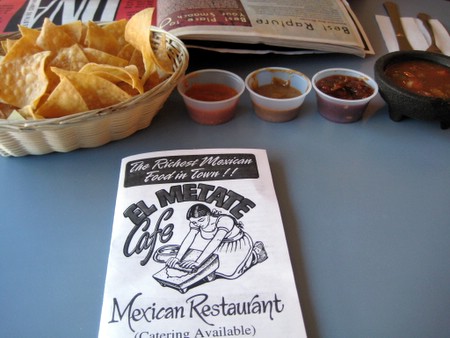 The requisite basket of chips, made even better by the fact that these were nice and warm, bonus! They also have a salsa bar with some surprisingly tasty creations, one peculiar but excellent salsa even had sesame seeds in it! A cook back there really knows how to work with chiles. Around this time I also noticed they had their sound system tuned to one of the best Sunday morning radio shows, which I think is known as "Haci es mi tierra" on 101.9 La Nueva. I wish I could give you details, but their website is completely useless (it's owned by Univision so that comes as no surprise) without even a basic program guide. It's on from around 10am to noon, you'll notice it by the deep and slow voice of the host reminiscing about Mexico Lindo, throwing in some remembrances of life on the rancho, and playing classic Mexican rancheras y norteñas, worth a listen. It made the atmosphere much more enjoyable.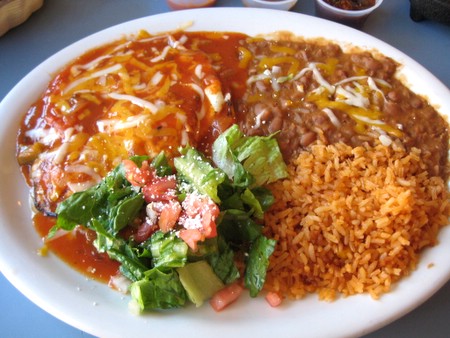 And then came the HR's, and though I'm not usually a fan of cheese on top (a bit of cotija would be fine) at least they didn't drown the plate with cheddar. But I quickly forgot about that first impression with my first bite; the dish underneath was tastier than I expected. It had a fried corn tortilla underneath (yay!) topped with properly cooked fresh eggs and doused in a flavorful, spicy red sauce. And check it out, a lil' salad as well. Plus the fact that you can play around with so many excellent salsa options, modifying the plate to suit your needs, that's sure to lead to satisfaction. Though no one part was stupendous, all the quality components made this dish and place perfect for a Sunday morning meal. I'm definitely going to keep this place in mind next time I'm in Pasadena. Oh yeah, the $4.99 price is also a deal clincher.
My friend had this wonderfully crafted plate of chilaquiles, made of freshly fried tortillas (not just chips sauteed in sauce, as is so often the case) which were cooked in a tangy and smoky tomatillo salsa; oh, how I wanted that dish instead. You know that's a good sign! Whichever you choose, you can't go wrong.
El Metate
12 N. Mentor St.
Pasadena, CA 91106
626.229.0706