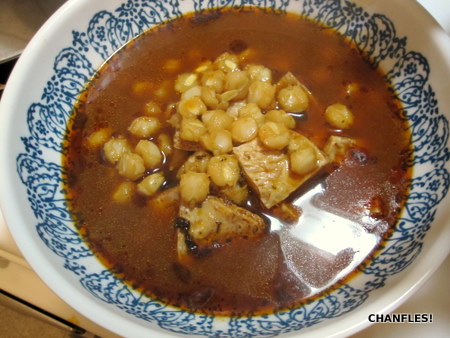 Bienvenidos Chavos y Chavas a otra edicion de mis recetas vegetarianas! Settle down now with all your laughing and guffawing, cuz this here is indeed a plate of vegan menudo. And it's good. No, really, its tasty and animal-less. Oh shut up with the giggling, let me get started!
I've seen people ridicule my vegetarian Mexican recipes, some idiot laughing at the concept of tofu in tamales, someone on facebook jokingly suggesting I turn in my "mexican card" for the sellout idea of vegetarian chorizo. If these cooking instructions are "authentic" or not is of no concern to me, cuz I just don't give a fuck. I don't eat animals, but I do aim to eat tasty food. No, I'm not Mexican but my Chicano tastebuds favor the flavors from the homeland down south, and I do believe these cooking instructions are worthy of your time and effort. Do with that info what you may.
For those not in the know, Menudo is a popular Mexican dish for weekend mornings, and often sought after as a cure for hangovers. It's a hearty chile based soup with maiz (hominy) and usually some disgusting meats, like Cow Stomach, aka tripe. Mind you, even lots of meat eaters hate the flavor and extreme chewiness of tripe, and many order their Menudo "solo con maiz" so they don't get any of the terrible tripe. Cuz really, most of the flavor is in the broth and the maiz. And I've come up with a fairly easy way to make your own Veggie Menudo at home!