Halloween is my absolutely favorite time of year. It kicks ass. Luckily, many of our LH neighbors seem to enjoy it as well. I went around this year taking some pictures of local yards to capture some of the cool scenery and elaborate productions many folks put up on a yearly basis. Some are obviously store bought but many are home-made creations, which I tend to prefer, but I like them all. The stuffed bodies (there is a long tradition of these around the world) everyone has on their yards or hanging from trees are always interesting and unique. I suspect you don't see these type of creations as much in the suburbs, what with all their stupid aesthetic values and all, they have no inclination (or guts) to be creative, "what would the neighbors think"! But what do I know, maybe they do.
Anyway, let's get back to the Trick-or-Treat Tour!
There are all types of displays in LH, many are on the lawn
Some are on the porch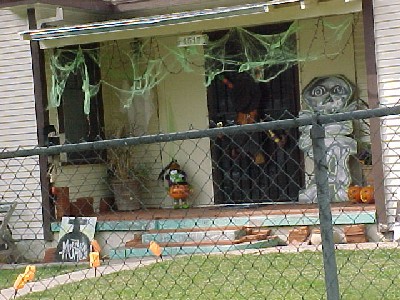 And some are in the air!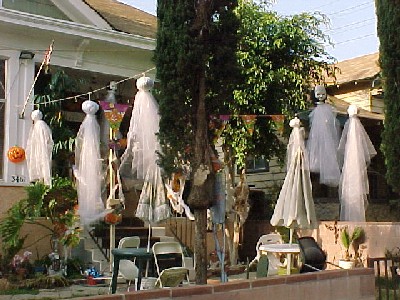 Many like their scenes clean and sparse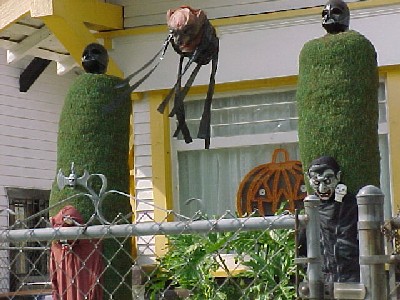 others like it a bit more wild!
and some like to go all out!! Check out this house, looks like someone gunned down a party!
Lots of stuff in this yard as well
These folks even made their own electric chair- yikes!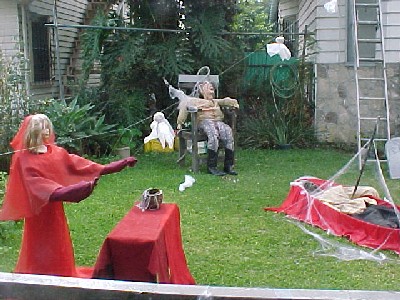 Unique elements are present in the lawn "bodies"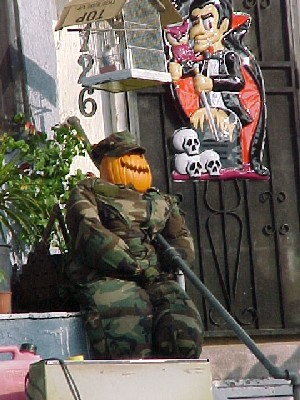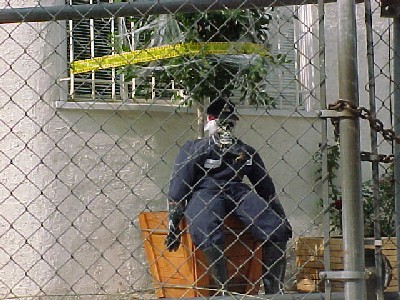 Some use the holiday to make a statement. These headstones have names of Mexican personalities and politicians like Manuel la Puente and Oscar de la Hoya.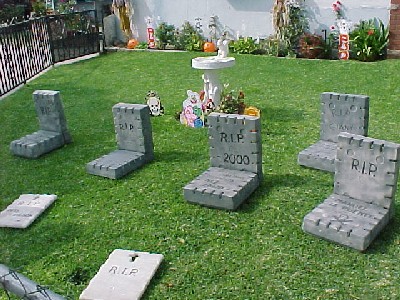 And some have an overtly political message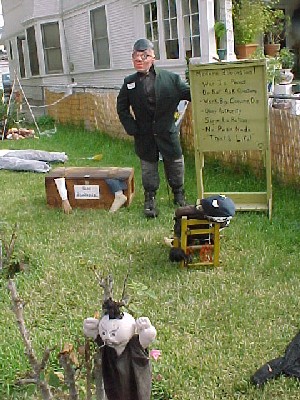 Dia de los Muertos is also mixed in with the Halloween decor, like these altars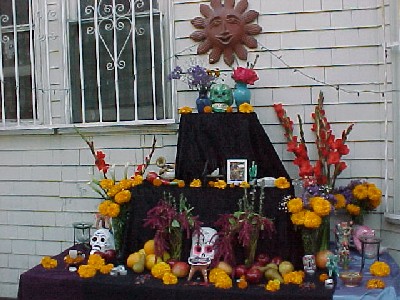 This one is cool cuz they left their christmas nativity scene (that's common) and put the Halloween web on top of it!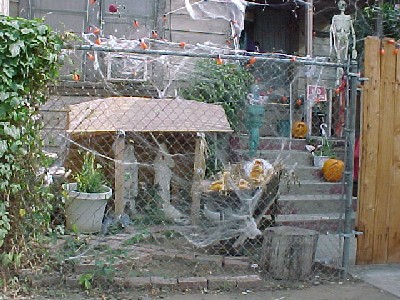 And then a whole bunch of scenes are just "nice"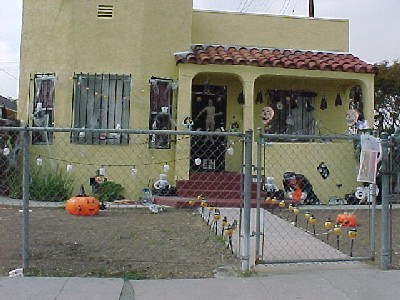 Hope you didn't get too scared by this stroll through our ghastly hood. But beware, you don't want to run into the ghost of

Why do we get so excited about this time of year? We love the historically subversive element that Halloween contributes, the license for mischief it gives and the possibility of meeting your neighbors, and we resist the attempts at its disney-fication. We also admire the beauty of Dia de los Muertos, the recognition, acceptance, and celebration of death as an integral part of life. Both are part of the same type of "harvest festival". As Chicanos we feel it is our duty to recognize this holiday season as one that embraces the valuable elements of both traditions, the subversion and the revelry!

Some folks seem content to keep Dia de los Muertos as an event (and product) confined to the prison of art galleries. We say NO! Some would abandon Halloween to the fate proposed by capitalists and religious nuts, another miserable "holiday" for commodity consumption and safe rituals imposed to replace those of a prankish nature. They've taken away our license to do tricks, will we let them take our treats? We say NO!
I encourage everyone to round up a trick-or-treating posse for Halloween night. Check out Jack Santino's book "Halloween and Other Festivals of Death and Life" for some insight.

"Tramp, tramp, tramp, the boys are marching,

We are the witches at your door.

If you will not let us in

We will bash your windows in

And you'll never see us goblins any more."