Lincoln Heights X-mas Parade 2005
The other day I was driving back to LH from East LA when I got stuck in a mess of traffic near Broadway. Oh, rats! I'm missing the world famous LH X-mas Parade! I managed to find my way home, parked the car, grabbed my camera, and went to claim my spot on N. Broadway. I missed the first part but I took some pics of the rest. Here we go.
They made a sign for the parade! I think it's been going on for more than 2 years, though that might explain the new name "LH community parade". I am confused. Is this a change to avoid the false "debate" of Merry Christmas vs Season's Greetings?

According to these girls, it is the Christmas Parade. There's been a mix up somewhere, but who cares, let's move on and avoid these religious questions. Oh-oh, here we go again..
WTF? The first thing I see is this group of Christ addicts. Turns out the gang situation has taken a turn for the worse in LH, cuz when Jesus gets a clicka going, that's bound to bring some headaches. G.A.N.G. stands for "gods anointed now generation", a not-so-clever marketing ploy from the cholo church otherwise known as Victory Outreach.

Christians at a X-mas parade, what a concept. They passed out flyers for their church and had a rapper giving the word on JC. Chale homie, I don't do drugs.

Hey look, it's Chris! Chair of the 45th Assembly District Democratic Party! Yeah, I don't know who he is either.

Okay, now we be talking! It's Patricia Martinelli-Price from the Las Vegas based Pulidor Foundation that we know nothing about. What a great addition! Either the organizers are making some friends feel good or they are trying to make us feel dumb by putting in obscure personalities, as Honorary Grand Marshal no less.
Yay! The always popular tricked out lowriders save the day. They probably cost as much as a Rose Parade float but they are functional, unique, and DIY; you couldn't have an Eastside parade without them.

Finally, something from LH I do recognize, it's people from the Goodwill Thrift Store, "the largest employer in LH" as the MC stated. That can't be good. Goodwill has a used computer parts section where you can find lots of useful and working items, so hats off to them. The dudes sign reads "Got Stuff?", easily an appropriate motto for all X-mas related activities, the holiday and culture dedicated to the pursuit of stuff.


Somewhere around this time I forgot to take a pic of another dance troupe, though I did get a small video clip of them. Their director is Cindy, they had some problems getting the sound to work properly but they went thru their dance moves despite the lack of music, and they sure did put on the moves! Here's the video clip. If you know their name, let me know.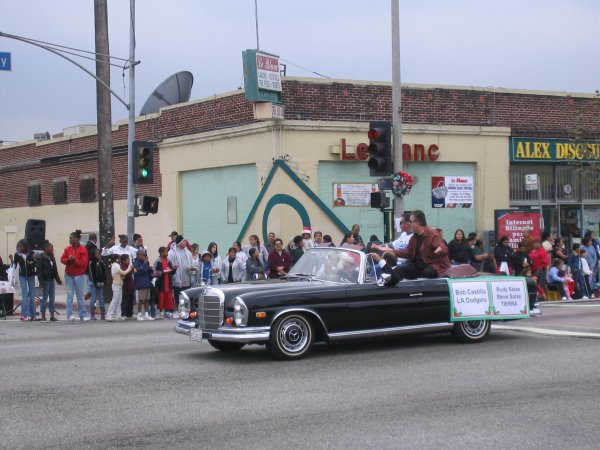 A dodger player and some guys from the group Tierra.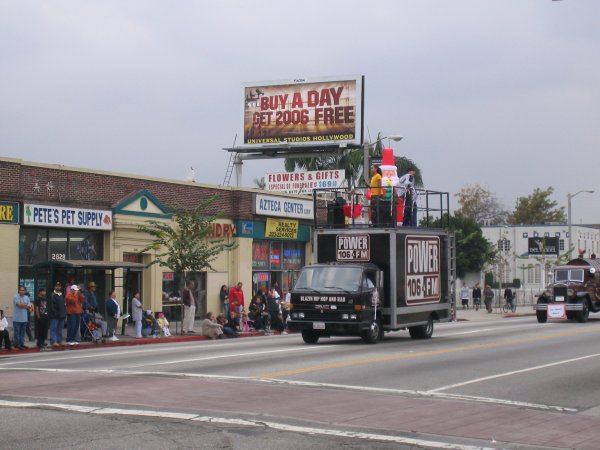 A rolling ad for a played out Hip-Hop station.
The San Antonio Winery had a cool wine truck in the parade, but as far as I know, it's a put on: I've never heard of a such a large cask on a truck used for hauling wine, it's either in large barrels or bottles. What gives? You think we be stupid too? Do you take us for connoisseurs of bum wine? Since there was no wine in it, nor did they pass any out for sampling, I give them a thumbs down. Nice truck though.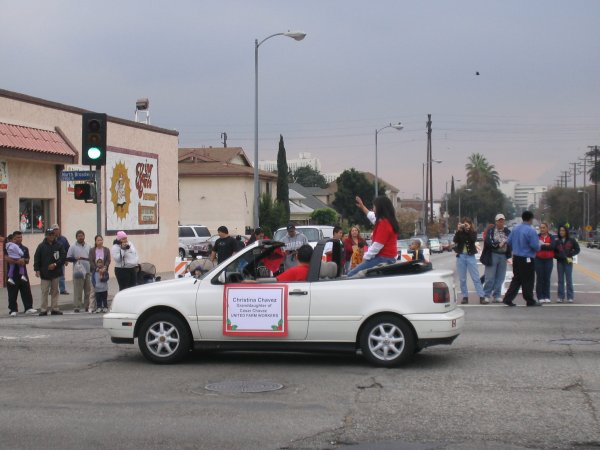 Christina Chavez, "granddaughter of Cesar Chavez". That's not a coattail, it's a convertible car!
The Nightingale Drill Team seem tired of holding the sign, it's on the hood of the car now. It was cool to see that of the 4 sign girls 2 were latina and 2 were asian, that's the LH way! Same clothing styles even.
Introducing the Nightingale Drill Team. No products to plug, no future campaigns to consider. Awesome.
Video of the Nightingale Drill Team here.
Oh no. The clown responsible for getting the local kids all nice and plump made an appearance. Boo! Hiss! Why don't you just call your Happy Meal the Diabetes Meal and throw in a free blood glucose meter? Now that would be helpful.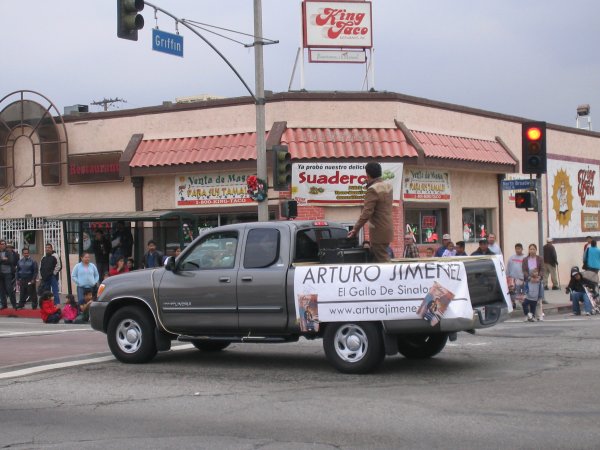 Arturo Jimenez "El Gallo De Sinaloa" has his own website where you can download an mp3 of his music. He was singing to the crowd but the sound was too low. Video here.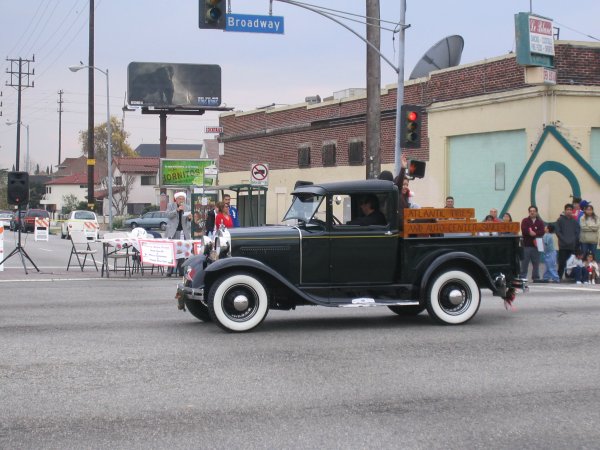 Atlantic Tires was there. Where is Atlantic Tires?
This is the Master of Ceremonies, Ralph Fierro wearing the Santa hat. I don't know him but I think he either owns or is related to Le Blanc's next door, since he mentioned it and the table was sponsored by them. Ralph did a decent job, though there were the inevitable parade mix-ups and lack of info cards, nothing dire. Strangely, he proclaimed that he didn't know spanish and "wasn't sure what he had said" when he read out "Comite Mexicano Civico Patriotico" while introducing the beauty contestant below. Umm, aren't those words utterly easy to decipher?

Wave. Saludos. Wave. Smile. Sonrisa. Not much else.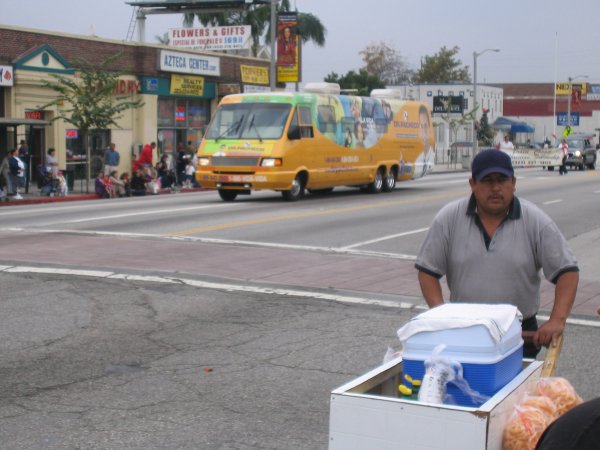 Now this paisa wasn't in the parade proper but I think he and his fellow ambulantes should get some recognition. They work long hard hours for a dollar and they often deliver to your home. Well, maybe not deliver but you can catch them while they pass by your place. He's selling elotes that you can have with butter, mayo, pata cheese (as in, it smells like it comes from some homeless guys patas), chile and limon, a disgusting sounding combo that is just magic once it's in your mouth! He also has the wheat doraditos that taste great with chile and limon, a gut filling meal for just a buck. Who needs hot cheetos? The ambulantes are an essential and vital part of LH, I'd love to see them get some respect in a future parade. Eloteros, Tamaleros, Raspaderos, DVDeros: We Salute You!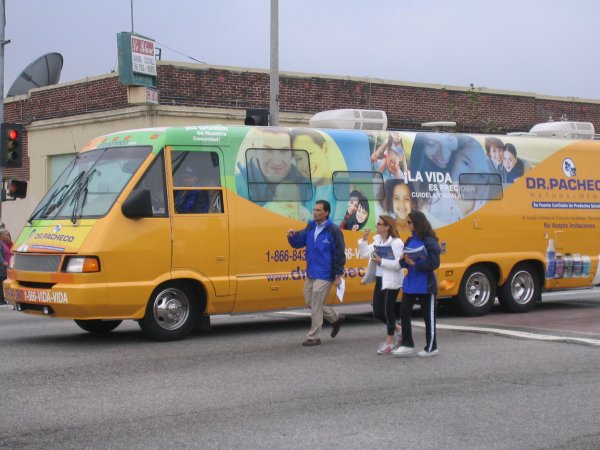 Cuidado Ambulantes! Here comes "Dr." Pacheco right behind you, he's gonna rain on your parade. A self professed health guru, he sells all kinds of tonics, potions, oils, pills, remedies, or whatever the fuck on his Paid Programming ads that somehow seem to be placed where I think a futbol match is suppossed to be. So yeah, I got no love for the man. But come on, he sells a pill as the Ultra Nopal which is good for treating "diabetes, digestion, colesterol, inflammation, and more.." Can't we just eat the nopal? Mega Hombre is another product, take a guess how they push it. "It contains ginseng of Siberia, one of the strongest stimulants on earth." Booiiingg! Or they would have you believe. Checking out his website, the dude doesn't seem to have any real credentials, just associations with health groups but no certifications. Boo, hiss! Even lamer, he has two prominent awards featured on his website, an Emmy and a Golden Mike, though he's not necessarily the winner of either. He say's he worked at Univision in the past and since they won an Emmy, he won it too, that's the logic. Can't find his name as a winner, but it doesn't matter as nobody checks these things out when they are desparate to get that manhood moving again. Therefore, I consider this parade entry a shuckster advertisement. Que lastima.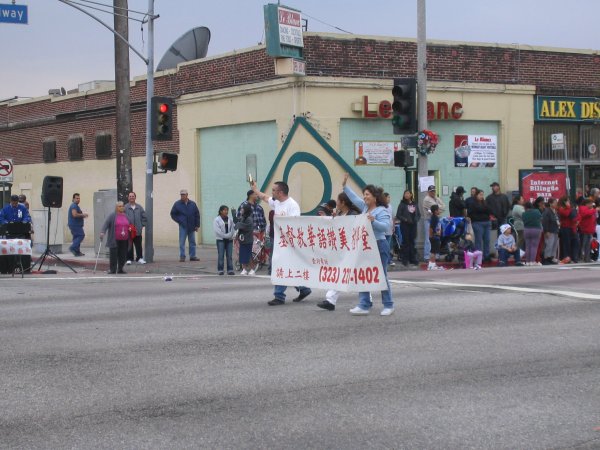 Cool, a Chinese script sign. Oh wait, it's just an ad for the LH Praise Chapel.

La Que Buena came to plug their spanish language radio station. Ralph called them a "Latin" station. Sonitus Non Intellego. Papal Liturgy, top of the charts!
Customized Lowrider bikes. The kid on the green bike was even blasting some gangsta rap, f-words and all. Video clip here.

More fancy cars, older bomb style.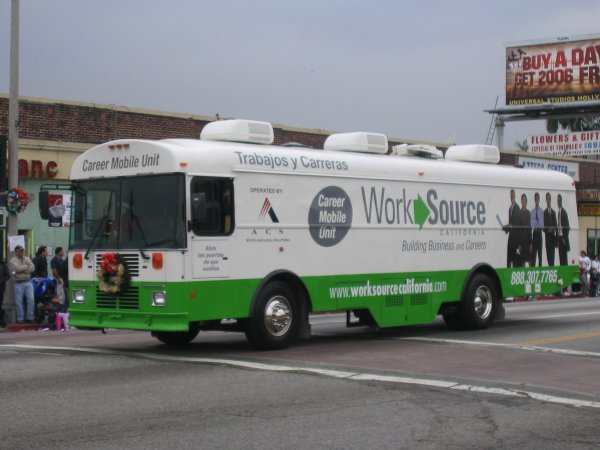 Minimum wage temp job? Give us a call!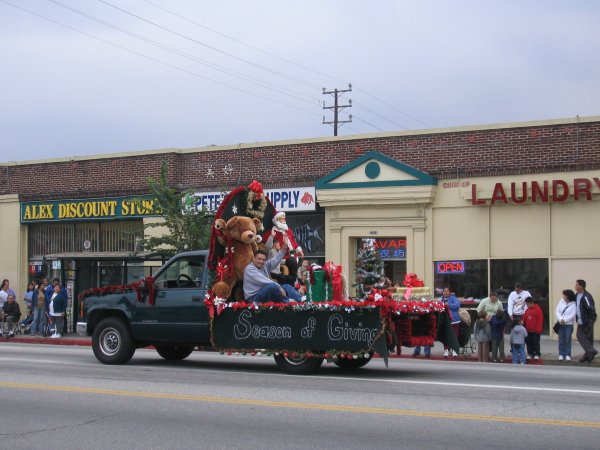 The LH Community float.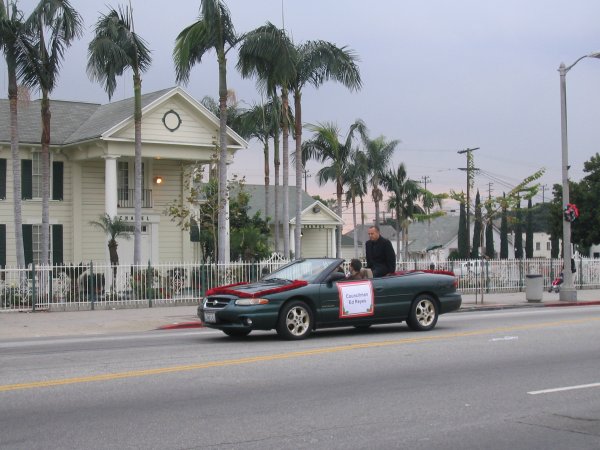 Councilman Ed Reyes, looking somber as he passes the local funeral home.
This car by Ramirez Construction was entertaining, some sort of mexican figure on the hood. Cheers for creativity.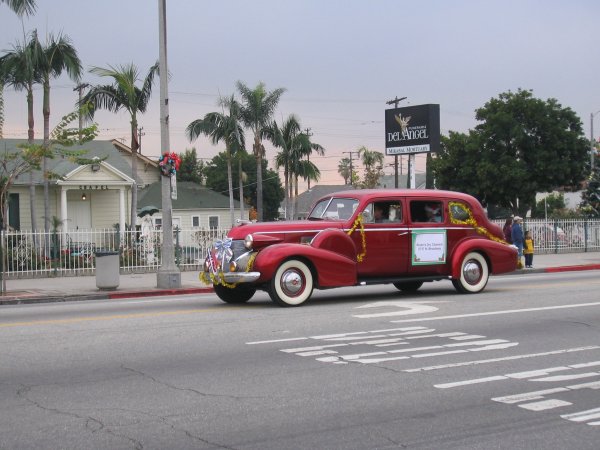 Sloan Dry Cleaners. Jeanette sez they're the best ones around.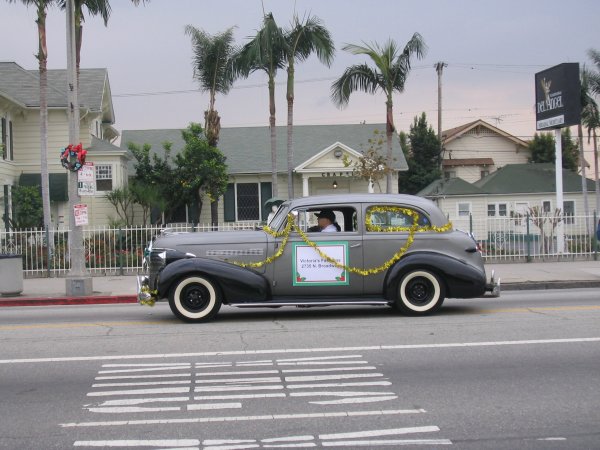 Victoria Fashions.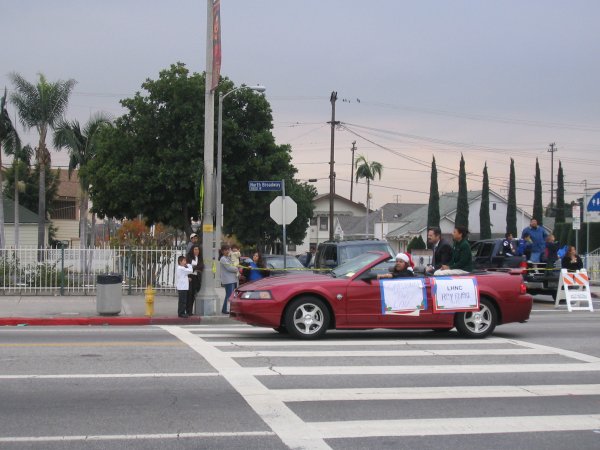 Local activist Ray Rivera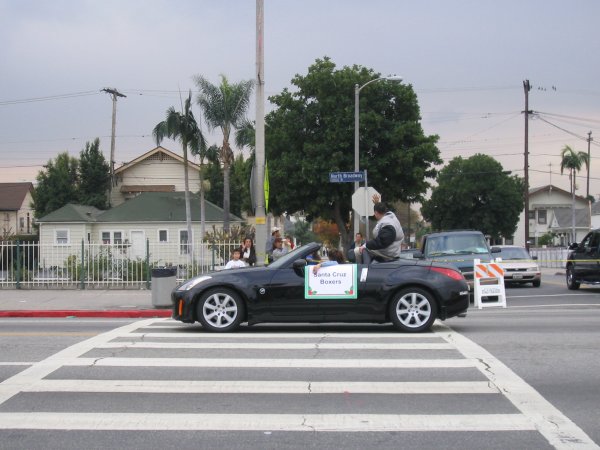 Santa Cruz Boxers. No idea what this is about.

No idea on this one either.

Note: don't use highlighters to make your signs.
George Pantazis is the Grand Marshal. He's involved with the Neighborhood Council.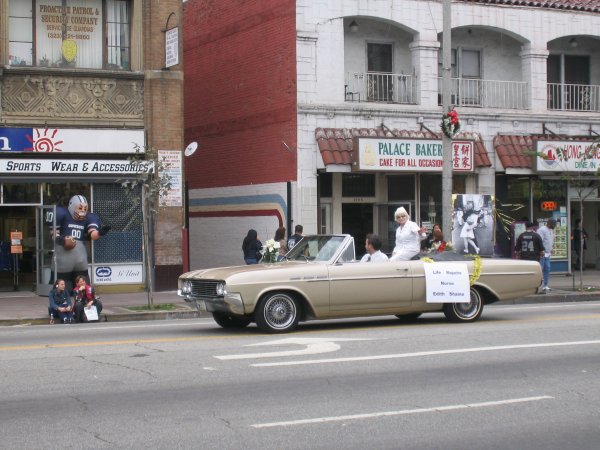 Edith Shaine, "Life Magazine Nurse".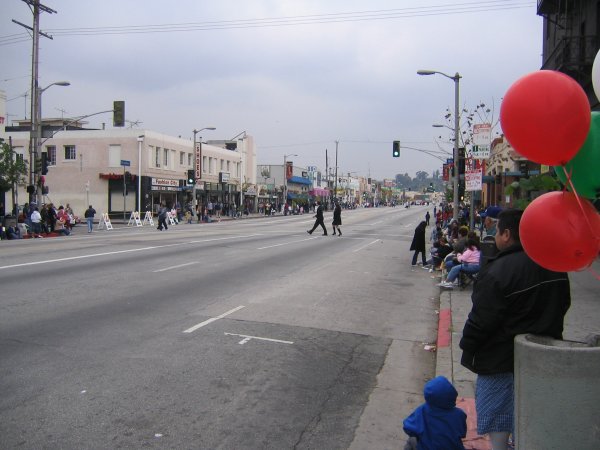 Pick up the pace people! There's a huge gap between floats.
Project "L" had a band with festive music.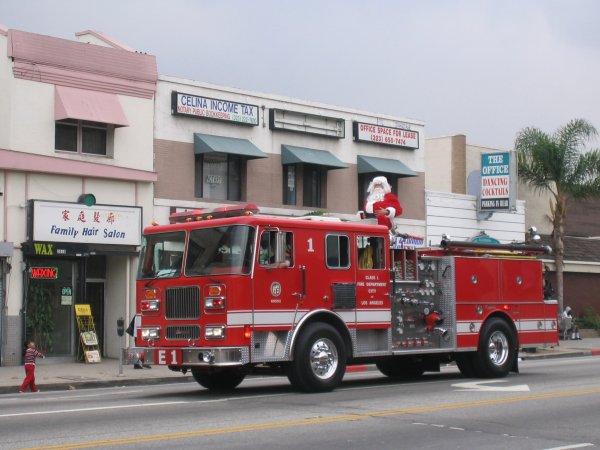 When Santa comes around in the fire truck, that's when you know the parade is over.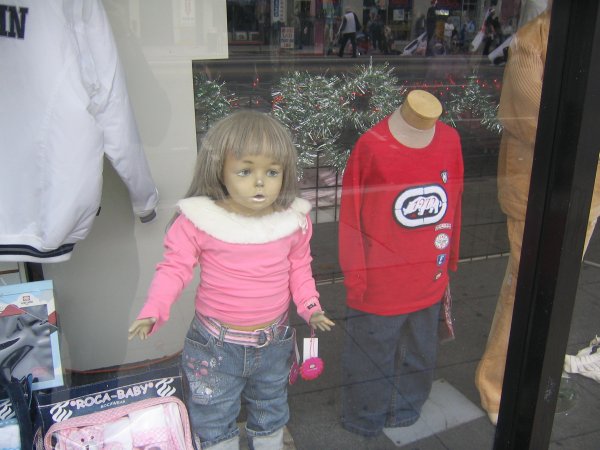 I noticed this lil girl checking out the parade as well. Remember kids, stay off the drugs!
See ya next year! EL CHAVO!