Lincoln Heights X-mas Parade 2008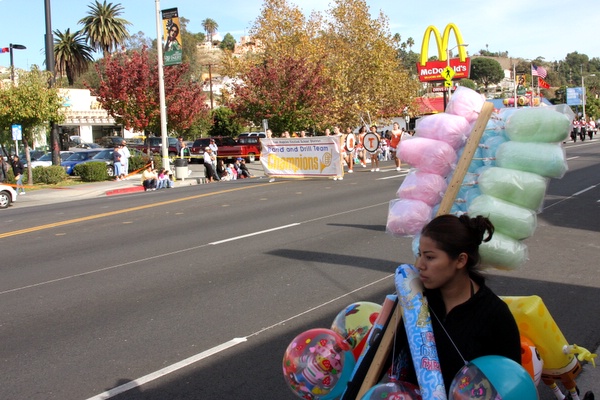 I almost missed the LH X-mas parade this year, mostly cuz I was up really late eating vegan tacos and drinking homebrewed beer at some party over in Echo Park, but the need for sleep couldn't keep me from my social obligations! Put on the coffee pot, we are going in!
It was supposed to start at the ungodly hour of 11:00 am, but even getting there late at 11:30 there was still no sign of the parade. Oh man, I should have slept in longer...
The ambulantes were there bright and early, catering to the demands of corn loving foodies. I don't think the woman is deliberately sticking her tongue out at me, it must be a stray kernel. At least I hope.
The cotton candy-eros were also out and about.
Finally, after a fair bit of waiting, the first group comes thru, some Aztec Dancers.
They did a dance way up ahead but walked by my spot rather quickly. That headress is quite a sight though.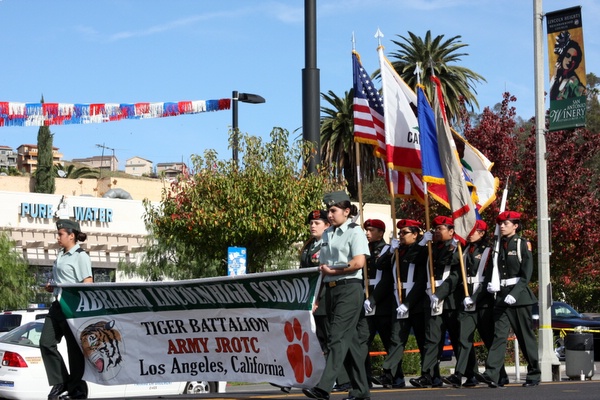 The LHS JROTC. There's a growing campaign to cut this program to save money for the next fiscal budget, and to get these Soldier pre-training classes off of campus. No disrespect to the kids, but I sure hope this program gets eliminated.
Wow! A real celebrity! Edward James Olmos waves to the crowd.
Oops, looks like the car broke down. At least yer right by the AutoZone!
A politician.
Another one. Ed Reyes seems like a decent one though, he does some good work.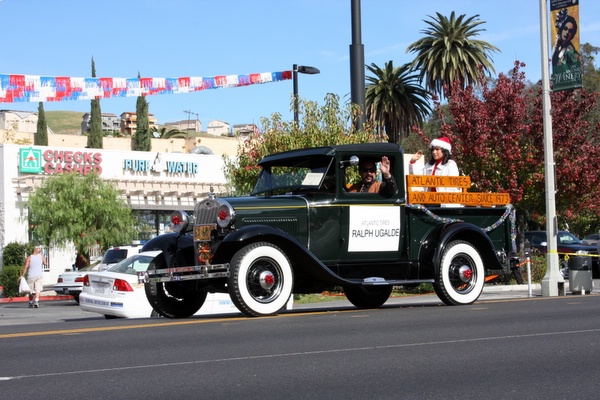 Atlantic Tires, a regular participant in the LH parade.
Cops throwing candies at the crowd, you can see one in midflight if you look closely. I wonder if this is a tactic learned from soldiers in Iraq, as a way to connect with the population?
It seemed to be working.
More candy gatherers.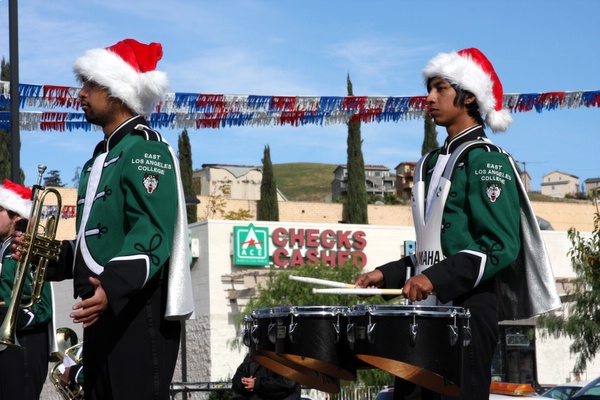 The ELAC Huskies came by to say hi.
I was sorta meeting some friends at Huarachito, but I kicked off my morning meal with a licuado de platano con choco-milk. The drink of chumpions.
LH Community Gallery, mentioned here.
A politician on a cell phone.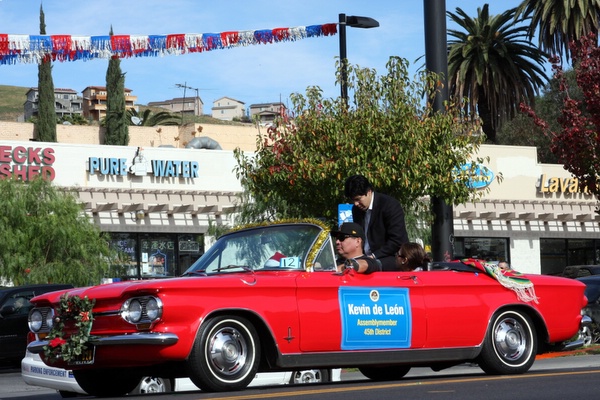 Same politico texting. Busted! Where are your parade manners?
I think these are lil' Panthers.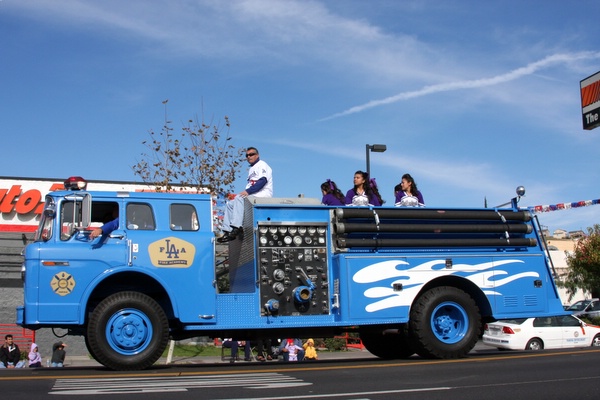 Another parade regular, Bobby Castillo, an ex-Dodger.
United Seniors of Lincoln Park! A round of applause for the older members of the community.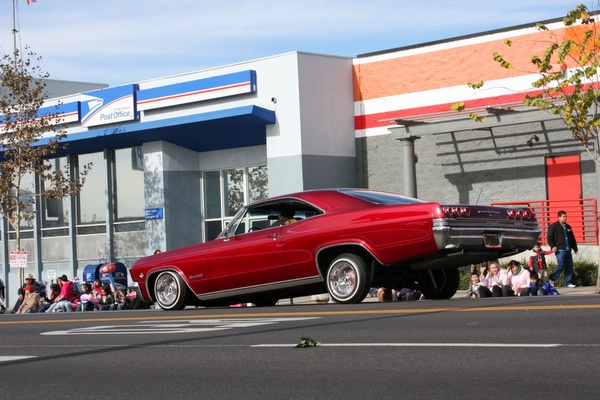 Lowrider showing off the suspension system. My car can do that too, but not on demand. It mostly happens when I don't want it to happen.
A truckload of pretty ladies.
Y mas!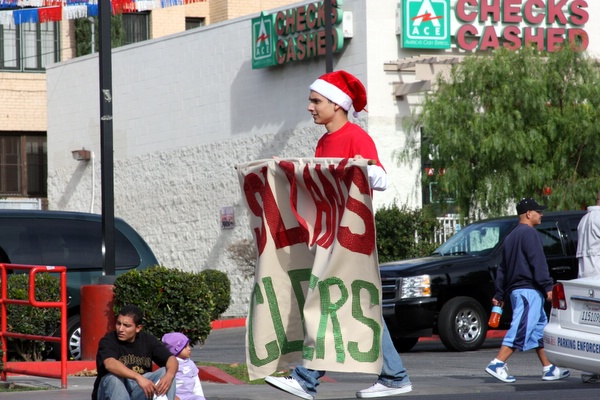 Sloans Cleaners. Wow, this angle makes it seem like he's about to step on a baby! I guess I should've stood up.
Some last minute repairs on the Ramirez Construction sign.
For some reason I enjoyed this entry the best: it's colorful, filled with piņatas and papel picado, plus the dj and crew seemed to be having fun.
Still working on that sign, a driver passes by but doesn't offer to help. Que malo!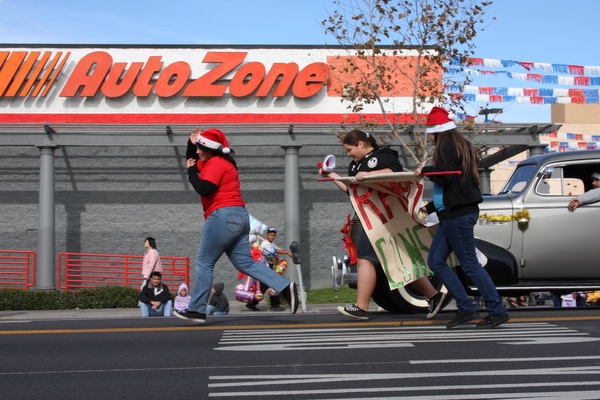 Oops, never mind! All finished now!
Victoria's Fashions entered a super drawing, all expressive y todo!
More fancy cars filled with friendly people.
Hula hoops on parade! Now this group must have been tired by the end of their participation, I betcha.
Hi.
These young dancers had all the right moves, they were very fun to watch. Incrediby, they were from the Richard Riordan PC Dance school, a name that is just not synonymous with fun and festive.
Danz-Sations. So sez the sign in back.
A Mad Max looking bike.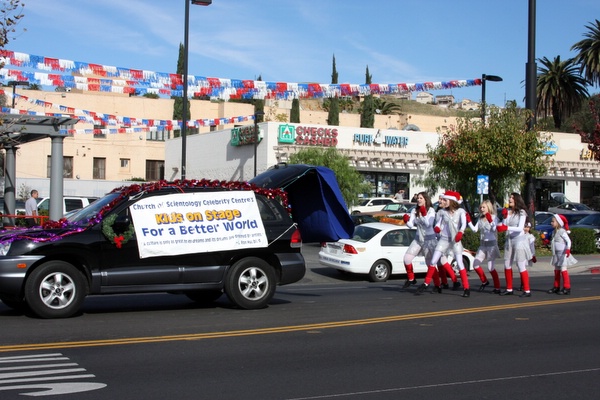 Aww, the littlest Scientologists...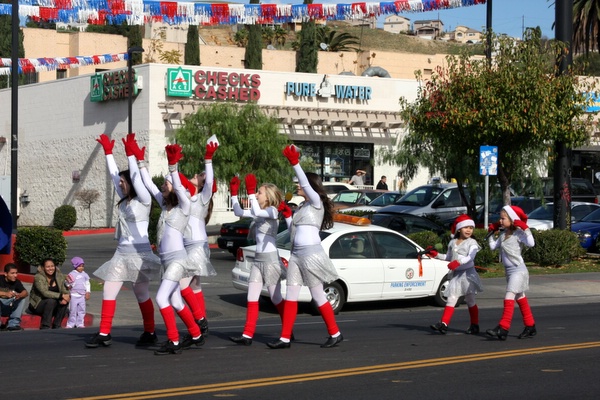 ...dancing it up for a better world!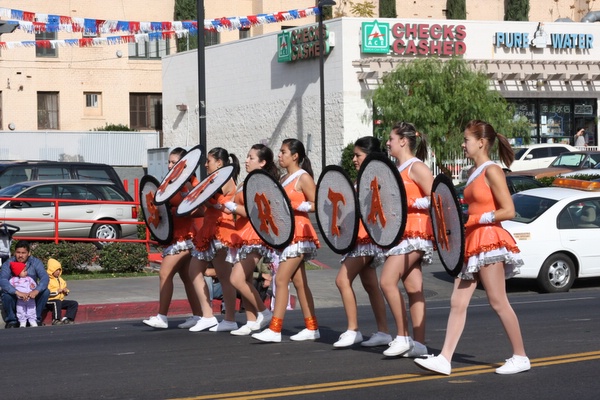 Spartan pride.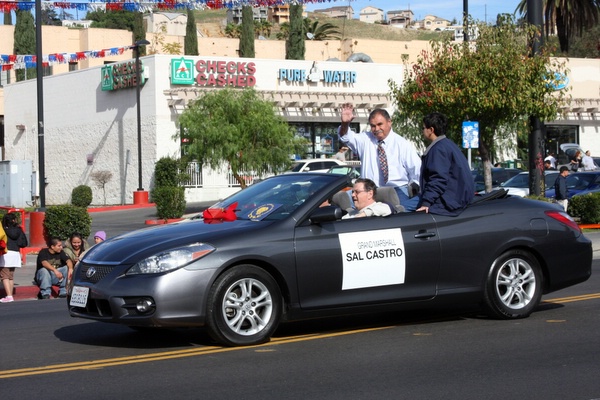 Sal Castro, of the 1968 Walkouts fame, aka the Grand Marshall.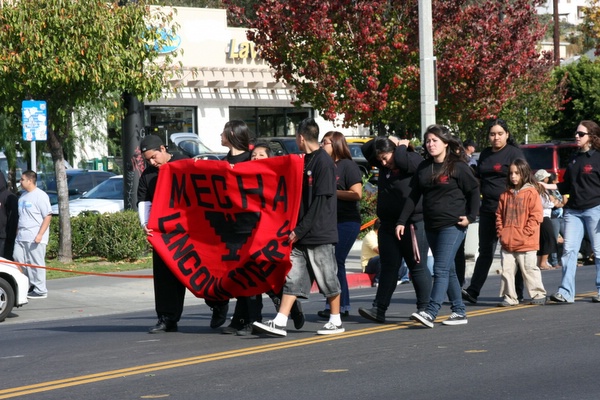 LHS Mecha.
At this point, things started to slow down and my breakfast plate of Nopales con Huevos at Huarachito was getting cold, time for a quick break! BRB.
Chomp, chomp, drink, drink.
Apologies to my out of town friends for the eat-and-run, but I already missed some pretty young ladies and that silly Norky! Gotta run!
Huff, huff, ...burp...(excuse me!) huff, huff. Okay, where were we? Oh yeah, here!
See, it was worth the short sprint.
Some of the hard working parade volunteers. A round of applause for all your great work! I'll see some of you at the next Drinkin' Heights! :)
A parade watcher takes a break from all the excitement.
Ha, ha, crazy Norky, the spawn of an eagle and a penguin. How the two species got-it-on isn't so clear. Too bad his parents have him shilling for those silly "polar ball gloves", isn't there a law against child labor?
Sheridan Drill in high spirits.
Street vendors were keeping busy. Did you know you can order a bacon-wrapped hot dog without the bacon or the hot dog? You can! Not that I would ever waste my dollars on that...
Looks like the front of the parade is already heading back.
Damn Santa, yer looking slim! Must be that new Nopalina diet.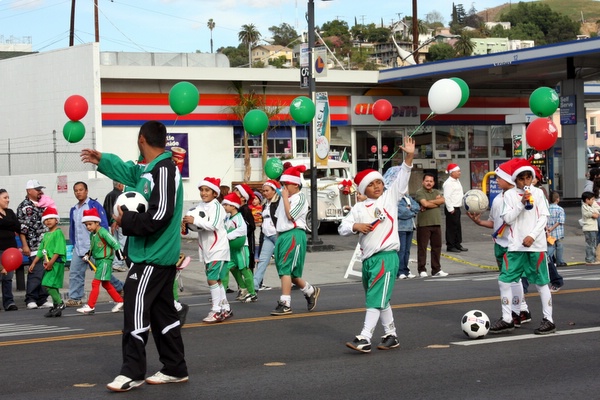 El Tri in LH? Nah, just some kids who want to be future members.
"Look fool, you need to apologize to everyone here for that messed up Huevos Rancheros Burrito. That shit wasn't funny."
I think that was Ms. Taiwan at the front. Or did the LAFD finally start hiring women instead of just harassing them? Zing!
Dude, slow down! This kid is shoving a hot dog into his mouth, ala brava.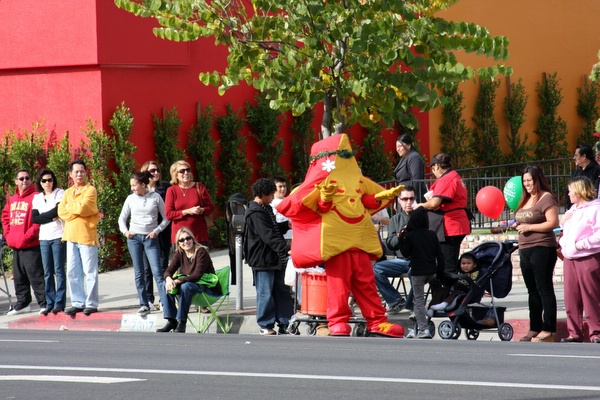 "Please stop booing me, we did take the HR burrito off the menu. Doesn't that count for something?"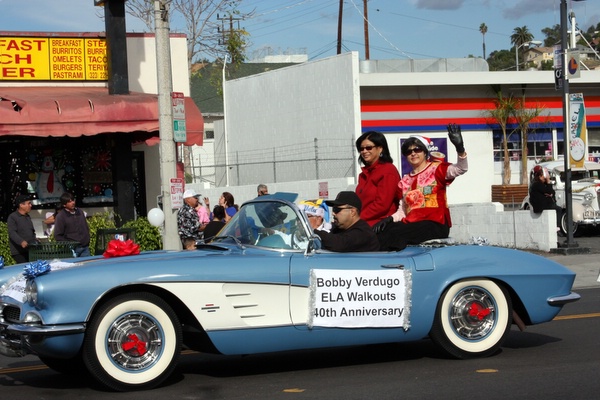 More Walkout participants.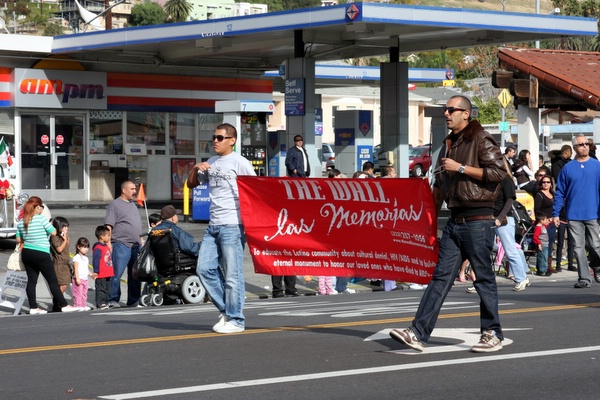 The Wall / Las Memorias from Lincoln Park also had an entry.
This dance troupe from Allesandro King Dance had a really good routine.
They also came with an eagle...
...and a lion.
Hmm, maybe if I introduced the two over a bottle of wine we could have a wonderful new mix of creature! A Ligle? An Eaion? Nah, lets just call it Dorky, the ridiculous Zoo disaster!
Our local Lincoln High was also out in full force, in some colorful black and orange uniforms.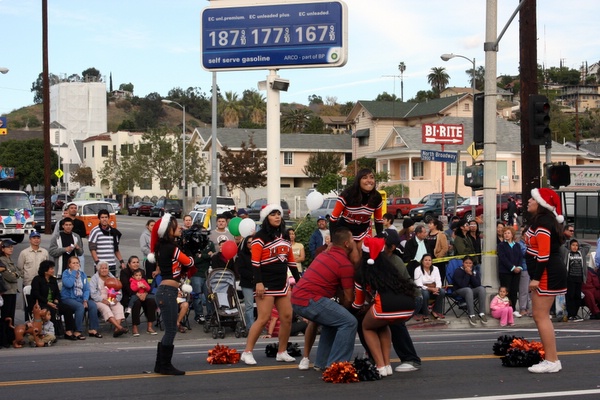 Plus they had some nice acrobatic moves. Watcha- pa' riba..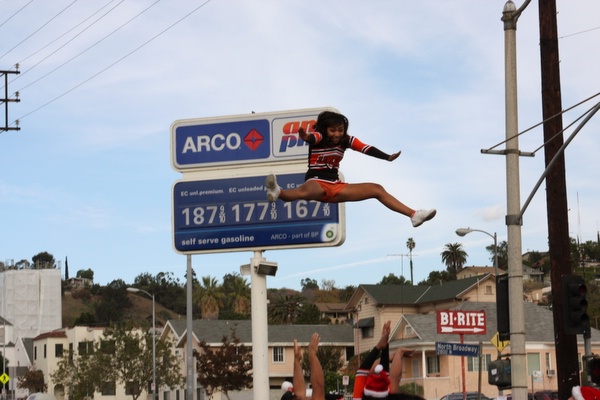 ..y..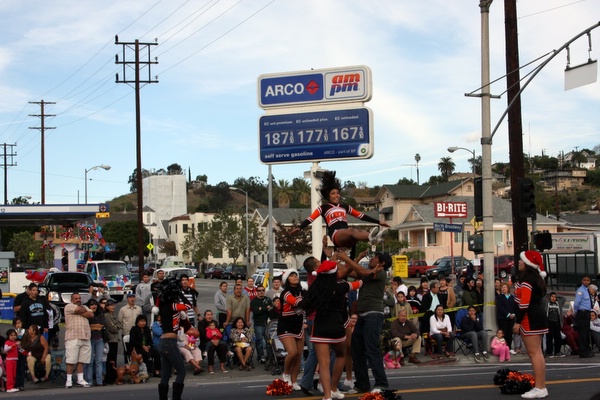 ..pa' bajo! At this point the crowd all cheered.
Sometimes the fancy cars break down as well. This one was being pushed. Welcome to the neighborhood, where we all help out to move your carcancha out of the way!
The crazy Art Storm crew. This guy is a real character and he does some good work trying to get taggers into doing more socially acceptable art. Not a bad idea, but meaningful art is rarely acceptable.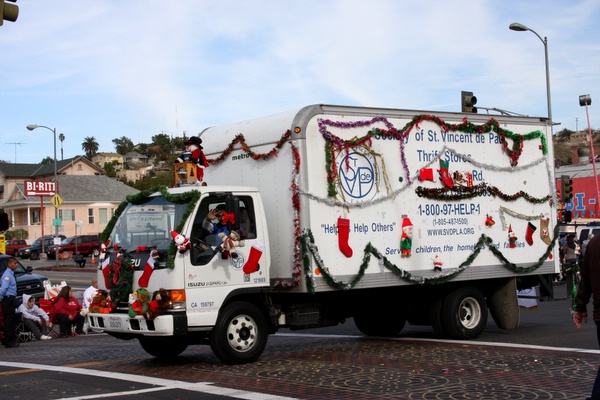 St. Vincents didn't know how the hell to decorate their truck, so they just threw it on como sea. Looks like they got it all at the As-Is yard tambien! HAHA!
Folklorico Maria Felix graced us with a rainbow of twirly colors!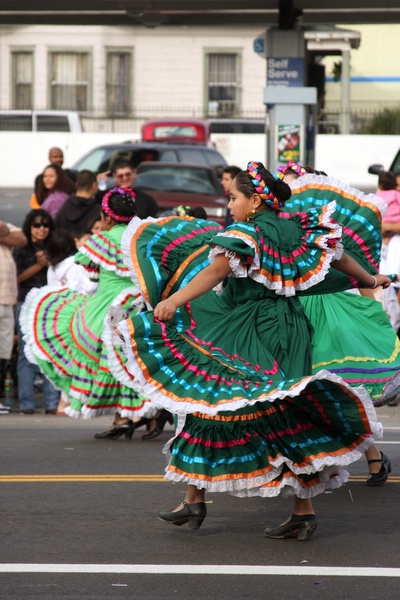 Animo, animo!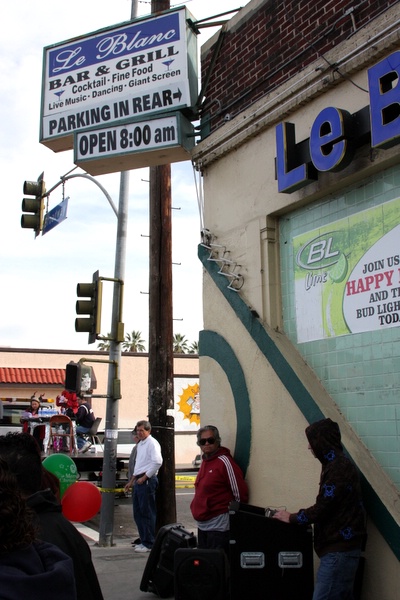 Providing the sound for the parade, this guy next to Le Blanc.
Toland Way kicking it up.
Another way to serve up corn, roasted ala shopping cart!
A car wash for a 4 week old baby. Sadness never takes a break.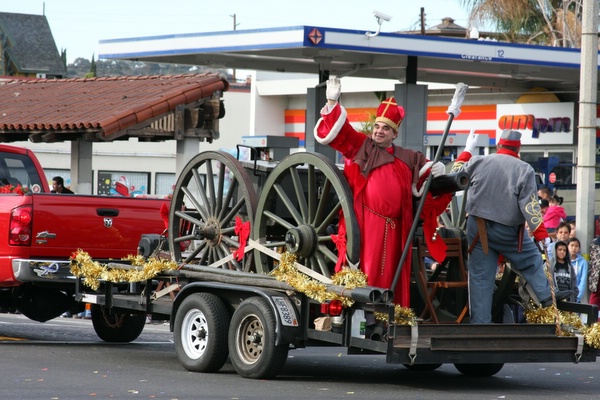 During La Crisis, even the pope has to make extra money by loading cannons.
The ever popular dancing gift boxes. You mean your local parade doesn't have them?
You can't tell from this pic but the elotera is on a cell phone. How rude! Customers want undivided corn fixin' attention! Well, only some of us connoisseurs.
Old time cars with old time pachucos.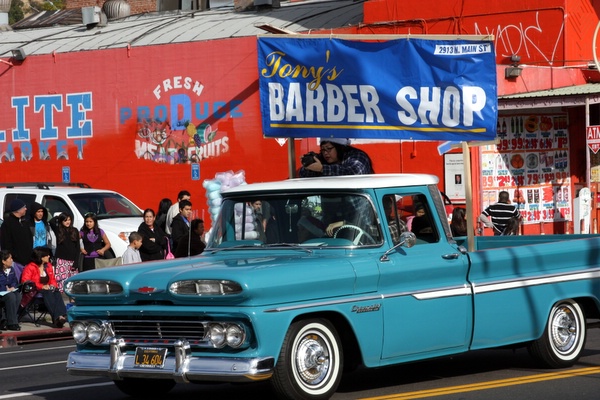 Oh, oh, someone has a camera! I better get out of the way!
"Officers, please arrest this man for crimes again taste-bud-anity."
"Wow, a picture with a famous flavor criminal! I can't wait to show this to my internet pals over on Chowhound!"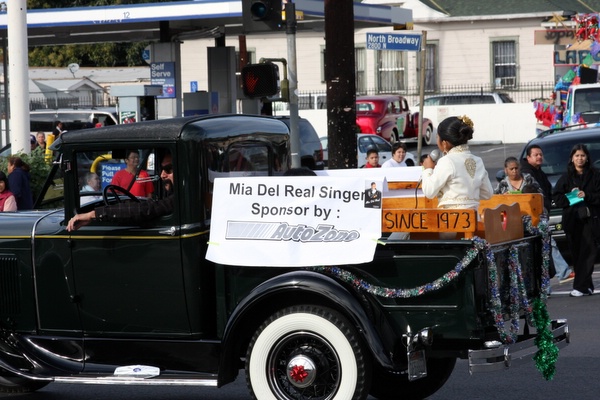 This tiny singer could barely be heard since her speaker wasn't turned up loud enough. But she was really giving it a go.
Trying to get the crowd to cheer. Our side of the street was way better, of course!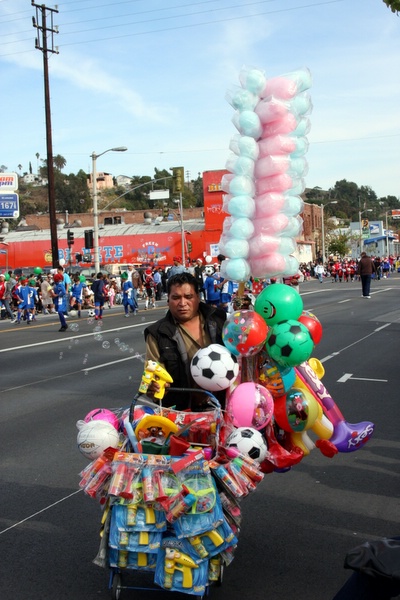 One stop X-mas shopping! I hope all my friends like sugar or plastic!
Yet more LHS participants.
The neighborhood council had a UFO with a picture of a red nosed alien. The small text mentions a solar scooter and "I built this UFO, I can fix your furniture." Sold!
Oh yay, Santa! That was a quick and compact parade, my favorite type!
Balloons ready to be let go, parking patrol ready to release the street to the wild cars, and the Ranchero in black crosses the road. That's when you know a parade is over.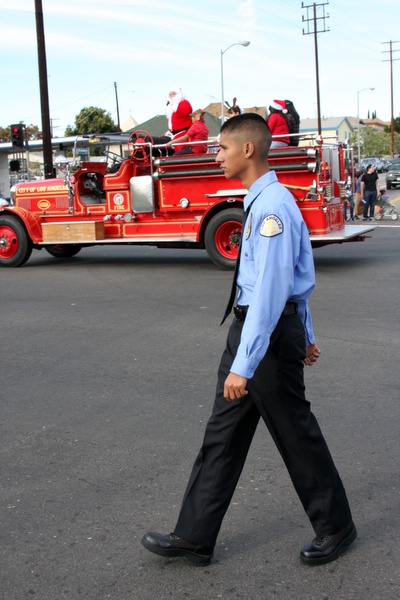 I don't know what it means when an Explorer crosses the street.
"Queen of Churros." No disrespect, but those super straight pre-fab churros do not count. Give me some of the real stuff!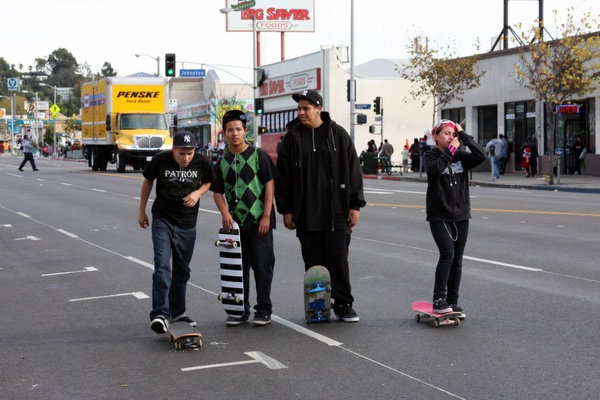 These young ones were talking amongst themselves about what to do next now that the parade was over. Not sure what they decided but they skated away with determination.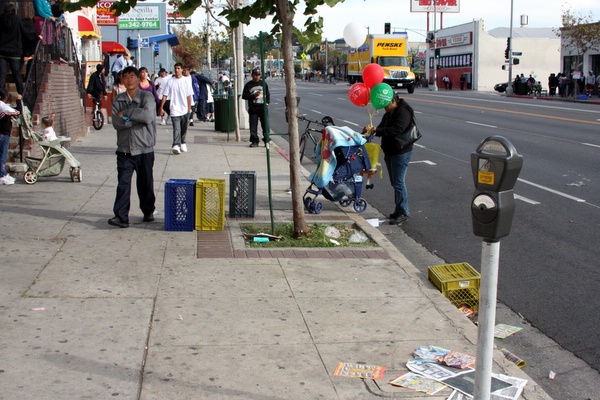 Unlike the Rose Parade, in LH you don't have to reserve your seat ahead of time- you just need to grab a crate from the local Bi-Rite!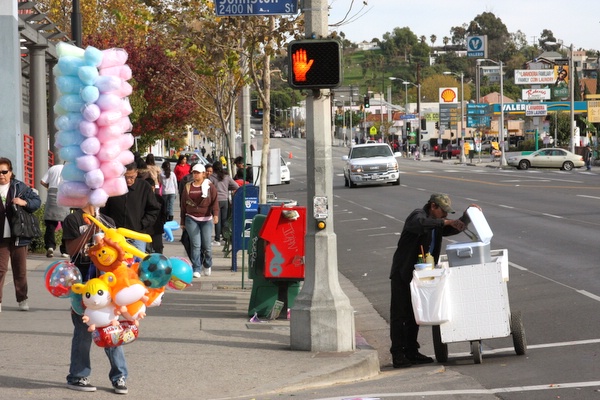 Tallying up the remaining corn, trying to decide if the event was a success. For the average sidewalk watcher, it sure was! See ya next year!
Leave your comments at this page here: http://chanfles.com/blog/?p=1004