Places To Eat!
Anita's Restaurant RIP
Sorry folks, this review is no longer valid as the place has closed down. Why do the good ones always die?
This was my favorite Mexican restaurant. This tiny nondescript place seems to hide the reasons it is so popular: tasty and filling meals at prices poor folk can afford. The menu is typical but the food is better than you'd expect. 2.50 for breakfast (huevos rancheros, beans, rice, tortillas) and chile relleno burritos are 3.50. You meat-eaters will find even better deals but I don't care about that. You can watch your Telenovelas if you go in the evening but be warned, they tend to close up shop earlier than the posted hours.
La Llamarada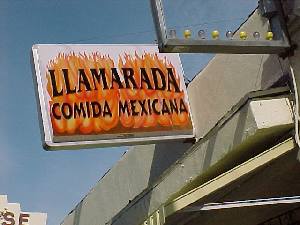 2622 Pasadena Ave. (by the 5 puntos) (323) 221-2259
Now that Anita's is gone, this place is the next best thing. This place is a bit strange in that they don't have a menu: they don't hand you one and the stuff on the board is just general stuff like tacos, tortas, and burros. But they do have lots of stuff like huevos rancheros, a la mexicana, chile relleno, and other plates. You just have to ask for them. Prices are reasonable.
The menu is limited to typical breakfast, tacos, burritos, tortas, and caldos like menudo and posole. I like the veggie torta or burrito: only $1.50! It's not on the menu, just ask for it "Torta sin carne". Very good.
El Corita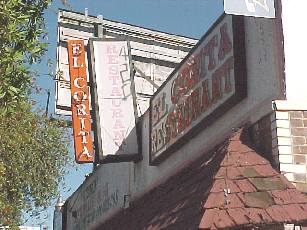 2576 Pasadena Ave. (323)225-7151
Our current favorite for Mexican food has to be this one. Consuelo from Anita's (RIP) works here now and she is one of the most down-to-earth waitresses. Breakfast is quite good and they serve handmade tortillas de maiz on weekends. The best dish is the Chiles rellenos, they make 'em perfect! They used to have Futbol games before on the cable tv, so you may want to come around during World Cup 2002.
Kawa Market
2310 Pasadena Ave. (323) 225-7032 Behind Vons Market
Who says you have to go out to eat? Cook something at home! This Chinese market has all the ingredients for a great meal: Thai soup paste, coconut milk, Shitake mushrooms, bamboo shoots, ginger, rice, everything! You can get tofu for about .69 cents a block which tastes great in Mole, just freeze and thaw beforehand.
Boda Vietnamese Restaurant
2310 Pasadena Ave (same building as Kawa Market) (323) 227-8573
More info and picture to come soon, but we're putting it up now since some of you out there have emailed to include it.
Natural Fruit Los Reyes (aka Tejuino Los Reyes)
2707 N Broadway (323) 221-7731
Hot Summer got you down? Well relief is in sight! This wonderful place sells nothing but the freshest Aguas, Liquados, Frutas Frescas, and Nieves! Why eat Corporate Mac "Food" when you've got delicious fresh squeezed fruit and vegetable juices, homemade shakes, refreshing (vegan) ices and ice creams, freshly cut fruit plates doused in chile and lime, right down the street? And of course, they've got the Tejuino drink (the tasty cousin of Tesguino, the delicious fermented corn drink made by the Tarahumaras that anyone can make at home) that goes well with salt and lime, and maybe even some lemon ice cream. Of course, it's affordable!
Restaurant "El Huarachito"
3010 1/2 N. Broadway (by Radio Shack) (323) 223-5317
This place is the bomb! They have "comida casera del dia" which means they change their menu daily so you always have something good to try. Like most places, they have lots of meat dishes but I admire the fact that they make the stuff you grow up with: chicken mole, cocidos, caldos, etc. I'm not sure if they have Albondigas. For the Veggies out there, the potato taquitos are fucking good, now I don't HAVE to make them at home. The Chile Relleno is totally tasty, and they make their Huevos Rancheros with a fried corn tortilla, the way it's supposed to be! Affordable prices. It's a teeny tiny space but that is also cool as you end up having to talk to local folks or at least listen to them while you eat. La Comida 'Ta Buena!