Downtown Los Angeles and Vicinity
Downtown Library 630 W. Fifth Street (213) 228-7000

The LA Library, located on block up from Pershing Square, is an excellent place to get away from all the commotion happening on the streets. Lots of good reading, ample seating, and a working air conditioner! One warning though, something in the air makes you hungry after a few hours.

Sav-on On Sunset and Beaudry

Just another corporate warehouse of commodities, but it may be of use in the late night hours when you need medical supplies or a last minute beer run. Very close to downtown and open 24 hours
Grand Central Market 3 m s. Broadway (213)624-2378

Feeling hungry but low on cash? Head on over to this giant fruit and vegetable market where you can find lots of stuff to munch on at dirt cheap prices. It's also a good space to sit and watch the people go by. Many of the vendors also accept food stamps. You can buy the fixins for lunch and take them over to ...
...Angels Flight Trolley & California Plaza 351 S. Hill

You can ride up the hill for 25 cents and arrive at California Plaza, a space in the middle of corporate hell, that strangely enough puts on very interesting FREE summer concerts. Chico Cesar and Rita Ribeiro (from Brazil) are scheduled to play on Friday 8/11 (at noon and 8:00 pm) which should be awesome. Benches and seating all around.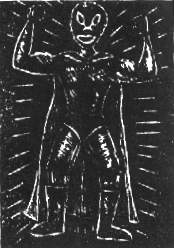 Phillipe's at 1001 Spring St. One block from Olvera Street.

Lots of visitors seem to like this turn of the century deli: Sawdust floors, wood benches, circus photos on the wall, and the $.10 cups of coffee make this a unique place. Not much in the way of vegetarian fare but you can't beat getting a buzz for a dime. Avoid showing up during lunch time as the office workers invade like a plague.

Olvera Street Corner of Cesar Chavez and Alameda

This is was once the center of the city of Los Angeles, the original site the founding I settlers chose to park back in 1781 . It's no longer the heart of the Mexican community (it was once called Little Sonora) but it's still a focal point during the holiday. Olvera Street has something you will not find anywhere else in this city: a public space. The gazebo and surrounding spaces are cool spots in which to hang out or take a nap. Cheap eats and souvenirs can also be had although the Mexican restaurants with patios cater to middle class white tourists and are condescending to the unwashed masse of any color. But you can show up for happy hour and get some free food while you drink
Union Station at Cesar Chavez and Alameda

Across from Olvera Street is the train depot known as Union Station. Here you can catch the Amtrak, the LA Metro red line, and the Metro Link trains that go out to the suburbs. (You can also catch many buses on the other side of the building.) The seats there are quite large and many people doze off as they wait for the next loco. A bagel shop, magazine store, and RESTROOMS round out the place.

Greyhound Station 116 E. 7th Street (two blocks east of Alameda) (213)629-8401
Nothing impressive about this box in skid row but it's where you'll find the buses out of the city for the inevitable time you just can't stand the place any longer.

Bradbury Building 304 South Broadway

Speaking of movies, for those who liked "Bladerunner" (a movie about LA in the future) you can check out the building where the fake humans lived. It's quite nicely done. There will be a security guard at the door but just tell'em you're going up to see your lawyer and you should get through.

Classic Theaters

All along Broadway you will see some old time theaters, many of them turned into shopping centers or (worse) churches. But there are still a few where you can catch a double feature, namely the Orpheum. Between 8`" and 9`" , go here to be entertained.

Chinatown

Just a few blocks North from Sunset Blvd. on Broadway you will find LA's Chinatown, full of restaurants and shops where you may find those rare herbs you need for that special remedy. (There is a newer Chinatown in Monterey Park but that one is mainly for Chinese with money.) The 83 bus line take you through there.
Mac Arthur Park (at Alvarado and 6th Street)
You may come across the need to take an afternoon nap and you can relax right here. This is the park that Donna Summer sang about when she left that cake out in the rain, you know, the one that took so long to bake? There is also a monument to the events that happened in Hungary in 1956, near the corner closest to Luna Sol Cafe.

Luna Sol Cafe 2501 W. 6th St. (across from MacArthur Park)

This is one of the few cool spots in the city, a cafe with Veggie food, events, and a laid back atmosphere. They are welt known for letting groups use their space for organizing and being a hub of many political events. The food is cheap and delicious. Try the homegirl fries and some Cafe de la jolla. Just a few block away from the Convergence Center.