East Los, Y que Cabron?
East L.A.

East L.A., more kindly known as the barrio is unlike other neighborhoods. It definitely has the look and smells of Mexico Lindo. The barrio is predominately Mexican and Chicano. Tacos, futbol, mariachi, pachangas and Spanish are priority before dodger dogs. Luckily corporations have never had a big interest in the Latino dollar (not till recent) therefore the community has remained relatively low scale in development. Allowing for Mexican entrepreneurs to fulfill their own needs. In East L.A. murals color the landscape, tamales, tacos, raspados are sold by street peddlers, produce vendors still go door to door, and mariachis stroll from bar to bar. The eastside is considered bad and substandard compared to the all so many affluent neighborhoods in the Westside, and I love it!

East Los History

August 29 1970, Chicano Moratorium attended by 20,000 - 30,000 chicanos, from various parts of the U. S. The march snaked around most parts of the eastside starting from Belvedere Park and culminating at Laguna park (Salazar Park) with a rally. The rally had just begun when cops showed up in force. A few rocks had been thrown and the situation was quickly detained. Though the cops decided it was a good enough pretext to stop the rally and went in on the crowd of young and old swinging their billy clubs, and firing teargas. A panic ensued of people scrambling to get out as quick as possible and some people were trampled. Mass arrest followed. Detainees waited for hours on the bus and were maced on board by the deputies. Two people died during the police riot. Later in the day Ruben Salazar, a journalist, covering police brutality in the eastside was having a drink at the Silver Dollar bar when deputies walked in and shot a 10 inch tear-gas projectile, striking Salazar on the head. His friends pleaded with police that Ruben S. was still in the bar, but refused to listen and his body wasn't discovered till 2 hours later. Tensions with sheriff s escalated in the coming months during protest of the death of Salazar ending in more police riots.

Salazar Park 3864 Whittier Blvd

Laguna Park was renamed Salazar Park. As you sit in the park watching kids play, or a futbol game in action you can contemplate the police brutality on the chicano community. Across the park is Herbs of Mexico, they are distributors of herbs and also sell retail, so if you need a very particular herb they probably have it. I love the way that place smells. Next door there's a Mexican restaurant serving antojitos such as sopes, enchiladas, etc.

Brooklyn &Soto (actually Cesar Chavez & soto)

This part of town was first home to Jewish settlers from the east coast. Gone are the bagel shops and now rule the panaderias (Mexican bakeries). The last Jewish store Zellman's closed its doors 2 years ago! I can't pinpoint the fascination with this corner, but I think it has something to do with the ambiance. Life on the corner can be busy and crowded with shoppers buying for their daughter's quincenera, or the next Carlos Santana buying his first guitar at Candelas (2724 c. Chavez 323 261-2011) shop of handmade guitars (famous guitarist shop here). Best thing to do is wander around, stop by at El Pavo bakery have a bread with champurrado, sit at the corner bus stop (line 68 from downtown) and enjoy the murals that decorate this community, listen in on the spanglish word, or stop by a restaurant playing norteno or mariachi.

Nightlife: House Parties & Backyard gigs

In East LA you can cruise down the street and run into a few parties, some are family affairs and not all that interesting, accept for the drunk uncles singing their hearts away. Most folks dance the night away at someone's backyard drinking strawberry hill or 40's. Sometimes the cops break it up but it's usually after 1 or so. The parties are crowded and full of energy considering most parties are free or a few bucks. So if your cruisin' in the eastside and you see sirens, it's probably not the cops, just a happenin' party or punk rock gig.

East LA College Cesar Chavez & Atlantic

ELA Community College campus is the site for many Chicanos becoming politicized. A good reason to go is to play soccer/futbol, on the grassy field. There's also a huge indoor swimming pool, for a dollar you can swim as long as you want. You can also read or relax in the library. Across the back of the campus there's an independent music store (punk rock/ska). One the corner is all the stores such as Big 5, Kinko's, restaurants, etc.

Edward Roybal Clinic 245 S. Fetterly & 3rd
County clinic providing health services sliding scale, free. Open days only. Nice mural outside.

Dept. of Public Social Services (welfare) 2855 E Olympic Blvd. (323) 260-3718

Do they owe us a living? Of course they do! If you're in town and don't have a place to stay or money, you should definitely consider spending a few hours applying for general relief. You can receive emergency food stamps and a hotel voucher the same day. All you need is a picture ID and social security card. Take reading material, expect to be there 3 hours.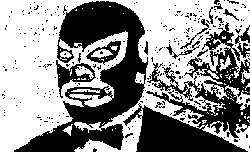 Arte Y Calidad 130 S. Indiana St. at 1st (323) 261-3121

Custom made Pinatas, and paper mache artwork. Specialties are skeletons, cop pigs, cactus, and suns. They have real good colorful creative work, but it is considered in art form and sell it accordingly, pricey. They also give workshops.

City Terrace

Things to do: mural watching, library, park, views of the city, & get out of jail! A small hilly community, where you can see neat views of the city, its located in between Cal state LA and Sybil Brand (women's prison). On City Terrace drive 2 blocks west of Eastern is the Library (internet access). On the front of the library there's a neat mural of hand painted tiles of the Aztecs. Across the street are more murals, & panaderias. On Hazard st. there's a park where you can watch an Aztec dance class, or enjoy the latest mural on the eastside 7/00. If you're unlucky you may be in this neighborhood getting out of jail. Sybil Brand 4500 City Terrace Drive (213)473-6100 Catch the bus 71 or 70


Evergreen Cemetery 204 N Evergreen Ave.

An interest to local anarchist and Chicanos alike. Ricardo Flores Magon was buried in evergreen for about a month waiting to be shipped to Mexico, he died in Leavenworth Penitentiary on 11/21/1922. Magon was an anarchist and was a protagonist in the Mexican Revolution. A good place to read Land & Liberty under a shady tree.

Cirros restaurant 800 Evergreen Ave.

A Mexican restaurant offering typical cuisine, best known for there flautas. They can make special potato flautas served with guacamole, beans, & rice.

East LA Library 4801 E. 3rd St. & Fetterly

A large comprehensive library, with internet access. Known nationally for its collection of Chicano Books( Chicano Resource Center). Popular Latino authors have spoken here i.e. Isabel Allende
El Mercadito 1st. and Lorena

If you only have a sneak peek at the eastside, you should definitely visit here. The all inclusive market of Mexican items such as, music, traditional clothes, loteria, pinatas toys, herbs, & cooking utensils i.e. molcajetes, tortilla & juice pressers. You can shop for groceries, eat at the many stalls selling copes, tortes, burritos, or if your there in the evening time, which I recommend, have a beer or margarita and enjoy the mariachis singing love ballads, or lamenting the land they call home, Mexico! Do as the locals and sing along, have fun!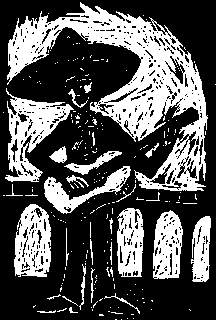 Mariachi Plaza 1st. at Boyle

For years strolling mariachi musicians congregated on this corner, ready to play for any occasion, same concept as the Garibaldi in Mexico City. The city decided to commemorate them with a plaza, though it's only used once a year. Musicians still hang around there and you can hear them in any restaurant or bar on 1 ' St. - Apache's restaurant is a good place to eat for handmade tortillas, and a bowl of beans. On Boyle Ave. you can take a stroll and enjoy the old Victorian houses that are still around from early days of settlement when affluent white folks lived there.

Self help graphics 3802 E Cesar Chavez & Gage Ave

An art and cultural center usually have art displays of local chicana/o artist. Free classes are taught in different mediums, i.e. painting, etching, print making. There's also a small store of local arts & crafts. Self help is most revered for there annual day of the dead celebrations, with music and entertainment from the local Chicano scene, Other events such as poetry readings, discussions, fundraiser party's are also common at the interestingly mosaic building.

La Troka Cesar Chavez & Indiana

If you happen to be in the vicinity of self help, you should consider having lunch at the troka (truck). Located on the corner of Cesar Chavez and Lorena inside the clothing store parking lot. For a buck & a quarter you can have a damn good torta of rice, beans, salsa, avocado, lettuce, tomato, if you're there early you get free horchata (rice drink) you can't beat the price. Bus line 68