It was game 3 for S. Korea in the World Cup, if they wanted to move on to the next round, they would have to defeat Switzerland (that or break out the calculator for the goal differential!) so it seemed like a good idea to check it out with a bunch of Korean fans. Siganme los buenos!
Getting near to the Wilshire Park designation you can see there's lots of fans ready for a game!
Yup, lots of folks turned out for the match. And why not? A free public viewing, in a lil' park, amongst other like minded fans, that's the kind of thing you would expect cities to do. Why hasn't LA done anything for the huge base of Mexican futbol fans? Why does
Huntington Park
actively try to stop any gathering of sports loving people?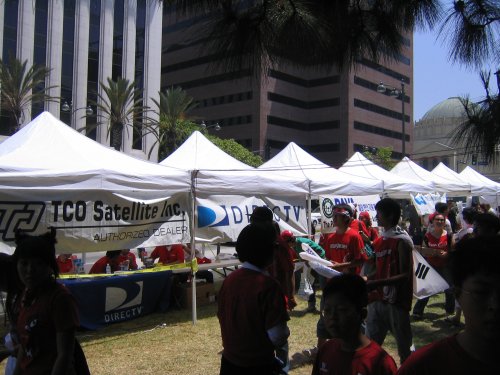 They even had vendors out there trying to push products. Now I'm not one to advocate commerce but it seems a better use of resources to acknowledge the energy of futbol fans, have some companies foot the bill, and set up a decent venue so everyone can enjoy the day. Stupid HP, they waste all their money paying extra time for
police
to harrass the people. No wonder everyone hates the cops.
Lots of people were lining up for free stuff.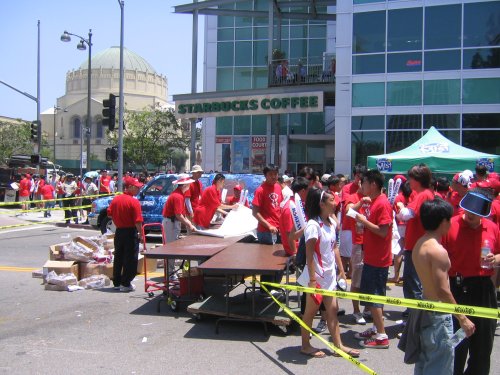 Instead of getting pelted with tear gas, fans were getting free bottles of water!
Instead of firing bean bags at old beaner ladies, they were giving away a tasty ice drink made from coffee beans! I even got a tube of FruTiPS, a "lychee pastilles" candy. This is incredible. I've been to 2 different police instigated football "riots" in HP and each one was directly the cause of the heavy hand of cops trying to squelch joyous celebration. Yes, they did fire on old ladies with kids, and no I didn't have a camera.
See how nice things can work out if you listen to what the public wants? Look at all the people taking a break from normal work schedules to enjoy a game with others. Just like in Judo, you can redirect perceived "negative" energy in the direction you want, it's easier to channel it rather than just stop it.
Here's a small video clip of the crowd
watching some band play before the match. I did think it was weird that the screen didn't switch to the game until 2 or 3 seconds after it had started, you didn't get to see any of the lineups or pre-game images, though maybe avoiding the national anthems is a good enough reason!
I only saw one or two cops cars at the event. No, it's not that Koreans are better behaved than Mexicans, the
anti-HR4437 march
proved that a million mexicans can keep the peace. Besides, S. Korea has a rich and inspiring history of forceful protests!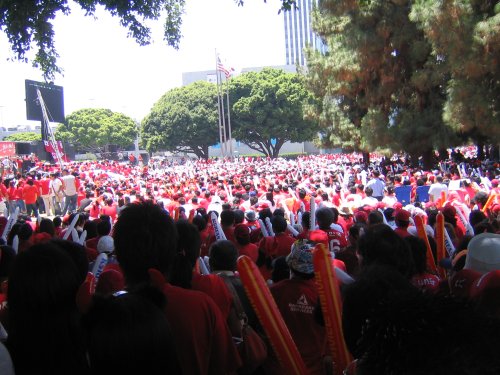 There was a sea of red in the park! Most had red shirts with messages like "Be the Reds", "Go Korea", "Bankcard Services", "Reds Go Together", and one young lady had "1 Day Sale", it's all about the color!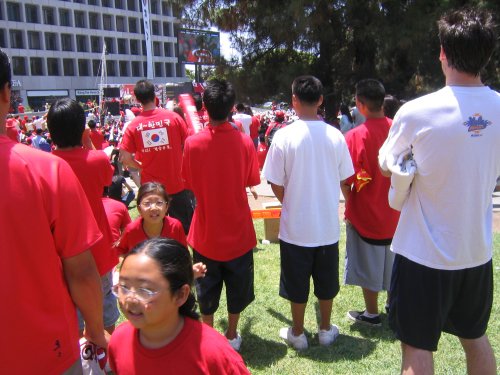 Kids were running around as well, as they should be.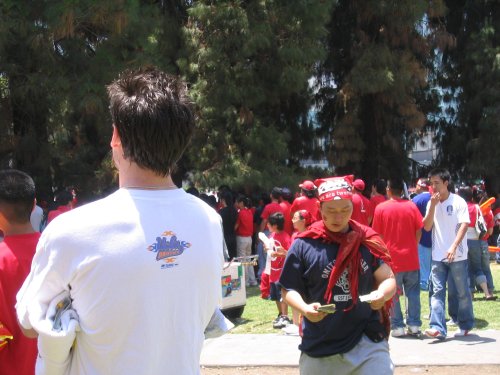 This guy was loaded with cash and contemplating his next purchase! Maybe some plastic light-up devil horns?
Even this little chihuahua was stamped with a Korean flag on it's forehead! Though futbol has crossed over as a popular pastime with our 4-legged friends the Euro-White-"normal"-Gringo-Americans (what is the proper term?) have yet to catch on, go figure!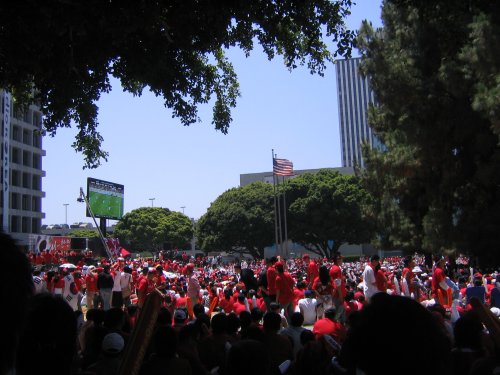 But it seemed like many of the Korean fans were mostly fans of the country and not the game: after the 2nd goal against Korea, with 10 minutes left to play, many started to leave. In football, 10 minutes is a lifetime. Just ask the Aussies about the game against Japan: they turned it from a 0-1 game into a 3-1 game in about 7 minutes!
Here's a video clip of the premature departure of fans.
Another clue that pointed to a passing interest was that they were showing the game from the ESPN broadcast, an unbearable way to see a match: that network insists on taking up visual real estate with a ticker tape underneath for baseball scores (or whatever the fuck they are) and a huge banner up top that says "live fifa world cup 2006" or something like that, as if we didn't already know. I'm not going to even mention the terrible commentary by the announcers, other than to say it's terrible. Besides, everyone knows Español is the language of Futbol. But it didn't really matter as you couldn't hear any of it since the event organizers were blasting canned Korean chants/fight songs throughout the whole game! What a ripoff to the fans, to be in a constant state of enthusiasm, never taking a break to hear some insight into how the game was being played, and always cheering despite what was happening to your team.
Here's a video clip of the sounds of the game
. You can hear the break between songs, and it's deathly quiet!
There is something terribly wrong with a fake soundtrack being so upbeat when your team has just suffered a goal against them. Football, more than anything else, is about getting acquinted with the feeling of being despondent: you have to embrace the concept of failure in order to understand what it means to excel. The USA fans are now going thru that natural process of learning to appreciate (instead of expecting) when their team does well. Bruce Arena and Co. sure were cocky about their potential, and despite attempts to blame the refs, there's nothing like losing in the first round to bring you back to earth!
And in the end, when Korea lost and was eliminated from the World Cup, the majority of fans seemed quite content: nobody was crying, nobody seemed angry, almost as if nobody cared. After the loss, it didn't seem like anyone was actually talking about the game, they were just making plans for lunch or how to get home. That was truly strange. My mate and I were talking about the match, and the refs mistake in allowing an offside goal, yet the Koreans had already moved on. So it goes.
On to Mexico's elimination by Argentina! Ha, ha, that's a joke, it's not going to happen, ha, ha. Ha, Ha, not possible, ha, ha, no se puede, ha, ha, nunca, ha, ha. Ha, ha, ja, ja, ja, ja, never, ja, ja, ja. Well maybe, err, most likely. Ja, ja, It was fun, bye, bye, Mexico.