Nah, I didn't suddenly decide to get into the Burrito business (tacos, now that's another story 😉 ) but I couldn't pass up the opportunity to eat at this place. You probably think I looked it up online and decided to go eh? Well you would be absolutely wrong. I was on my way up the 101 for some other adventures and we decided to try some new breakfast place. I saw a few recommendations for Hugo's on Chowhound and they have lots of veggie and vegan options, seemed worth a shot. But when we got there at around 1:30 there was a long line out the door. It was way too late to do some waiting; time to blow this pancake stand.
We drove off and I saw some lil' cafe that looked empty and as we were making a right to go back, my friend spots this place across the street. Now how the hell can I not eat here? I wonder if they have HR's?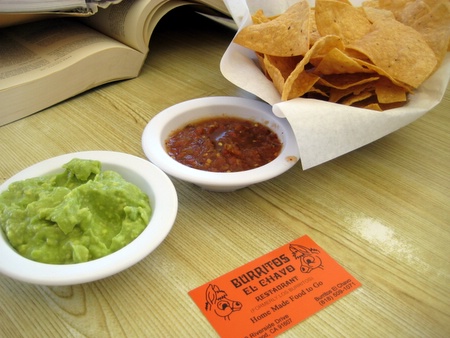 They were on the menu alright. Orders were placed, and I even got a side of guacamole and chips since I was kinda starving. Decent enough guacamole (if a bit too blended) and a nice hot salsa. Things are looking good. We almost didn't go in since it had the Los Burritos icons, a place I do not chose to frequent. The card even has a line that reads formerly Los Burritos, so I was satisfied they made a clean break. Still, how could I not eat at my tocayo's place?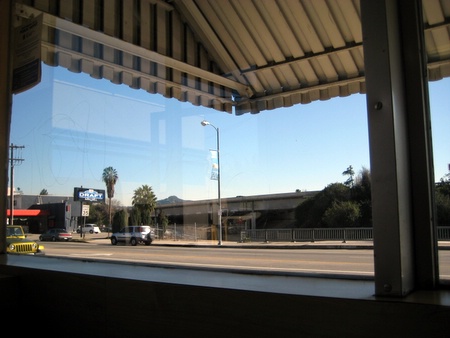 We had a nice view of the freeway and the street, and it was a nice sight on such a fine day. I should note that there were a few other Mexicans in the place (always a good sign) and the staff were your typical trying-to-make-the-best-of-being-at-work jokers. One guy walked in and the cook tells him in Spanish "I haven't seen you in awhile, when did you get out?" Meaning jail, of course. The guy laughed and said yesterday. The woman cook/order taker told some guy to sit down and take a break, the food would be right up. The customer responded "Why, do I look tired?" She came back snapping "No, I just figure we all should take advantage of every little break we can get." He agreed that was a good philosophy.
I wasn't sure what kind of food I should be expecting, but a quick look at the plate and it was obviously Mexican-American, not "Authentic Mexican" food, that weird moniker used most often by people that have never been to Mexico. But this Chicano food has it's place, and on this late afternoon of running on fumes, this dish delivered the goods. Underneath all that baked cheese (a sure sign you are having Mex-Am food) were some nicely fried eggs covered in both a green tomatillo sauce and some red enchillada type sauce, not really a ranchera sauce but it worked. And they put two passed-thru-hot-oil tortillas underneath, I guess one for each egg though they were stacked together. But look at all that cheese! Even the tasty beans got a dousing. The rice was different, I thought it was a bit stale but my friend thought it was really good.  Of course, this kind of heavy cheese-laden dish isn't my prefered version of HR's but at this particular moment, it was like  finding a pearl when you were set to be satisfied with a common rock. Not that I care for pearls, but you know what I mean.
Your mileage may vary.
Burritos El Chavo  818.509.1071
12449 Riverside Dr
N. Hollywood, CA 91607