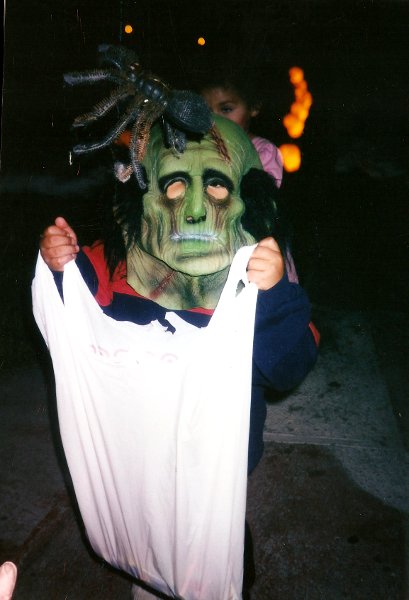 Last year I wanted to write this post because I was livid and angry at how pathetic the Halloween holiday had become: Americans will spend lots of cash on the holiday but hardly anyone comes to the door to ask for treats. This year I'm just sad that it really is dying out, customs being replaced probably by some lame artifice. Except I don't know what the replacement is, probably the Mall, the commercial district, or something stupid. All I know is that kids are not going trick or treating in the numbers they should be. At least not around here.
When I was growing up in Wyvernwood in Boyle Heights, the last place you wanted to be trick or treating was in your own neighborhood, where people were poor just like you and nobody gave you anything. And if they did it was the cheapest Mexican candies they could get, for some reason I only remember the Tomy candies. Which I liked eating but hated getting in my treats bag, it just meant that they too had no money to spare on fancier chocolates. So that is why all the families that could would pile into their automobiles to head for better trick-or-treating terrains, somewhere out in the new suburbs where people were rich and a full sized candy bar was not out of the ordinary.
But you still went out to see what the neighbors were doing, even just to verify that they were giving out the cheapest candy possible. A quick tour of the hood and then you were ready to go begging for candy from the rich fucks. This meant that hardly anyone gave candy as they were all busy trying to get candy. A vicious circle. But still you'd run into the candy-less home that would dip into the loot of their children to share the prize with those that came to their door. There is nothing poorer than those that will not share.
Flash forward to now. Kids are out and about but in very few numbers, at least over here in Lincoln Heights. Tonight was worse than last year, with only around 12 visitors/groups to the door. What a shame. But I wasn't as angry about the shitty turnout this year since I'd already been expecting a lame number of trick or treaters based on last years results, and they delivered. I think all we can expect from now on is a shitty Halloween turnout, kids being scared by their parents from visiting private homes and encouraging mall visits and roaming the commercial districts, killing a grand holiday because of misplaced fears. There was a time when I might get upset by such stupid parents but now I'm just letting it go and dealing with it.
It is their loss.