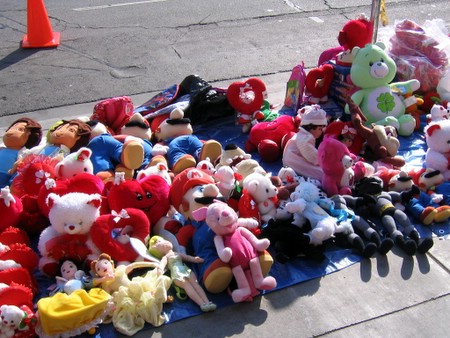 Every few months the Lincoln Heights Chamber of Commerce organizes a big Sidewalk Sale on Broadway, where merchants, both local and visiting, setup booths in which to hawk their wares. It's mostly the usual stuff you'd expect in a working class Latino community, nothing fancy, but it's quite fun just to walk around and check out the mix of people. Here's a few pics in case you miss it, though you can still catch it tomorrow Sunday if you're lucky! Maybe you can get yourself a stuffed Mario Bros, a Dora the Pedora, or even a real baby! Did you spot her? JK, it's only a creepy realistic looking doll!
The LHS football team (they call themselves the Tigers) had a little booth..
…right next to the sexy bras and underwear for the mature woman. Don't get excited boys!
For some reason, there's always a bunch of stands selling cookware, but you have to leave your name and number so they can get back to you later, how old school.
You need basics? We got basics!
Mucha Ropa! Whistle, whistle..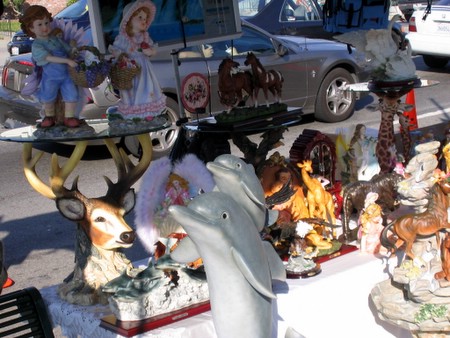 Nothing sez home decor like deer antlers holding up your coffee table, zombie dolphins staring with their dead eyes, and imaginary little white kids picking grapes! Lucky for me they have a lay-away program.
This jeweler is trying to sell rocks and crystals under a zodiac chart. Hippy town is thatta way man!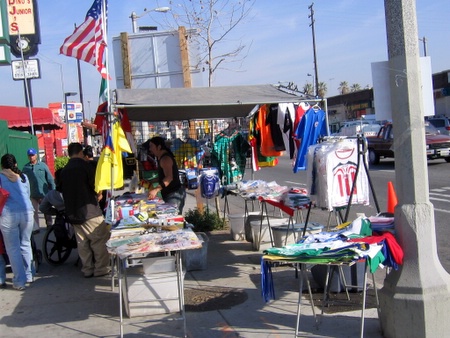 All your needs for Sundays big football match can be had here. No, silly, I didn't mean that "football" where they mostly use hands, I meant América vs. Atlas! I'm going for the Black and Red team with the Circle A! 😉