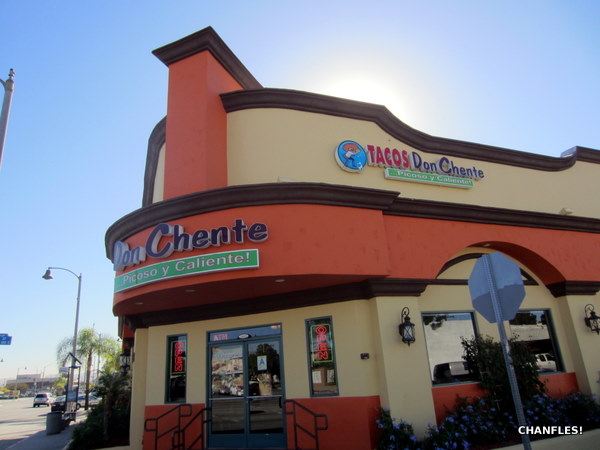 It has been a few months without an HR review on this here site, mostly because the ones I've sampled lately haven't pushed me to say anything: mediocrity makes for poor inspiration. The ones from Tacos Don Chente in MonteFeo are good enough to mention!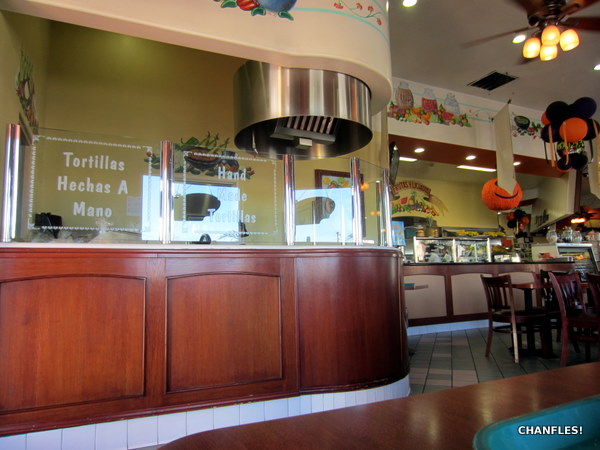 I'd been here before and kept meaning to come back for breakfast, I'm glad I finally had a chance. You order up front, get a number, then go pick up your meal. The place is spacious with booths and tables and actually looks kinda upscale, as far as Mexican eateries are concerned. They also have someone on duty making fresh tortillas, bonus!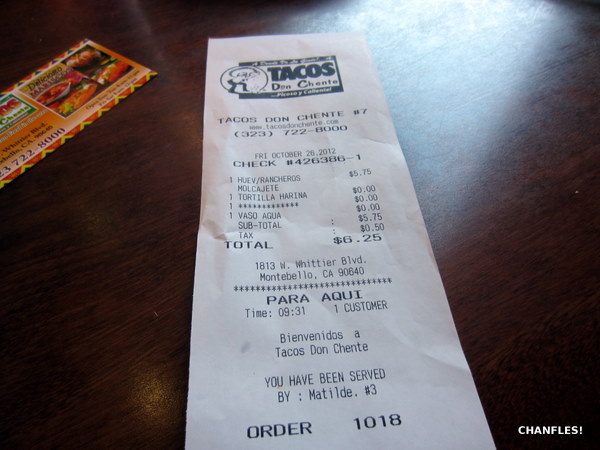 You have the option of salsa de molcajete or verde on your HR's. Check out the reasonable price!
I like how they claim to have the best Mexican food in the area, not presumptuous enough to brag they own the whole town. As I waited for my breakfast I got to enjoy a good selection of classic ranchera tunes. Things are looking good.
My number was called fairly quickly, and breakfast was served. That is a big plate! The beans were fresh and flavorful, a detail I appreciate the most. It comes with an enjoyable basic Mexican rice along with a few seasoned potato wedges, an odd addition but I like them. The eggs were perfectly cooked, with those delicious but sometimes dangerous runny yolks that make the pursuit of HR's a gastro-roulette. Who needs skydiving when you can risk your life at breakfast? I like affordable thrills. They didn't fry the tortilla underneath in the manner I deem appropriate but since it was a freshly made tortilla de maiz it worked out well. The salsa de molcajete was a very decent chunky tomato based salsa with enough chiles to make it tasty.
But if you want even more zip in your HR's they offer a quite amazing salsa bar. The bonuses just keep on coming! Over on the far end you can see six different salsa options (strangely labelled solely by some percentage chart of how hot the salsas will be compared to the others) and over near me we see your usual rabanos, chiles, limones, escabeche, cebollas, and …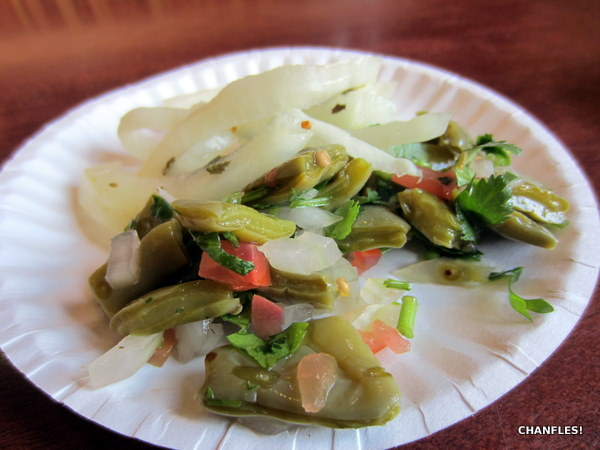 … an ensalada de nopales option! That is pretty awesome. Most places, if they even carry nopales, will charge you for the luxury of this common food as if it was some table side guacamole, but here you get it for free. If I was hurting for money I'd probably just buy a few tortillas and some beans and have a whole meal with all these free extras. I wonder if they do EBT? You know, for the future.
Nice and warm fresh tortillas to help get the food into your mouth.
I came back another day (would I lie?) to try the salsa verde, it was good as well but I think I prefer the molcajete. Notice that the only cheese they use is some cotija for the beans. Proper.
A good breakfast plate with fresh and well cooked ingredients, a salsa bar that puts others to shame, tasty tortillas made on site, and all at a great price: it is worth the drive.
Tacos Don Chente   323.722.8000
1813 W. Whittier Blvd
Montebello, CA 90640
www.tacosdonchente.com