I was driving by the Loft area on Ave 26 and saw this amazing mountain of couches. In Lincoln Heights you get used to the occasional couch or two on the sidewalk, but this was special. I had to pull over for a pic.  I wonder if a bunch of people got evicted from that Senior housing? Or did they just, uh, move on to a different place? Hmm, I can't get a good look from this window, maybe I should park and check out this lil' mound.
One my way back, someone had already pulled over for closer inspection as well.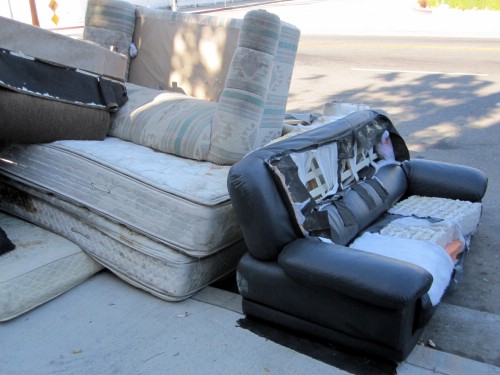 There's a few mattresses thrown into the mix.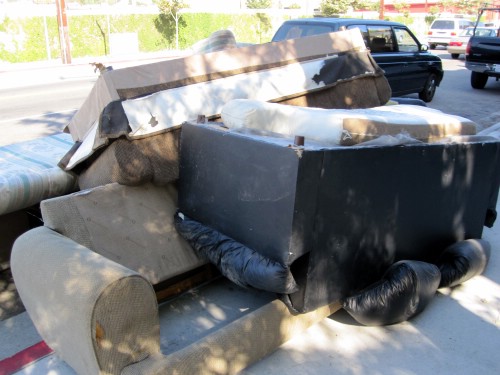 Most newbie gentrifiers to the area would see this pile of furniture as an example of the dirty, third world ways of those "ghetto" ethnics. If you read enough blogs about this city of Los Angeles, you'll know that this is not even a slight exaggeration. I've left a couch or two on the sidewalk before, and thats because I am a thoughtful and compassionate person that cares both about the environment and the needs of the working people. Yes, the trash you see is an example of Green Compassion.
See? As I just mentioned, the thoughtful person puts unneeded items in the public domain so as to encourage others to reuse said items, thereby extending the life cycle of the stuff humans make from the various elements that come from the earth.  In communities with money, they waste shit like crazy, throwing out perfectly-usable-but-now-unfashionable items as if there is an unlimited supply to the collection of trees and metals that get turned into that latest commodity. How come they don't get some derisive, denigrating terms to call them out for this wastefulness? If we are ghetto, then what are they? Wasteoids? Serial Konsume-illers? La Mara Shopaholica?
As you can see, these Environmental Activists were considering their actions in regards to an item headed for the landfill; maybe they can find a home for this lonely and unappreciated commodity? You can see in the previous pic that this guy was calling his phone tree to see if he could place this decent, if a little worn, couch into some needy living room. They do the world a real service. Too bad they're so ethnic looking though, that doesn't help. And they probably don't have friends in the media or a grasp of the appropriate lexicon to turn this natural practice into a green ideology, one to which others can subscribe. If it weren't for those key factors, then LH would be the birthplace of a certifiable movement! Instead, they're just "ghetto".
When are people going to realize that "stuff" is a responsibility and not something to be taken lightly? Before you buy more crap, ask yourself these questions:
– Are you ready to commit yourself to this thing for at least most of its projected life?
– Do you have the time to care for and occasionally mend this thing?
– If you get tired or bored of this thing, or if the magazines decide it's no longer a must have item, you can't just return it or give it away like a common pet. Can you love it despite having public opinion turn against it?
Think of the sidewalk as the sofa pound, not unlike the dog pound. If nobody claims these old couches within a set number of days, then they go back to the garbage. Just like old unwanted dogs. There's always newer and prettier ones to be had at the stores! Just like puppies.
As I was walking away, that black leather couch was being loaded into a mini-van, to survive another day.
Earth First! would be proud.