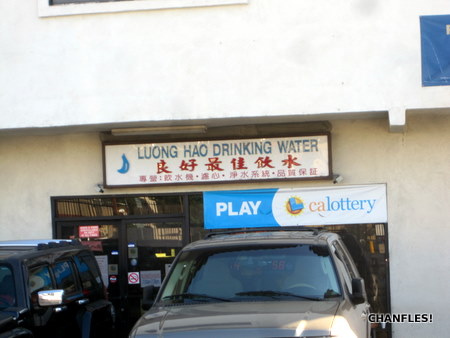 In my last post I mentioned the poverty tax known as the California Lottery, that gambling scheme designed to scam some revenue out of those least able to afford it. (I wonder when they will start taxing the rich with their stock gambling?)Â  But the poor keep paying it, cuz it's about the only realistic option one has to getting out of said poverty. Let me show you a quick look at one of the popular gamblerias here in LH, which is also my favorite place to get my rust free drinking water.
Normally, during the weekdays,  the front of the shop is packed with men spending some time and some cash on scratchers, searching for printed treasure. I guess those actually have better odds of winning. Not much money, but still something to win. The scratch yard also makes for an informal mini plaza where people just hang out and talk.
But all the action was happening inside, with a long line of customers hoping to hit the big one. See those papers floating in the air like Thai Prayer Flags? They have winning tickets taped to them, along with the vast quantities of cash the recipient received, mostly in the $100 to $1000 spectrum, with a few legit hefty sums as well. No doubt the sight of so many previous lucky ticket holders is an incentive to keep spending your meager wages on this scheme. Maybe you'll be the next one to fly your own prayer-answered flag.
The dead end that is the pursuit of money, circa 2010.
For the record, my numbers were also losers.