After a few days of too much tofu turkey it was time to take a break from that holiday fare and be thankful for some new HR opportunities! My friend Chimatli had a brief chat with Jonathon Gold recently at the Archives Fair and asked him about his favorite Huevos Rancheros, it turns out he's partial to those from this small but popular restaurant in Bell. I've always wanted to try the place out as they get lots of press coverage (even in La Opinion and some Univision tv news shows) so I might as well kill two birds with one stone. Err, I mean, two tofu "birds" with one, umm..Oh never mind, you know what I mean! Vamos!
I like it when a restaurant has a mission statement or some sort of intro as to what they are all about, it makes you realize that they are serious about their craft and have given it some thought. You can read their stuff over at this link. They have a pretty media savvy website as well, with plans for cookbooks and restaurant expansion. They certainly know what they're doing!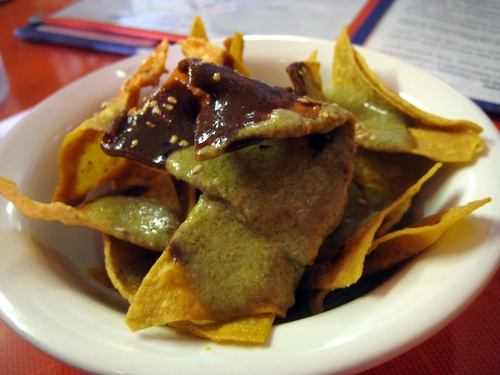 The latest craze in fancier Mexican restaurants is to drizzle some mole on your tortilla chips; Casita ups the ante by using 3 different tasty moles. Yup, it's pretty good but this fad needs an update, like maybe some lil' dipping bowls for the mole? Otherwise the chips get soggy and your fingers get quite messy. I have no problems licking my fingers clean, but I'm still looking at your menu with my grubby paws. FYI.
Presenting, the Huevos Rancheros! They sure look purty! The first thing you'll notice is the quesadilla (It's safe to call them Mexican comfort food) made with a fresh handmade tortilla, a delicious substitute from the usual rice and also another new trend which I first spotted at Moles La Tia. The beans were decent enough but they almost didn't show up to the HR party porque les falto. I think maybe they use some of those yellow beans I've been wanting to try? They don't taste like pintos (that's okay) but they needed something else besides the decorative chile on top.
The eggs were properly cooked, but they were of average quality. If you eat and like eggs, maybe you'll know what I mean. Unfortunately, the tortillas underneath were not fried, nor were they just briefly passed in oil: they were handmade tortillas, asi no mas. They are obviously proud of their perfect tortillas here because we also got a basket full of them, but it doesn't work so well under HR's. I guess this helps to keep the dish healthier without all that frying oil, but that's not why I eat this plate. (Hmm, I wonder how a fried handmade tortilla tastes? I'm gonna have to find out!) The other drawback of these tortillas is that since they are thick and dry they absorb liquid quite easily, and you'll notice there's not too much sauce in the first place so most of the ranchero salsa ends up in the tortilla. Which ends up tasting a bit soggy. This is a considered and refined sauce, extra blended for that super smooth consistency they probably teach in chef school, but it lacks spiciness to accentuate the tomatoes. There is a note in the menu to let you know that you can ask for the dish to be made spicy, which I briefly contemplated, but my quest for mapping out HR's around the city isn't to tell them how to make it to my liking, I just want to find some good examples of HR's as the default, standard dish. This lack of chile makes me think they are trying to be accommodating to the heat-challenged non-brown crowd, a Scoville lowest common denominator that does no one a favor. The mostly Mexican crowd in this packed eatery would surely be okay with some chiles, and the newcomers to the "authentic" cuisine could use a good intro to the dish. If anything, the menu note should offer to make it non-spicy, if you want to sacrifice some flavors due to those delicate lips.
It's obvious that La Casita Mexicana uses quality ingredients (the eggs are debatable) and they aim for Mexican food instead of Mex-American fare, but they need just a slight push to make their HR's exceptional.
La Casita Mexican  323.773.1898
4030 East Gage Ave
Bell, CA 90201
www.casitamex.com