It pays to talk to your local environmental activist: the vato that recycles my bottles and cans, always the best source for news from around the neighborhood, alerted me to this dedication of a new mural happening today at 3pm, near Hillside Elementary.  "There's gonna be Aztec dancers and pan dulce."  I had nothing else to do, let's go!
At the 3pm starting time that I was expecting, nothing was happening and nobody was there. Let's take a walk! Half an hour later, there were lots of people gathered.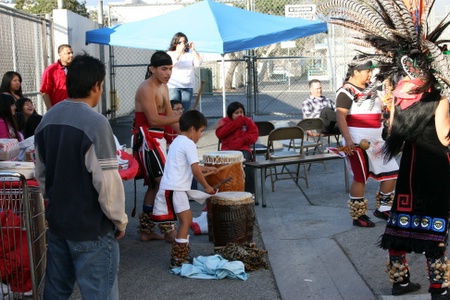 The young ones were given the task of drumming. They did a good job.
It started off okay, but the guy doing the dedication kept going on and on about the problems with youth getting into gangs, drugs, and alchohol. There was also lots of "spiritual" talk about the "creator", Mexica mythology, and more anti-drug ramblings. Dedications shouldn't be so dour.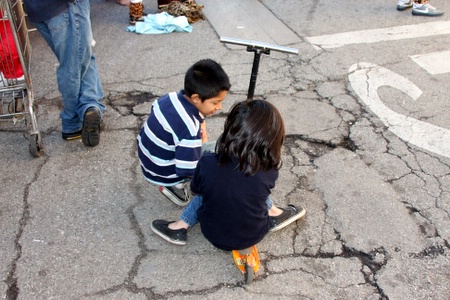 Some kids were not paying attention. Good for them!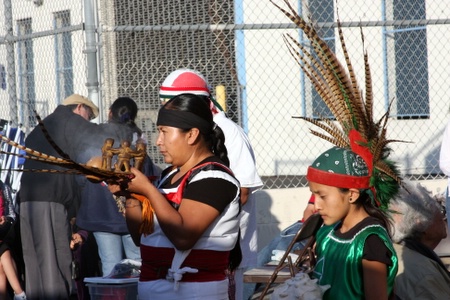 They did the blessings towards the four cardinal points.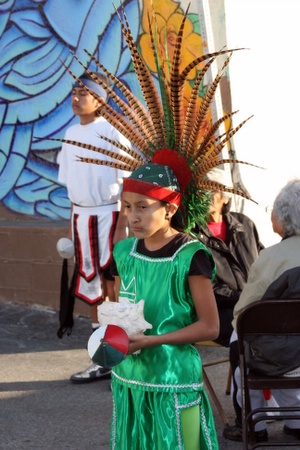 This young lady had a serious face throughout the proceedings.
At one point we were all asked to raise our hands towards the skies. Most participated, but the environmental activist in the background was busy recycling a can to save the earth.  I'm hoping to do a post on him sometime, he sure is a unique LH character.
My environmentalist aquintance filled in as a necessary heckler, answering rhetorical questions with sarcastic comebacks, stating that there should be more dancing and less political talk, and adding that many native cultures have used drugs for enlightenment. One woman tried to shussh him, but he was having none of it. I was just laughing because just the night before I was having a discussion with a few friends about the need for a group of dedicated hecklers to bring some truth to art events and other occassions were they try to keep the audience captive -not captivated- by methods  of  social embarrassment and imposed politeness. This is a concept that deserves further contemplation and eventually some action!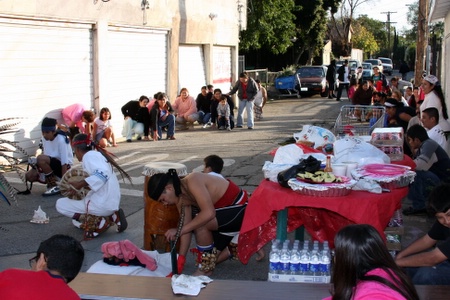 They reach to the heavens and then they touch the earth. Lots of these folks were just people from the neighborhood but it was cool to see how they all got into the theme of the event.
Time for me to leave. The blessing/dedication was still going on. It's a nice mural of a modern interpretation of Quetzalcoatl, hopefully the ceremony will somehow help it to keep the taggers away. But I doubt it.