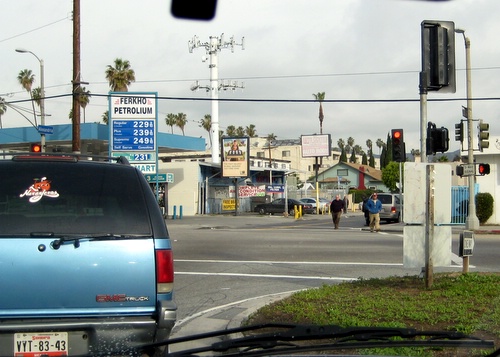 One of the first things I noticed about the Westside – many, many years ago- was that they rarely helped each other out when one of their own had car troubles. Imagine my surprise to see some mutual aid being doled out a few days ago on my way to work.
As a driver of used cars, I'm well accustomed to shit going wrong: inevitable flats of the $15 retread tires, alternator going crazy and blowing out the electrical system, starter sticking and refusing to turn over, manual transmission exploding on the 710 (I was driving but it wasn't my car, phew!), carburetor points going bad at the worst time on a Ford Pinto, brakes completely failing on the wrong side of a hill on the way to a job interview for a damn mortuary, and sometimes just running out of gas, which happens often when the gas gauge doesn't work. Yeah, they're things that should be fixed before they break. But financial precariousness, a symptom often associated with those buying crappy old cars, nudges those repairs until that mythical later when you'll have just a few extra dollars to take care of things. It doesn't matter anyways since those repairs will choose their own day and time on which to demand attention, regardless of where you need to be.  That's just how it is.
On the Eastside, where most people can't afford to join AAA, when your car breaks down on the street, people will help you push it over to the side of the road, to a safe place from where you can start calling around to friends and family to see who's available to help out. Pedestrians and drivers, it's common for all of them to pitch in with the pushing. Maybe they just want to get you the fuck out of the way, but still, it's help.
This weekday morning I noticed that no cars were moving even though the light was green. Suddenly, this guy from Sonora in the blue jacket jumps out of his truck and heads over to push an apparently stalled mini-van. The man in the black sweater responded to the visual cue and jumped out of his BMW to help out as well, and soon the homeless vet that hangs out at this off ramp also joined in.  The Korean woman seemed surprised by what was happening, but she got her van parked safely across the street. Humans are by nature cooperative and helpful. Unless they live too long being part of a messed up anti-social culture that seems to be so common these days in the US.
Everyone is back in their respective autos and waiting for the green light. The homeless vet is still talking to the Korean woman, I suspect he's asking for some money for the help, just like the "help" I've experienced downtown.
It doesn't take much time or effort to help out, but I've seen a few instances where nobody can be bothered. I once helped some obviously moneyed guy in a fancy corvette push his expensive unreliable vehicle over to a side street, somewhere in Beverly Hills or Century City, I can't remember. Not like I could tell the difference either. I was appalled at all the people that kept honking at him and speeding around him as if to make a statement, like I-reject-your-vehicle-failure. It was crazy, kinda like he was no longer one of them. And even though I didn't want to help the fucker (cuz you know, I'm all about fomenting the class war) I somehow felt bad for him and offered a hand. My apologies.
This tiny and unexpected example of helping others, though insignificant, still registers as an act of mutual aid, of helping others just because they seem to need it. An antidote for the fucked-up-ness all around.
It was also a nice way to start the day. Uhh, I was going to jump out to help out too but I knew they had it covered. Yes, I knew.
Later in the evening, heading back home thru the traffic, I found myself looking at another Naranjeros sticker. Didn't I just see one earlier today? Oh shit, that's the truck with the mutual aid guy from this morning! The picture is bad, but trust me, this is a shot of a vehicle driven by that same Sonorense with a big heart.
Chanfles, indeed.