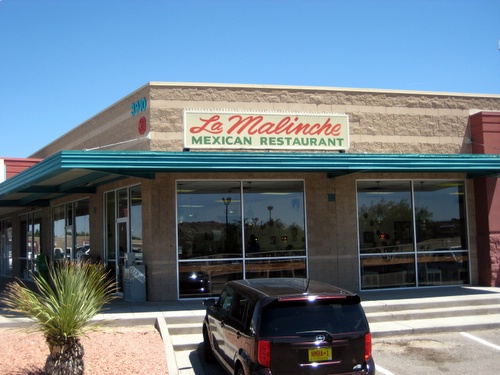 Man, where does the time go? This past weekend I was hoping to do a few posts on this here ol' chanfles blog, I even planned to share a recipe or two, but then all of a sudden the work week has begun and I'm trying to just catch up with lo que sige. I wish I had a giant pause button cuz that would be useful.
But  whatever, la vida viene come viene. Ajuste.
So yeah, I was on a road trip thru the parts of the US that were once parts of Mexico, and it was fun. I was hoping to run into some regional variations on Huevos Rancheros but was mostly blocked in that pursuit due to the continuing presence of meat in the menu description, and as I've mentioned before, if I have to ask them to take out the meat, then I'm likely going to pass on the dish. I did end up finding some candidates though, aren't you lucky?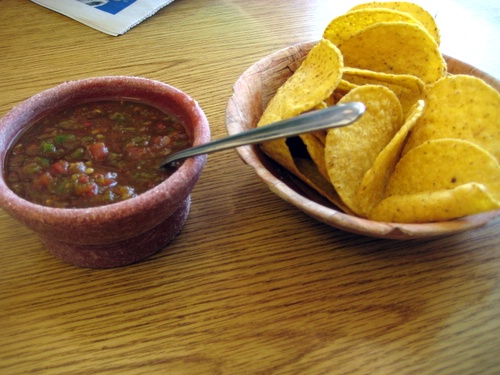 The salsa at this El Paso restaurant was one of the hottest I've ever had in a restaurant, yet it looks so nice and mild. You know this hotness, the one that burns your tongue and lips yet you can't stop yourself from having just a bit more, that's this tasty salsa, seemingly packed with chiles serranos. They did use some of those forgettable chips from that big Smart & Final bag you expect at Mecha functions, but I guess that can be overlooked. I guess. But I'm obligated to mention it.
Whoa. This definitely qualifies as a regional variation. Hash browns, oh yeah! Lardy beans? Err, I will leave those alone. But you've probably already noticed the most obvious distinction, the yellow/orange of the sauce. As far as I can tell, this was a cheese-butter-cream sauce with a bit of chiles thrown in to round things out. Completely wrong in the context of what I consider proper HR's but a nice addition to this exploratory road trip. A lightly fried tortilla de maiz, eggs done right, and this crazy kraft cheezy sause that was unique, to say the least. Satisfying is another term that comes to mind.
The one good thing about the Southwest: they assume you want tortillas de harina, they don't even bother to ask. Being of Northern Mexico stock, I can deal with it.
Okay, and now comes the crazy. They put a layer of cheese between the tortilla and the egg in these HR's! The HR engineers in El Paso need some vacation days, porque 'tan locos. Not the style I know but I have to admit, this weird cheese experiment was a satisfying way to start the day before hitting the road. I'd give them a another sample, you know, if you want to take me out there for another visit. And I think they only cost about $6, but I forgot to take notes. Again.
La Malinche 915.833.7941
3910 Doniphan Dr Ste A1
El Paso, TX 79922
Bonus! Bonus! Bonus!
I had another try of HR's over in Las Cruces, New Mexico but I took a lousy pic of mostly the side salad. Oops. This dish was more in keeping with the Southwest flavor, with that dark red sauce of ground chiles that seems to be the standard around these parts. I used to not think much about this style of chile sauce since most of the sorta-Mexican restaurants in LA try to emulate this and always fail as they use some weak chiles and the sauce ends up tasting like nothing. Think Acapulco, Lucy's El Adobe, and I assume, El Coyote. In the Southwest this sauce tends to be spicy, flavorful, and something I'm looking into making myself.
The menu offers "sin o con carne", I can deal with that. Instead of lightly fried tortillas under the eggs, they spread some around the whole bottom of the plate (even the rice and beans) which was unique and kinda cool, plus the eggs were a weird combination of semi-scrambled or poached or fried but with the yolk mostly intact, new to me but very good. And all topped with that very respectable "red" sauce.
The best part of this place was the family that runs it (it's not Don Felix, apparently he just owns the property) were sitting around a back table and trying to communicate with their hard of hearing older grandfather, so it was a constant chatter of yelling in both English and Spanish, including lots of curse words. Plus this place was recommended by a worker at the nearby bookstore because they grow lots of their own food, which I think is mostly the chiles. But that's good enough.
Don Felix 575.527.0008
2290-D Calle De Parian
Mesilla, NM 88046
www.cafedonfelix.com/