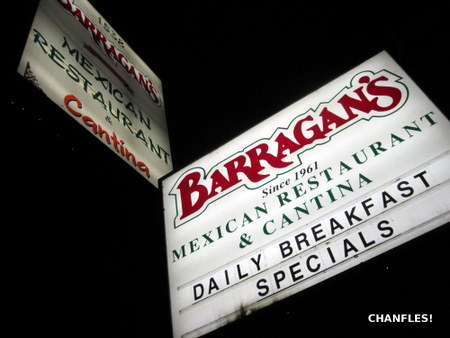 Back when I was a kid Barragan's was the spot for a special meal with the family. A place that meant you'd have to comb your hair properly, as this was the height of the hair combing days. Now that I'm an adult that pays his own way, and thus entitled to wear my greñas come se me de las ganas, I can come here any old day. Yet I haven't been back in a long time as this type of Mex-American food is not the sort I crave. But I'd knew I'd be back to have a taste of their monster HR's some day, and that day arrived unexpectedly this week after work. HR's for dinner? But of course!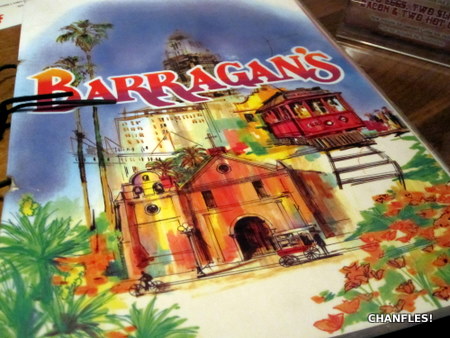 I like their menu cover.
Free Chips and Salsa. Fulfilling their social obligations. The salsa is decent if not very original, I think its made with canned tomatoes. At least its a bit up on the hotness level. Most of the chips were good but there were a few nasty, rancid tasting ones. They reminded me of the smell Los Perricos tostada factory on Whittier used to spew out, a smell I will never forget. Nor tolerate.
Aww man! If I waited til morning I could have had the HR's for $5.49 (with coffee!) instead of the $8.50 I was about to spend. With water. Oh well, hunger doesn't wait.
Ha ha! Just as I imagined, covered in layers of cheese goop. This is really the essence of Mex-American food, a caloric trend that gets described as "old school" yet nobody knows where these cooks took their classes. This dish, as pictured above, does not exist in Mexico. And the funny thing is that these sorts of dishes get described as coming from recipes that have been handed down through generations. As if your grandmother would be cruel enough to suggest you melt a block of cheese on your breakfast. (Mine might have, but she would have been playing around.) Though I have fond memories of eating at Barragan's, the days of this style of food are numbered. Those that still reminisce for these dishes will start keeling over in numbers far too large to keeps these businesses sustainable. No wonder Barragan's in Echo Park now seems mostly known for cheap Margaritas on Wednesdays. For the record, I did not order a Margarita. I ain't a fucking stereotype!
That being said, even though I'm not a big fan of this style of HR's, I don't mind trying them occasionally.  The tomato based sauce is quite mild, with hardly any hint of chiles, but its tasty. They add lots of stewed (ugh) tomatoes, bell peppers, and onion chunks which are not visible in this pic but trust me, they're hiding under that white sheet. The eggs were quite good and properly cooked, though they were on some plain corn tortillas, no frying or oil pass whatsoever. This results in soggy tortilla towards the end of the meal. The rice is good, the beans smell lardy. Its not bad, maybe even a bit good, but its mostly a plate of lots and lots of okay food, covered in cheese. I guess it has its place.
Barragan's Restaurant 213.250.4256
1538 W. Sunset Blvd
Echo Park, 90026
www.barragansrestaurants.com