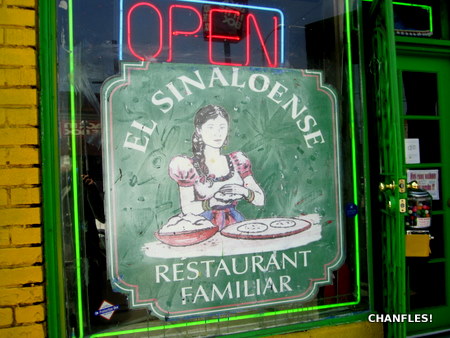 I had some free time this morning so I decided to find another example of HR's. Get in the carcancha and drive east! That's my usual strategy, just looking around for places that might be serving breakfast. There were a few other places I considered, but when I saw this place I knew I had to stop here. I've been reading a few Mexican cookbooks lately (one from Spain, others from Mexico) and there were some small digs against the food of Northern Mexico, especially since its been the basis of what has defined Mexican food in the United States. The rest of Mexico turns its nose at the satisfying tortillas de harina that Norteños add to their cuisine. If you like burritos, then you're on my side. Need I mention I have familial roots in Sinaloa?  Then Teenage Glutster also dumps on the "Northern Mexican barren wasteland of Los Angeles" cuz I guess it an easy target. So yeah, when I saw this sign I knew I had to pay a visit to the food of my paisanos.
Pasenle!
They still had breakfast. Huevos Rancheros get top billing.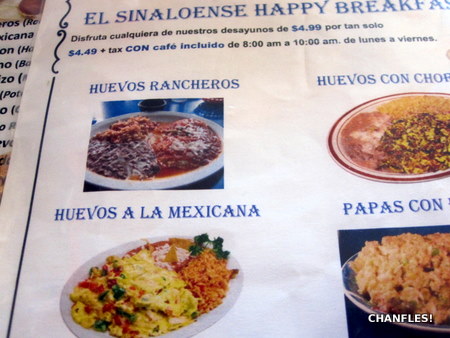 Hmm, that plate looks familiar. I took a pic of the menu cuz I suspected something. Sure enough, once I got home I verified that indeed, that was a picture I took some time ago for the HR's of the now defunct Villas Durango!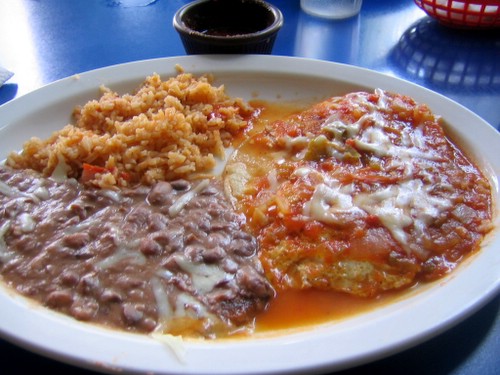 It took me some time and effort, and a google search, but yup, its mine. You bet I feel proud.
It's strange how the mind can remember something like that, from 4 years ago, yet it still just seems familiar. Good work brain!
Right away we get some warm chips and some cold, tasty tomatillo salsa with a spoon. Proper.
As I waited, the jukebox repairman came in and treated me to a bunch of free songs of the Norteño variety. And I got to see some pregnant girl smoke 2 cigarettes while she unloaded a van for some show at the Paramount next door. Boyle Heights, always pushing your concepts of healthy living.
Plus I got to see the end of a paid advertisement on the tv about becoming beautiful, and the beginning of one about getting rich quick. I wasn't interested in either.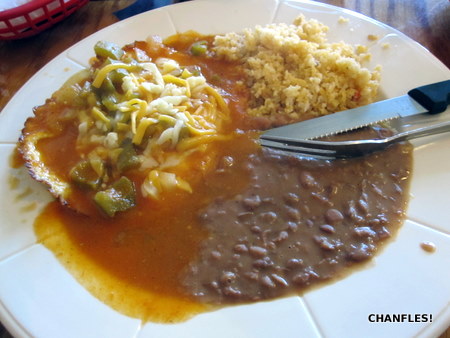 When the plate arrived I was dismayed to find grated cheese on top of the eggs. Oh well, you can't win them all. I had a taste of the very respectable beans and then a sampling of the decent rice, and it seemed like maybe we were on to a good course. Cut a bit of the cooked-just-right eggs, dipped them in the fine tomato-chile sauce, and I was convinced I made the right choice by stopping here. By this time the cheddar and jack cheese had melted enough to make them blend well with the dish, and it wasn't the boatload of cheese that you get sometimes. Plus they had some chunks of chiles on top, which was a nice touch. The tortilla underneath the eggs was too lightly fried, not to my standards, but whatever. I still cleaned the plate.
Did I mention this decent breakfast is only $4.99?
But it's strange that they use a bag tortilla for the HR base, since they make some nice hand made tortillas to go with your meal. If I know they make their own, I always go for the maiz tortillas. But if there's a strong possibility they are going to give me some Guerrero crap maiz torts, I stick to the harina. It takes a special skill to mess up a flour tortilla. I have a fondness for dunking my tortilla de harina in the runny yolk of my HR's. I can't describe the pleasure it gives me, but its almost fundamental. These eggs were cooked so right I slightly regretted not going for the harina. If I ever open up a restaurant I'm going to offer the mitad y mitad, half maiz-half harina, which is the way I do it at home. Doesn't that seem like a reasonable and workable solution to the age-old conundrum of maiz o harina? (For some reason this great video has its audio disabled. Thanks for nothing WMG.)
Don't go there on Friday or Saturday after 8pm, thats when the Karaoke starts. The sign sez "hasta que ya no aguantes", which for me would be around 8:01 pm. You've been warned.
Aside from the singing torture, this place is a good spot to try some HR's.
El Sinaloense  323.268.3322
2702 E Cesar Chavez Ave
Boyle Heights, 90033