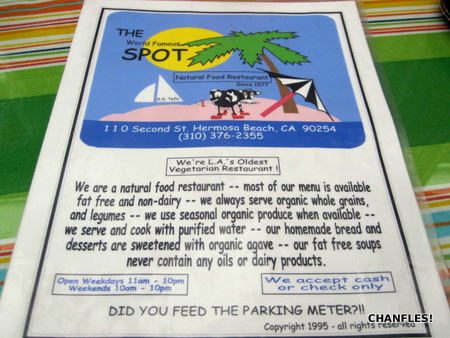 I found myself oddly near the beach the other day, and I looked up a place for a veggie meal. Let's check out this Spot, "L.A.'s Oldest Vegetarian Restaurant!" Excuse the fact that they are in Hermosa Beach.
Yes, I am a vegetarian, but I mostly hate "health" food places, with their mostly tasteless fare, menus created to satisfy an idea, be it one of a caloric denial to appease the self-image or some arbitrary notion of "healthy" that tends to be heavily influenced by the latest eating fad. Yet, I can appreciate the occasional hippy restaurant and their goofy food, just for old times sake, to remind me of the bad old days when vegetarian was a deal breaker, when it meant people could laugh at you to your face, and then would still tell you no, it's not possible.
Above we see their version of chips and salsa: raw carrots and some sort of dressing.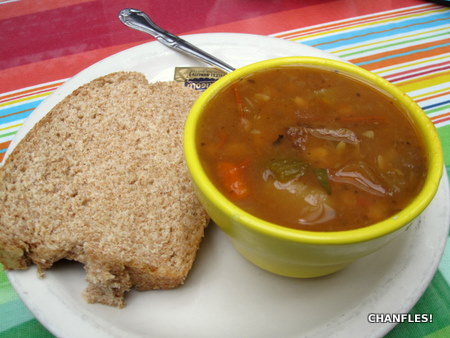 We order the soup of the day, a decent enough veggie soup. Uhh, I think it was a lentil soup? I can't believe I've forgotten.  But I have.
Comes with a slice of healthy bread and a butter pack.
My main meal: the Blue Plate Special. It's their veggie burger served on a plate, con mushrooms and onions,  with a potato that's been mashed (yup, I don't think they add anything to the papa, they just smush it up for ya) and some gravy, plus the steamed broccoli and carrots. The "burger" is solidly in the puck frame of reference, even if its actually quite good. It's like a mini nut loaf, that fascinating food of the 70's.  I kinda figured this was what I was going to get, so the satisfactory meal served its purpose. But I can't imagine this form of eating having a very long life expectancy.
But if you want to refresh your taste bud to the contributions that hippies made to the vegetarian movement, then this is a place to consider.
The Spot   310.376.2355
110 Second St.
Hermosa Beach, CA 90254
www.worldfamousspot.com