I recently saw the movie "Midnight in Paris" by Woody Allen thanks to a great matinee deal courtesy of my local library. It's a decent enough film (which in this day only requires a minimal story line and maybe some basic acting skills) dealing with Paris in the 1920's and the protagonist's desire to be back in the artistic and literary circles of that place and era. One of our local Smoke Shops seems to also be fascinated with that City of Light but maybe not so much the Golden Era, instead stepping it up to the Diamond level.
Nevermind the buzzed driving ad, let's take a closer look!
What's better than the Eiffel Tower?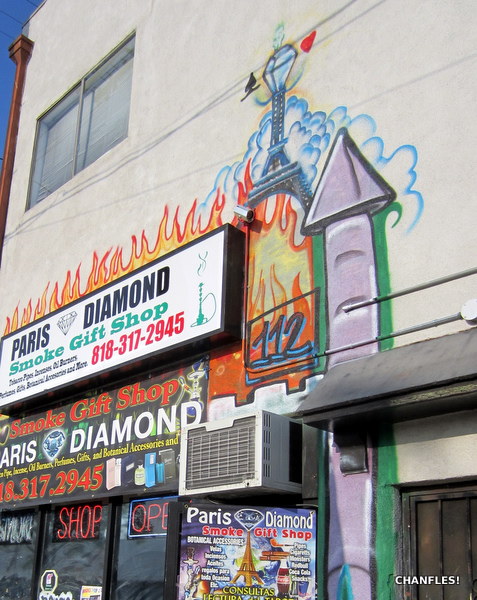 Bam! One with a gigantic diamond on top! And maybe on fire for good measure. Who sez Lincoln Heights isn't worldly? Paris Diamond Smoke Shop is bringing some much needed European flair to our little place in the city.
On an unrelated note, up the street I saw this cement scribble circa 79-80. Yup, That does say Disco Sucks up on top.
I hope Mando's kids aren't into the Rolling Stones and Led Zeppelin as well. That would not be very rock and roll.