My stay overnight in La Jolla was dark and miserable as it turns out to be a mostly ugly suburb where the terrain is designed for autos and you walk fearfully on unlit sidewalks hoping you don't get hit by the river of cars. But in the light of the morning we headed over to the cove area and saw some birds and seals which redeemed this previously damned town. A little bit later we happened on this decent place for a meal that helped to further improve the mood.
This place got some good write-ups, it might be either for the fancy lads, the foodie crowd, or the default spot for the people in the luxury hotel above. The place seemed casual enough if a bit pricey, but the staff were friendly in that normal way and not all bubbly and obnoxious. Not many vegetarian options on the menu, most lean towards the sweet and cake variety. The last time I was at a fancy place and ordered HR's it did not go very well, remember? But I'm always up for a laugh. Screw it, I'll gamble on the $12 Huevos Rancheros!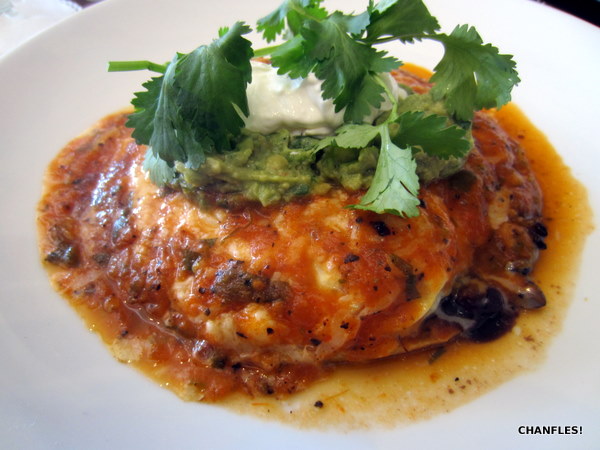 Before we begin, let me state that I do not think this is a proper plate of Huevos Rancheros, in the least. It's some Cal-Mex fusion creation inspired by the HR form factor. Yet, it was delicious. Foremost, they used a nice and spicy tomato based sauce on the dish, coating the whole creation in good flavor. They didn't fry the tortillas but the warm tortillas de maiz seemed thick and held up to the sauce, unlike most versions of this dish. There was a layer of black beans on the tortillas but it was thin enough to not be detracting. The eggs were perfectly cooked, a factor that gains you many points. They also cheated by adding extra fats like Jack cheese, sour cream, and guacamole (which they call "guac"; guacatela!) which will of course make your dish be comforting and rich and satisfying. They win.
Either I was too hungry to be at my proper critical abilities or maybe they really did just make a decent enough fancy lad version of improper Huevos Rancheros that I don't mind eating. You can be the judge.
Nine-Ten   858.964.5400
910 Prospect St.
La Jolla, CA 92037
www.nine-ten.com
Bonus! Bonus! Bonus!
Check out this extra treat of the dark La Jolla walkways!
Car light shadows in the distance, not much light for the pedestrian.