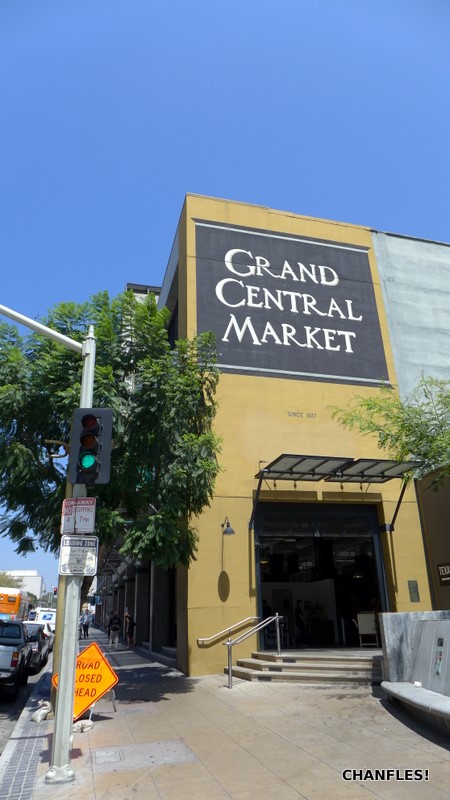 I've been visiting the Grand Central Market quite regularly since I started working Downtown. It's always been a good place for a few reasons, mostly for some cheap veggies, a good source of dry chiles and spices, and sometimes for a bite to eat. It seems that wasn't good enough for the owners of the building who see the dollar bills of new money flashing before them. Now we find the GCM in transition, going from a useful market and lunch spot to becoming a source for recreational eating and who knows what else. I've been watching the process, mostly watching stalls I frequented disappear, to be replaced by foodie vendors that I'm not so enthralled to visit.
El Centro is still the magnet of wild speculation by boosters, most likely real estate assholes trying to cash in while the getting is good. But nobody ever mentions any downside to the new reality we are supposed to embrace, just because. Maybe I'm just a hater. Maybe. But I'm still a person engaging in the world around which I live and work so I'm entitled to my assessment of the "New" downtown. I brought up the fact that things seems kinda miserable at the moment at GCM on the food review website gastronomyblog, what with all the empty stalls and all, and a few people seemed to think I was making shit up.
(Another veggie vendor gone, RIP!)
I mostly took issue with this statement:
The energy inside Grand Central Market has always been palpable, but with the influx of new vendors these past few months, especially Valerie's, the entire place has been invigorated.
I certainly don't see anything invigorating, especially not at Valerie.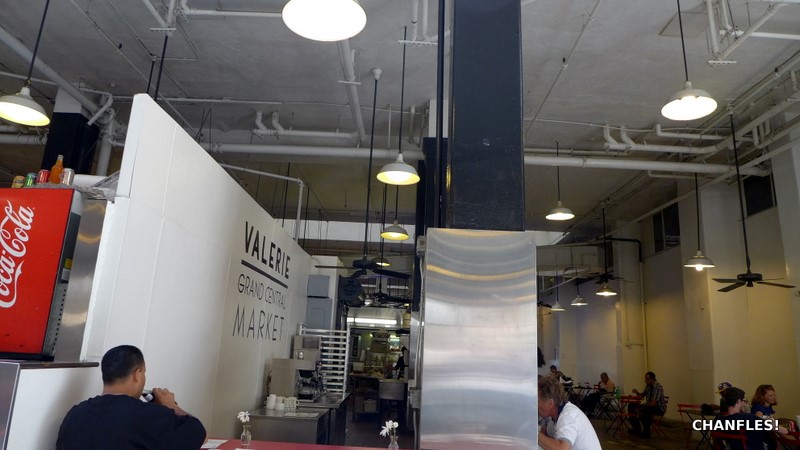 I've been meaning to try the place. The MF Gourmet at least had some nicely done loaf bread to sell, I haven't found any of the options at the new stall calling to me. But I keep looking at the menu.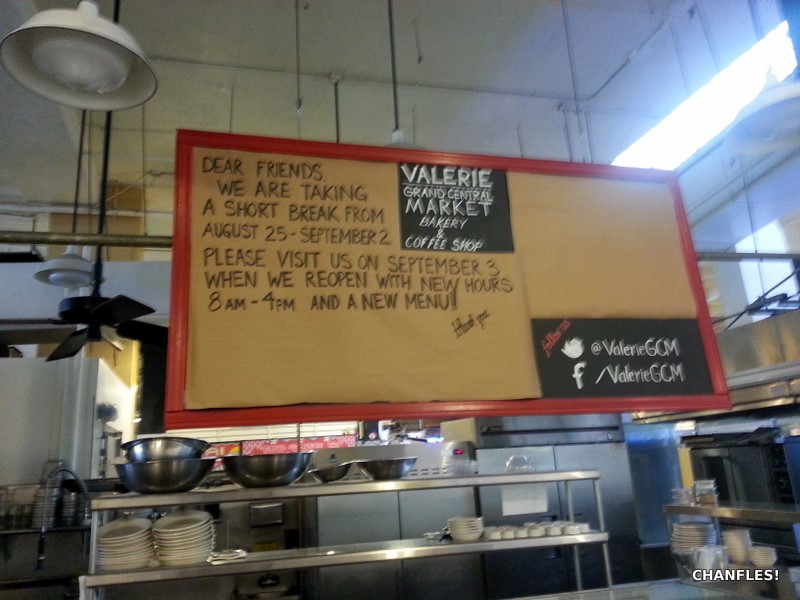 And when I'm starting to consider trying out the place, and just 3 months after opening, they are taking a break. I doubt it's because things were going so great that they had to regroup. I suspect the other option. But I'm not a booster for downtown, what do I know?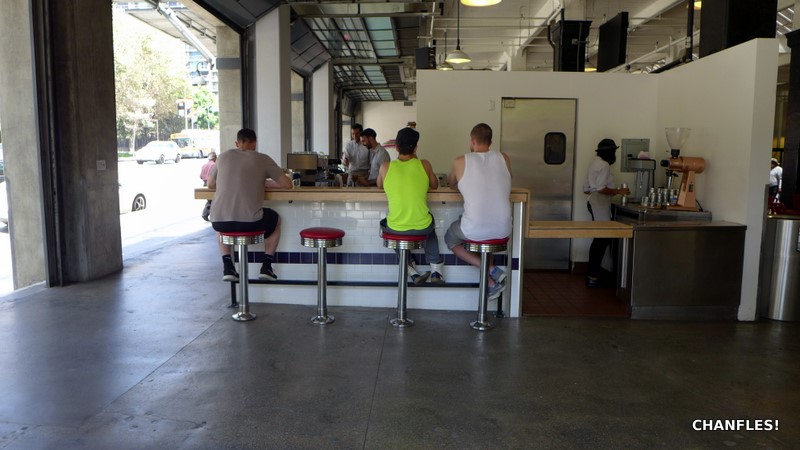 We are expected to take solace that the disappearing acts will be met with a much better service to fit our needs, such as this new fancy coffee place that replaced the regular jugos, shakes, and drinks place. 3 people at the counter, must be a busy day.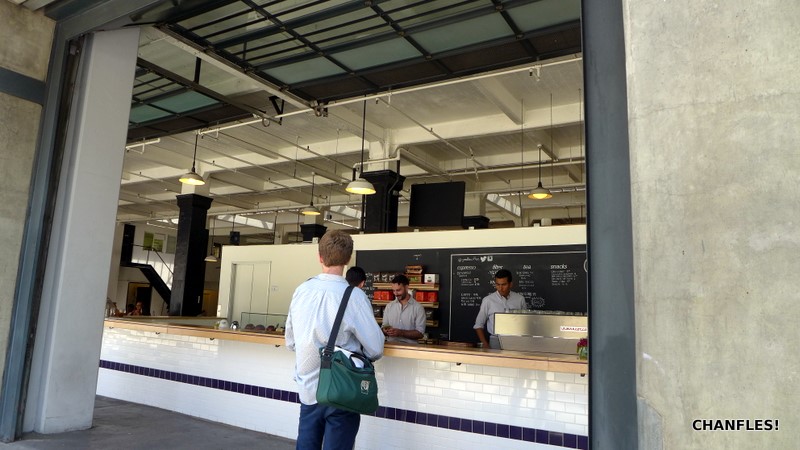 On a different day we see yet another crush of foodies wanting fancy coffee at fancy prices.
On yet another day, a lone dude tries to salvage the fanciful ideas of the Grand Central Market as something it should become, no matter what! A true hero for social progress and cleansing.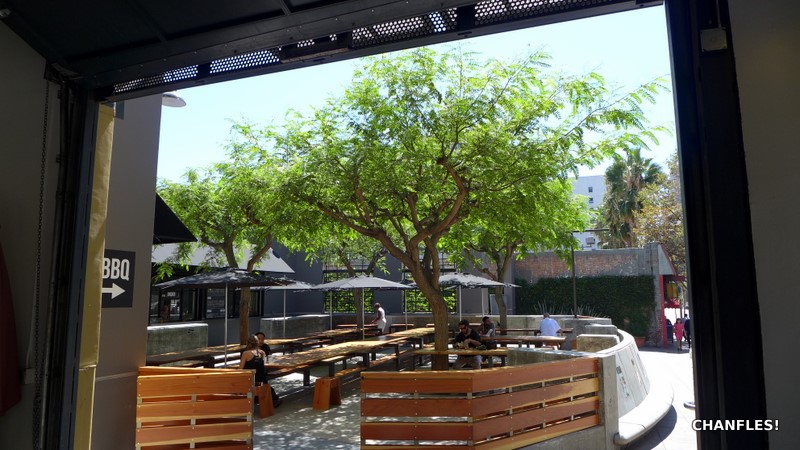 Nearby, the BBQ place with the suddenly restrictive patio hosts a massive lunch time gathering.
I forgot to take pics of the new Thai place, I will try and remember to do that soon. I guess I should also try to take some pics of the sad popsicle vendors standing by their carts while they look at their smartphones. I haven't yet because it just seems so sad and mean.
Oh well, I will do my best to keep this post current. Stay tuned!
UPDATE September 5 2013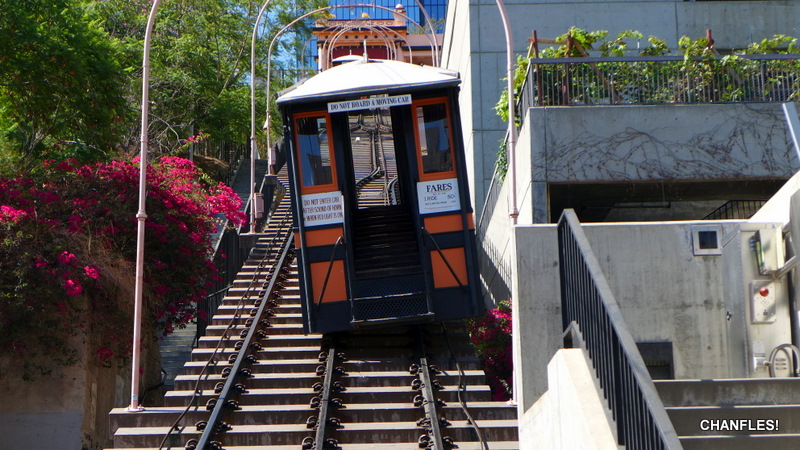 Looks like the Angel's Flight train derailed this morning, something tells me the GCM people are gonna be worried without their foodie commuter train. Oh yeah, and on one of the hottest days of the year, the new Bulgarini gelato cart was nowhere to be found. Hmmm…
UPDATE September 17, 2013
Looks like they are getting rid of 'em faster than they can replace them. Gone this week is Economy Meats, not that I particularly care for flesh merchants but they were the only stall that sold tortillas. Can you believe that, nobody here sells tortillas anymore? For shame.  Plus Bulgarini Gelato is AWOL as far as I can tell.
UPDATE October 19 2013
Looks like I'm not the only one noticing the sadness at the GCM, La Opinion had a piece today on the subject.
"Yo creo que por eso ahora lo veo más triste, antes había mucha gente, chiquitos se nos hacían los pasillos para caminar y hasta música había, pero ahora esto está muy sólo, muy triste", concluyó."
I hadn't noticed the lack of music but now that it is pointed out, the place does seem almost somber these days. Not many people on a warm Saturday afternoon.
There is a new juice vendor cart, I guess this replaces the one that got turned into a fancy coffeeshop. I rarely see the person manning these carts talking to anyone, never mind making a sale. Haven't seen the fancy popsicle lady in awhile either, must have followed the gelato folks.
They've covered some of the spots for construction but I don't hear or see anything happening behind the magic curtain.
Some people out and about, not as many as before. I don't see the desired creative class coming in to fill the void though.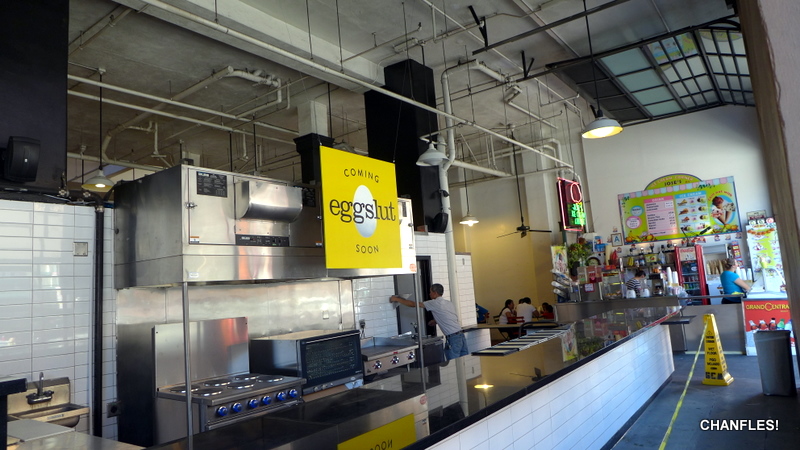 Hey, I guess there is hope! Pretty soon we can all be slobbering over the hot vittles of the vulgar eggslut! How eggciting.
UPDATE December 12, 2013
Welcome Craft Bar! Only $6 for the daily craft special, I hope I get to work with pipe cleaners.
They put in some nice X-mas trees. BTW, the presents underneath are empty. All that running for nothing.
Looks like the "Egg Slut" finally opened up. Seems to be people interested in their sandwiches. I plan on trying it some day, unfortunately I've been testing out a vegan diet lately, as a personal challenge and to annoy co-workers, so it will have to wait. Ima save my egg eating for HR's! Hmm, wonder if they have that on the menu…
The place hasn't looked as miserable as it had for some time but the turnover process should be starting up soon. I bet the juice cart will be next to go.
UPDATE January 7, 2014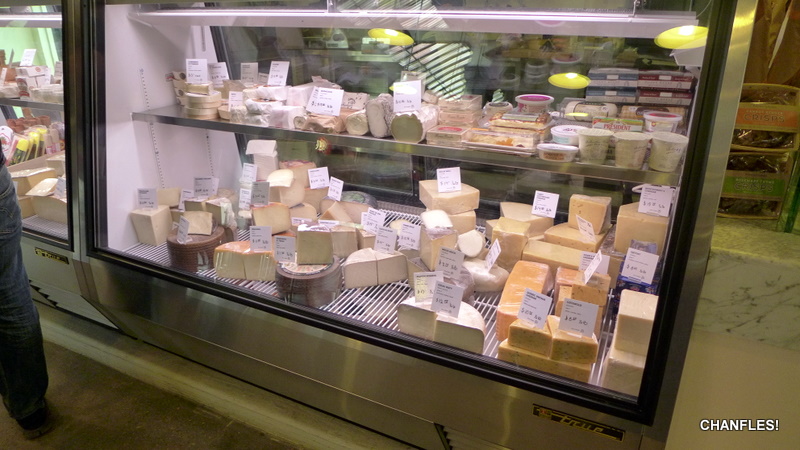 Fancy cheeses now available.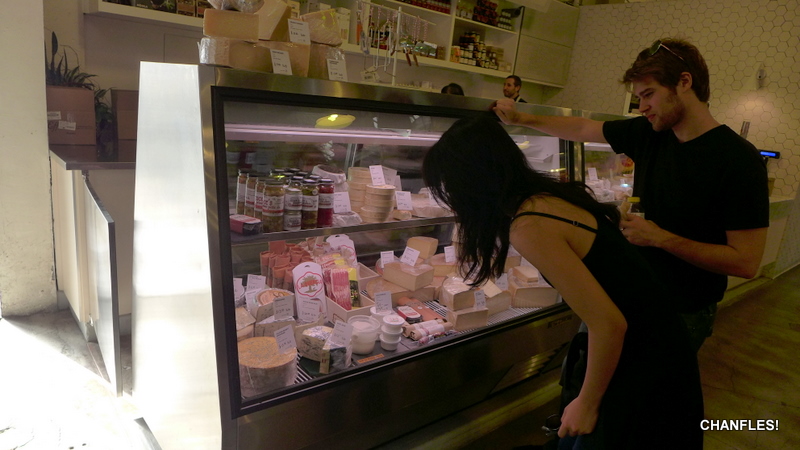 People are looking at the cheese. Not sure how many are buying.
UPDATE January 28, 2014
Can't have hip places without hip art. Here we see the latest addition to the hip vibe, a rock suspended from the ceiling to make people stop, think, contemplate, laugh, cry, discuss, and experience the moving statement it says about humanity. Or not.