FYI, these republished Eastside 101 posts are old posts from blogging.la that lost their photos, just trying to keep them alive on the internet. Carry on.
June 9, 2007 at 12:55 am in East Side
For this second installment of Eastside 101, we take a trip to El Mercadito, that one-stop shop for all your south of the border needs! Even though the place is actually named El Mercado, everyone knows it as El Mercadito (the little market) because its so big, relative to most other shopping places on the Eastside. It's one of my favorite spots to take out-of-towners since they can be entertained gawking at all the weird stuff while I get to stock up on some essentials. Want to see what this place might have for you? Well hop into the virtual ranfla and lets take a ride to find out!
(Warning! MANY crappy, out of focus pics ahead! Warning!)
The Gold Line extension is still being built. (Check out Evergreen Cemetery off in the distance.)
So you'll most likely be coming via car, and there is ample parking space here. When you see the line of painted Mariachis you'll know you're at the right place.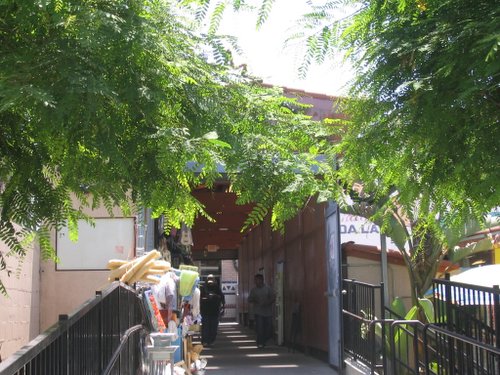 There are many entrances you can take, let's just head up the ramp to the 2nd floor..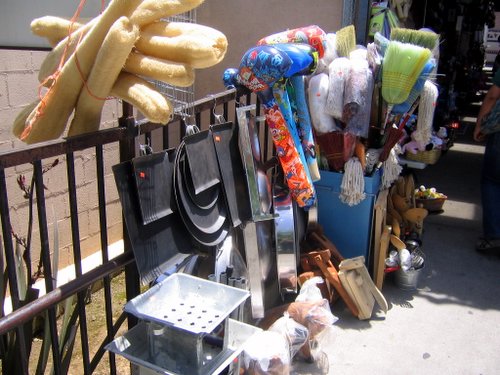 ..and right away you see some very practical items for sale: tortilla presses, comales, brooms, and a $5 long handle metal dustpan, what a deal! If you don't have one in your kitchen, I highly recommend getting a comal: its a thin piece of metal that heats up way quicker than a pan or grill, great for toasting bread, roasting salsa ingredients, and even better at heating up tortillas than an open flame. Plus you don't burn your fingers. And have you considered using apple cider vinegar for washing those hard to clean…oh, wait a minute, I've run off course. Back to the mercadito!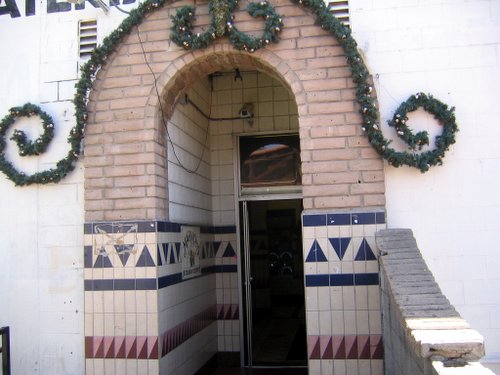 There are many stalls to see outside, but there's even more indoors.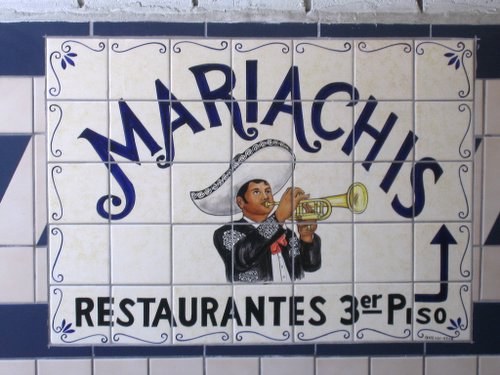 A tile sign points us towards the 3rd floor, that's where you find the sit down restaurants and live music.
On the 2nd floor we are greeted by a waving pig, happy to be in a hot oil bath. Little does he know what's coming, poor thing. And someone tagged up your cazuela, pa' cabarla de chingar.
On this floor you find most of the food items you can buy as ingredients for your next meal, like this basin full of dried fish.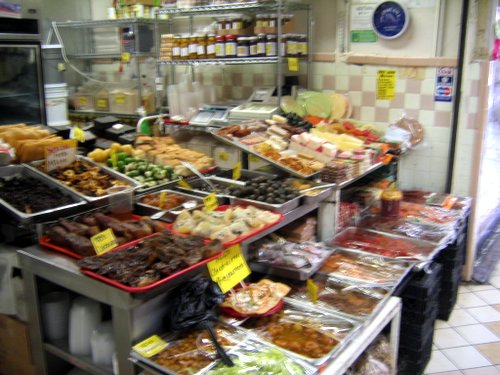 There's a stall full of all kinds of mexican candies and sweets. I'd suggest the camote (kah-moh-teh), a candied (crystallized?) sweet potato that's not overly sweet and has an interesting texture.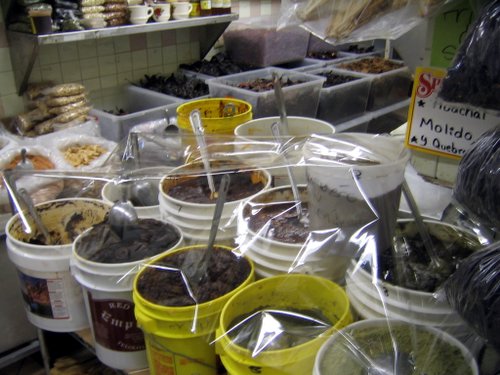 Where else can you find mole by the bucket?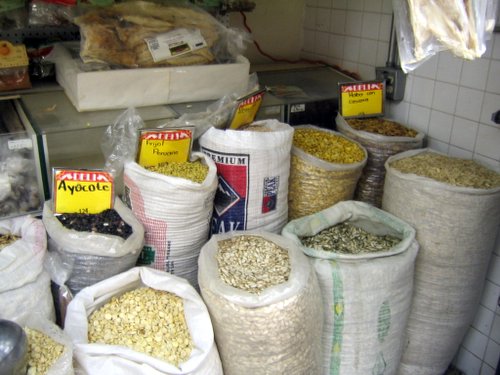 All kinds of beans and maiz can be had as well.
Frutas to go. Make sure you add the chile y limon.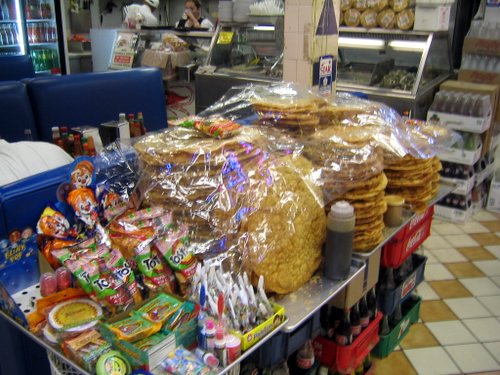 Stacks of buñuelos, which is sort of a candied flour tortilla.
Housewares and cooking tools. Get your lime squeezer here.
The botanica has tons of different useful herbs, but even more useless tonics, trinkets, and potions for good luck, wealth, love, health, etc. Don't be a chump, leave those behind.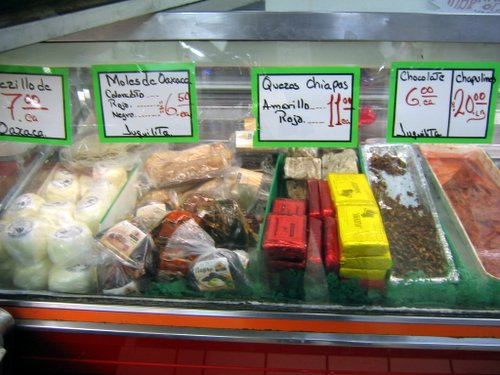 At the carniceria you can get the usual slices of animals as well as some authentic chapulines (aka grasshoppers) from Oaxaca, only $20 a pound. I think I'll stick to the quesillo.
Get your levanta pompis! Tired butts need some helpful lift.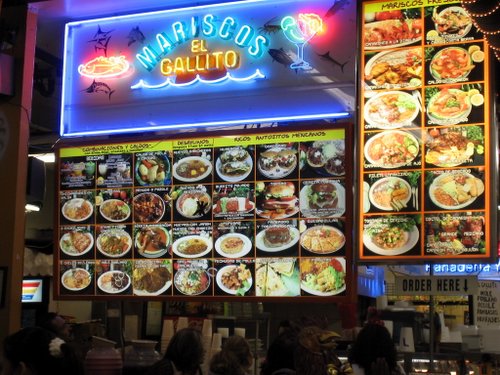 There are eateries on the second floor, and though I've tried some of them, it's often been a very disappointing experience. The aguas are fine, but if I were you, I'd wait til' we get to the 5 puntos part of this tour for your grub. Or you could try upstairs..
..where there are two restaurants competing for your business.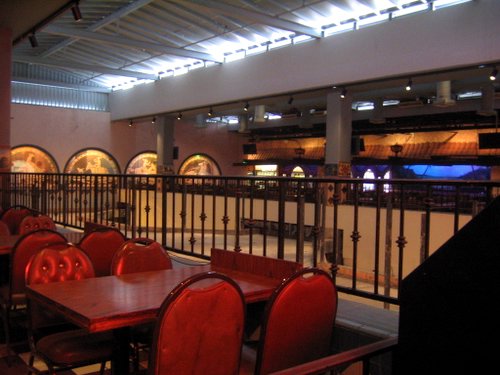 They both feature live music, mostly mariachi which can get boring quick, no wonder its the music of the Mexican elites. On this slow weekday afternoon there was a conjunto of two playing to a crowd of 2-3, a tame crowd indeed. Mariachi or not, it gets quite packed on weekend nights, with the two restaurants having a sort of musical duel for your patronage. I've never tried the food here but it's fun to just bring some friends and have some beers, which is exactly what many seem to do! Eventually, some poor fool will have imbibed enough 12oz bottles of courage and will get up to sing along with the band (usually very badly) in a sort of Mexican karaoke. Drunken terrible singing can still be lots of fun, at least for the spectators. The best thing about the upstairs music is that it used to fill the whole complex with a soundtrack, except they've recently gone and done this..
..they built some sort of floor/structure over the open air part of the building. Boo, hiss! I'm not sure what this is going to be but they kinda fucked up the experience of looking thru the complex, I wonder if you'll still be able to hear the music from downstairs? Never mind the fact that the natural light from above is gone as well, but I think it's been that way for awhile. Que tarados.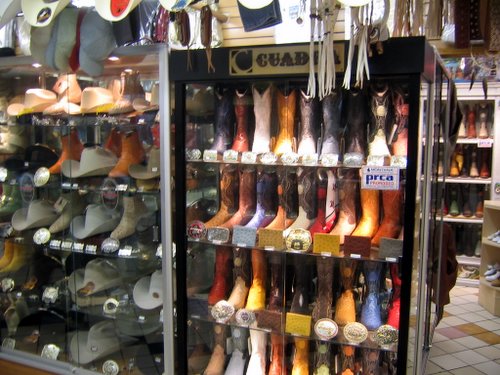 Down on the 1st floor is where you find most of the useful items, like these fancy and pricey dress up boots.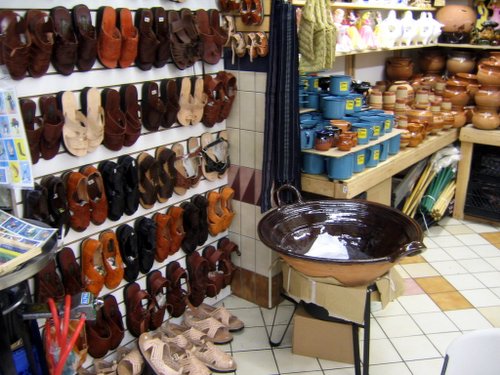 But if you want cheaper footwear, check out the assortment of huaraches, those leather sandals with the durable tire tread soles: excellent for handling tricky corners, and for a quick 0 to 60 feet escape after you've gone and pied Ted Hayes. I got a fancy pair with a buckle and criss-cross design for around 10 bucks, and they're a big step up from those gross plastic flip-flops. I'm just saying.
Now you know where the paisanos get their hats.
And their cintos piteados, those beautiful handmade belts embroidered with the fiber of the maguey plant. They're pricey but well worth it. Just don't get one with an AK-47 design as that might be a problem at airports.
El Mercadito is also a good source for matracas, those loud noisemakers required at all futbol matches.
Really durable bags to transport your crap around.
Enough shopping, it's time to head on out. But you can't come to the Mercadito without tasting the excellent freshly made churros at this stall, they'll make you renounce those crap cinna-bread-sticks you get everywhere else.
These are churros, perfectly fried dough sticks, crispy on the outside and almost creamy on the inside. Unless you have a mobile churro maker that frequents your hood (yes, they do exist), this is next best thing.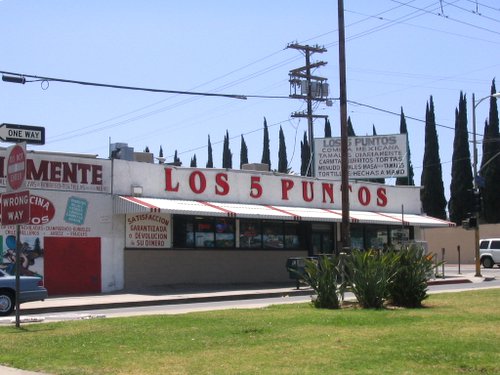 But don't sugar up your churro just yet, there's some really good food just down the street. Los 5 Puntos aka 5 points.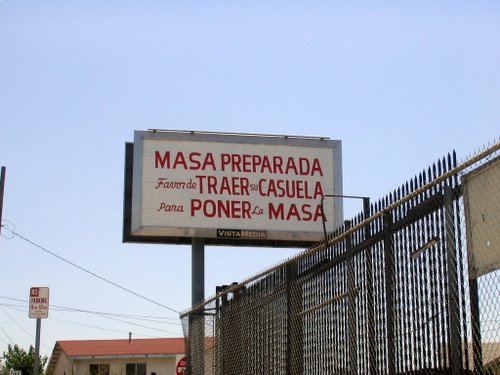 Though you can get your masa for tamales pre-made here (bring your own pot) we are here for the tortillas, they make some of the best around.
And that's because they make them the old fashioned way, by doing it from scratch. Most tortilla makers today just use the dry corn flour mix made by the Gruma conglomerate, but at 5 puntos they make their own masa, soaking the maiz in limestone and grinding it on site.
And the workers know exactly how to throw a good tortilla. When I was there I had to wait around 10 minutes for my dozen tortillas, but I wasn't the only one. What to do with them? I suggest getting a small container of nopalitos, guacamole, and salsa to go, and roll your own taco. Most people come here for the carnitas, but there are other meats you can get as well (you order them by the weight) but I'm not going to give you any suggestions. I used to do a 5 Puntos run for my co-workers, and though I was a vegetarian, I loved the smell of the crispy carnitas. It's still murder and all, but they sure do smell good! And what do I get for doing them the service of picking up pieces of that poor fried pig that thought he was just taking a pleasant bath in hot oil? They taunt me with their tacos, "no quieres?" "Es que estan tan deliciosos." Blah, blah. Bola de cabrones.
Whatever filling you chose to buy, take it all across the street to Evergreen Cemetery and have yourself a picnic. Nothing makes you feel more alive than eating amongst the dead!
Bandini has a review of the tacos at 5 Puntos.
El Mercado 3425 1st St.
5 Puntos 3300 E. Cesar E Chavez Ave.
Evergreen Cemetery 205 N Evergreen Ave.

Here's a google map of all the Eastside 101 locations.