Time for another random hunt for that elusive plate of decent Huevos Rancheros. This time Internet searches bring us to some neighborhood called Kenneth Village, somewhere in boring old Glendale.
"A fried corn tortilla" in the menu description sealed the deal. $11 isn't even surprising these day but HR's have certainly gone upscale from their long history as simple worker food.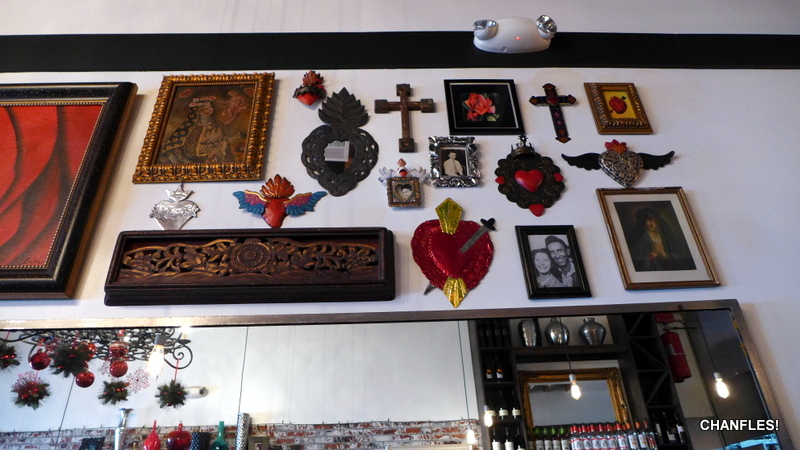 The wall display shows a clear penchant for Chicano style decor, here in the form of the Sacred Heart and assorted Saints and Virgins, not that there's anything wrong with that. But everything has a beginning and an end. Frida paintings, Loteria themed decor, pouty Dia de Muertos pinup girls, Lucha Libre, Mexican Morrissey: when can we admit that it should all be buried in a vault for at least another 50 years? But who am I to say anything, it looks nice enough, especially the photos. Let's get back to business…
…which is the HR's. At this point I have to admit that I can't remember too many details as I ate this plate a few weeks ago and am only getting around to this review here in the future. I guess I should get back to taking notes. I'm pretty sure the tortilla underneath was crispy in that way I approve, but now that I think about it, I can't remember for sure. But I think it was. What I do know for certain is that although the ranchero sauce was savory and headed in the right direction, it was aggressive and slightly bitter, lacked some chiles and was mostly overpowered by Bay leaves. You can see one right there in the pic, I found two more throughout the dish. The laurel bay leaf can add a good background flavor to soups and different dishes, but like cumin, you really want to rein it in as it can really go crazy on you. I was surprised to run into 3 bay leaves on just my plate, but that kinda explained what I was tasting. Not a bad start but needs heavy tweaking.
That's the main thing I remember. Might be worth a revisit at some point.
Mi Corazon 818.500.8100
1402 W. Kenneth Drive
Glendale, CA, 91201
www.mi-corazon.net