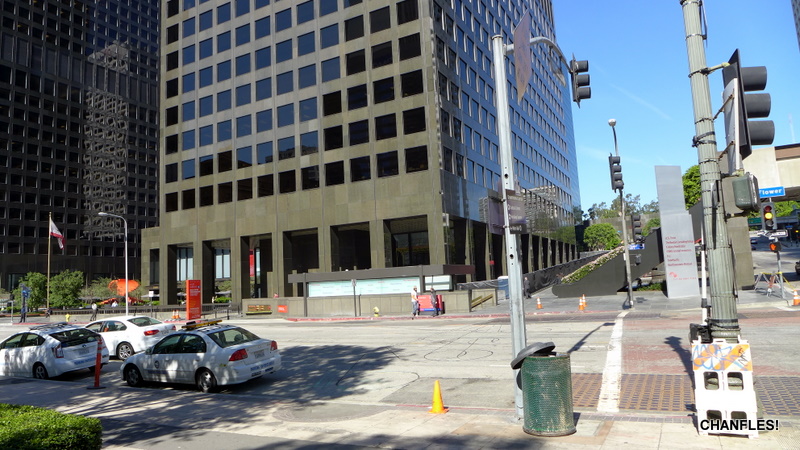 Underneath this ugly building on 5th and Flower is a hidden food court where worker bees can get some lunch. I've been here a few times, there are some okay options when you are trapped in the vicinity for your legally required food break. Glad we still have those. Today we opt for some HR's!
This Plaza Grille (with an e) place has a good veggie burger at a decent price (for downtown) and it comes with some very tasty steak fries! This eatery seems popular for their pay-by-weight salad bar and the variety of menu options. The only downside is the location underneath that ugly building outside. Despite all those light bulbs everywhere this food court in a dungeon is still dark and miserable. Oh well, we are just mere cogs in the machinery, nobody cares how we feel on our lunch break.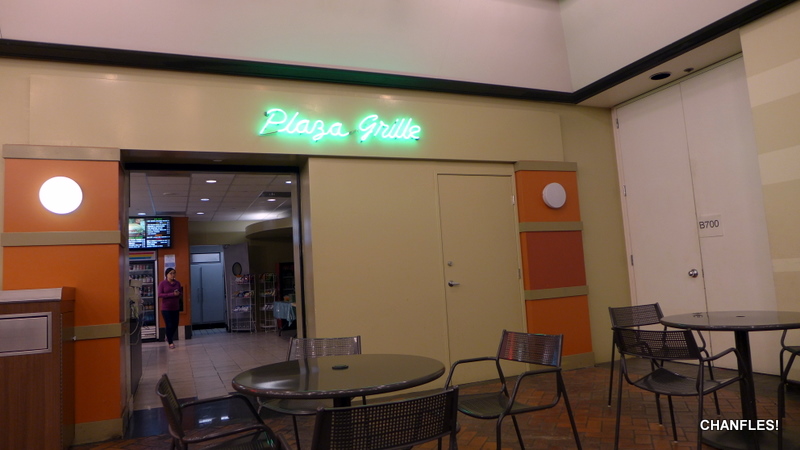 Look at this wonderful eating corner!
There's at least 4 menu boards. Some are hard to read.

But when I spotted item 4A with "two eggs, any style on a CRISP TORTILLA" I knew I had to try it at some point. It's reasonably priced at around $7, that's kinda crazy.
It's a Friday where the will to work is minimal, why not take an extended break and finally find out what's up? Okay, if you insist.
As I wait for my order I notice the inspirational quotes on the walls of this corporate dungeon: live a life of adventure, summer sky, be present, to see the, is poetry. What a compelling collection of useless thoughts. My adventure is to get some calories in me before I pass out in the hallway.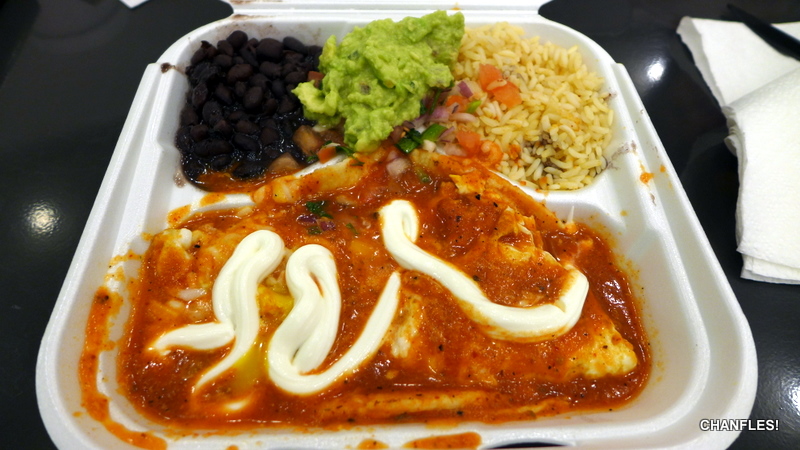 Now that's a big plate! I mean, it's styrofoam but they sure packed it with essential calories. Let's get all the wrong out of the way: black beans tasted canned and the rice was really weird, almost brown ricey but more cardboardey. Look at those silly squirts of sour cream! Breaking News: No Crispy Tortilla Found Under These HR's. They lied! It was just a regular warmed over tort, not even dipped in oil. Lastima.
The spoonful of guacamole was nice enough. The crispy eggs with runny yolks were on point, even without having to specify my choice of style. Despite the missing crispy tortilla, this plate has a surprisingly tasty red sauce, piquant, tomatey and well rounded. It's the same one they use on their chilaquiles, but a good salsa is a good salsa. Considering all the shitty options in downtown, this whatever plate of HR's (with a proper salsa) comes out looking better than expected.
Maybe it's like Top Ramen noodles for a prisoner. The less access you have to the real thing, the more shine the available example takes on.  Maybe. All I know is that despite how mediocre these HR's were, they weren't bad at all.
Plaza Grille  213.624.6801
505 S. Flower St. Site B43
LA, CA 90071