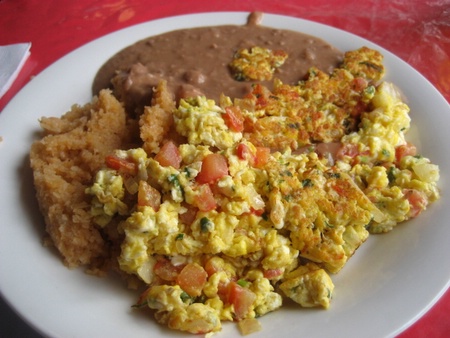 I had some Westsider friends that once did a report for a fairly big magazine about some stuff in Boyle Heights. It was weird to read it because it was all a lie, created basically out of thin air with some details provided by yours truly. (I always help friends in need. Well, almost always.) I chuckled at one particular part they added to the story that seemed like an especially cliched stereotype of Mexican neighborhoods, the sort of reality that only exists in the minds of outsiders. But there I was this morning at an LH eatery, waiting for my plate of Huevos a la Mexicana (hey, a man can't live on Huevos Rancheros alone!) when all of a sudden…
…it happened to me, some roving band of Mariachis barge in through the door to play for the crowd. When I read that in the magazine story I thought it was stupid as Mariachis are usually hired beforehand and are at the place for a show. The only strolling musicians tend to be trios and conjuntos, but even they just pluck at their instruments until you pony up some lana to pay for a proper tune. But as you can see from the video, sometimes the stereotypes are true. Haha, how awesome is that? Checkout the trumpeter trying to play and talk on a cell phone at the same time. Even more special.
They played throughout the meal, kinda loud but quite entertaining. I'm pretty sure they were hired by the man that brought me the delicious glass of water, as a surprise serenade for his wife the cook. Stereotype or not, life in Lincoln Heights is never dull.