Here's my theory: now that the unfinished Fuller Lofts have gone into bankruptcy and the scaffolding has been taken down, the exposed windows will become broken ones in due time. They tend to fall victim to the projectiles of bored youth (err, so I've heard) might as well take count before it gets started. Oops, too late for that. One.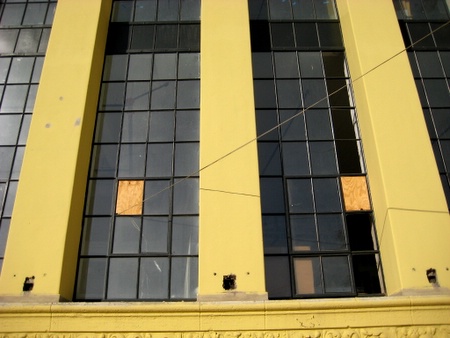 Plywood counts as broken. Someone has good aim, they got all the ones on the right! 2,3,4,5,6,7,8,9.
It's not very visible in this pic but the arrow points to a shattered window with a bb hole in it. That counts as half. Just for shits and giggles, I'll be keeping track of the broken windows on San Fernando only, ain't gonna bother with the rest of the building. Simple eh? So our grand total for today is 9.5 – stay tuned for updates!