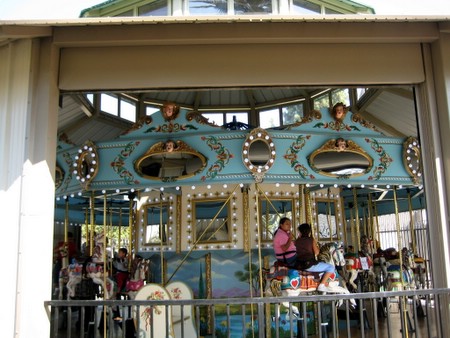 The Lincoln Park Carousel opened yesterday, and I got a chance to check it out today. It's a relatively small one, but it's cool to see it back in action. The kids are already taking to the restored attraction. More pics of this and the Junta Hispana after the jump.
It's not as ornate as some, but still very pretty. It's over by the pool area, near the parking lot on Valley Blvd.
Nothing says fun like spinning around in circles! Check out a close up of this pic to see some smiling faces.
Of course, the inevitable list of rules. Sorry they're hard to make out, but trust me, they're not very interesting. I have a video clip as well but youtube isn't playing nice, I'll upload it again when I can.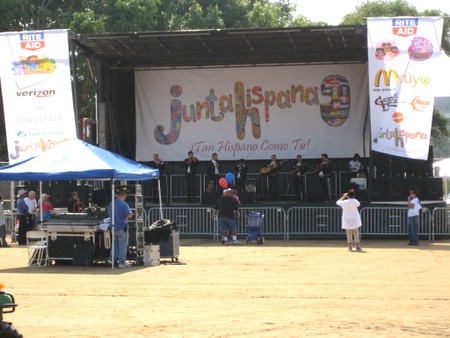 Happening today at the park as well was this Junta Hispana, some sort of festival that tries to highlight the different cultures and countries of the Americas. You can pick up a "passport" at the welcome booth, get a stamp from at least 5 country booths, and you can then enter into a raffle. It seems to be big in New York, but it was quite sparse when I was there today.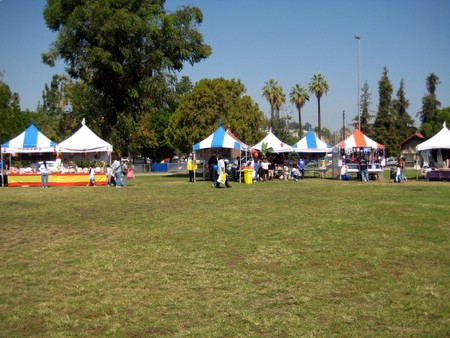 Lots of open space between booths. Maybe being there at noon was still too early.
A sad looking meal box by a corporate advertiser.
Smiling workers at the Happiest Booth in LH!
A whole wall of those annoying "Parking For (enter country of origin here) Only" signs. Besides the fact that they'll lead to some unnecessary antagonisms, they're not even slightly funny, so why even bother?
I was trying to take a pic of some other annoying characters, those cartoony lil' kids that you see in car stickers, decked out in the colors of their flag, click here to see what I mean. But as I was going thru my pics, I saw the text of this guys shirt which turns out to be the lyrics for a morbid and crass anti-christian song. Ah kids, they're always so hilarious!
The booth for Uruguay had a guy dressed up in the traditional garb, and he was even drinking yerba mate from his own gourd. That was a nice touch.
A fancy tent for the country of Verizona, I've never heard of it but I think it's a neighbor to Venezuela.
The sponsor area, aka where-we-corral-the-people-so-they-visit-every-booth zone. They hand you a bag at the entrance so you can easily carry a bunch of promotional crap. Joy!
One of the few food booths. Check out the giant tubs of curtido and salsa!
Multi-culture on the grill: tortas, pupusas, taquitos, platanos fritos, hot dog con tocino, jalapenos, and tacos over to the side.
Finally, we get to the mildly interesting part! I thought this display by LA County Vector Management was pretty cool, with info on how to keep rats and mice out of your home. They even had some pamphlets to read at home, but you can check some of those out here. Did you know that baiting unset traps for several nights before actually setting the trap is more effective in catching a rat? And that it's not necessary for the common and gullible mouse? Now this is the kind of knowledge I can use!
Oh yeah, they even brought along some samples of captured vectors. The big one is a squirrel. I didn't mention anything about the cute, friendly, yet snarling opossums I once raised and released back into the urban landscape, they're considered vectors as well. Oops. Run, tlaquache, run!
The Fire Dept. had a booth with a dalmation for picture taking. It took me awhile to notice the monster in the background, so I tried to take a pic of it..
..and only just now did I notice this guy giving me that quizzical glance.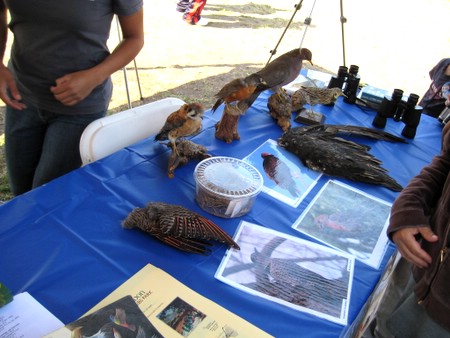 The Audubon Center also had a cool booth, with some stuffed birds and binoculars for kids to check out.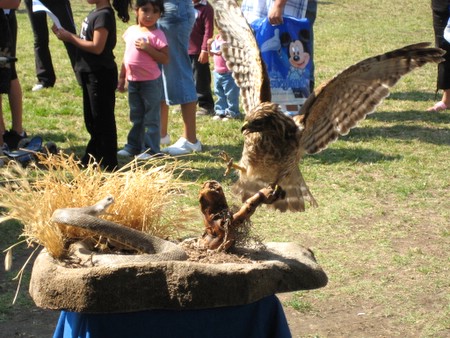 I especially liked this scene of a hawk and a snake going at it. Can't we all just get along? Someday, the hawks and snakes will wise up and form a reconciliation panel. But until then, FIGHT, FIGHT, FIGHT!
Eso es todo. Seguimos con la vida cotidiana.