I like when I don't have to go to work. And I like it even better when I don't have a list of bullshit that I have to get done on my "time off" that's basically preparation for the next time I go to work: washing clothes, ironing clothes, buying groceries, paying bills, figuring out schedules, cashing checks, all that business. Today was one of those I-can-waste-my-time-however-I-want days (uh, other than dealing with the dead car battery) and that usually means grab the camera and head out the door and see what's happening in the neighborhood!
Come along, wont you?
Above: Panik and Puppet endorse the Move-In Special.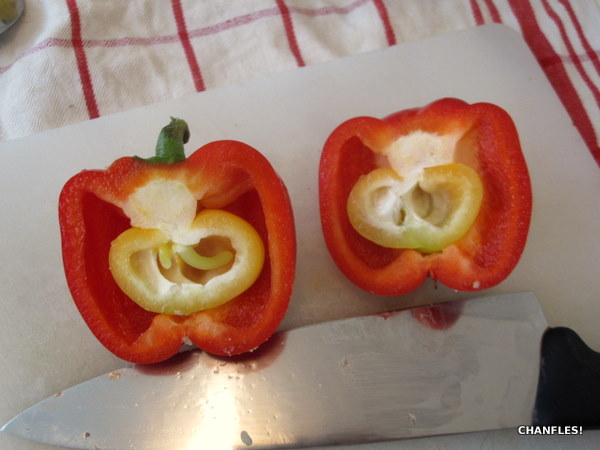 A weird sign within my bell peppers. It's like a baby bell pepper within a papa bell. It caused me to step back and wonder about my morning meal. Damn, maybe It'd be best if I went out to get some breakfast.
I ended up at Chapalita, were I usually ask for a burrito de frijol y queso, no carne por fa. This time I asked if they can make me a torta sin carne, they were like "If you want it that way I guess we can make it" but in the tone of You Are A Stupid Fucker. Ha ha, oh well.
Right as I was about to have my torta, this happens. A parade of Aztec dancers. Pretty awesome.
These two worldly men had a meandering and complex conversation about a shitload of stuff as I ate my torta. They even had some opinions on the CIA.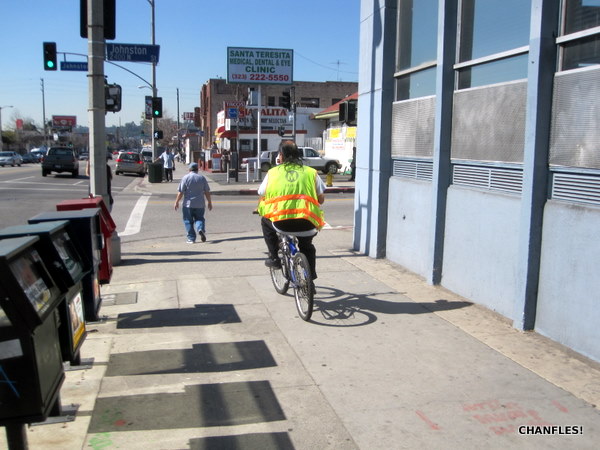 There's that "Bus Driver" again. I've seen him all over LH, at the Laundromat, on buses, walking down the street, at the Smart and Final. The only place I haven't seen him is behind the drivers seat of a bus. Yet he's always in his bus driver uniform. Kinda strange but who am I to doubt the existence of a bus for him to drive?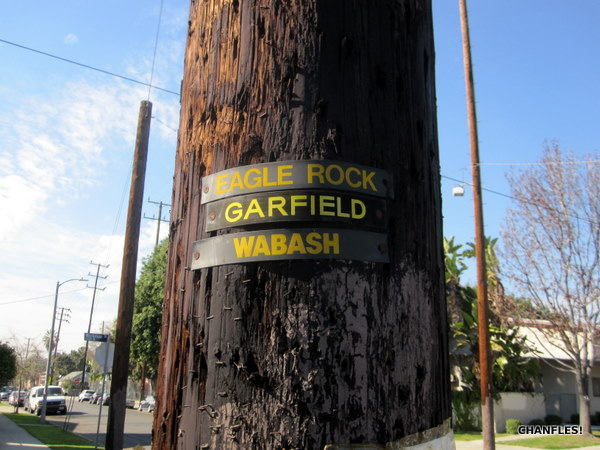 A dead tree displays its dead tour itinerary. This trunk did look familiar to me, must have been from those painful young love Wabash days. Shitty Terrace blues.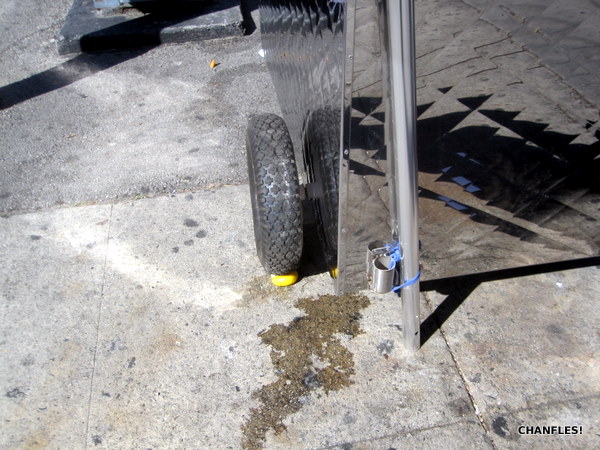 How appropriate. A Frutero cart using a fruta as a tire stop. It seemed to work.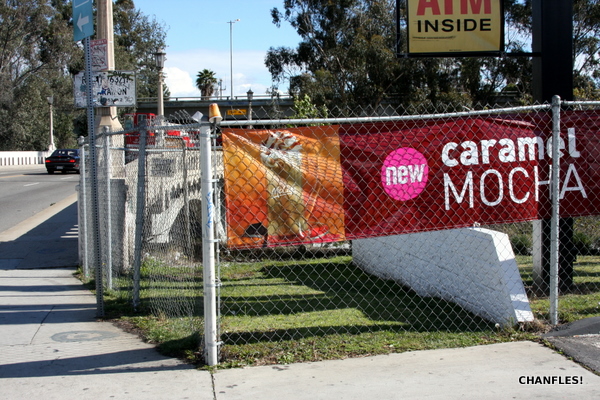 The most protected bit of green lawn in NELA. It gets watered but nobody gets to set foot on it. Precious, precious grass.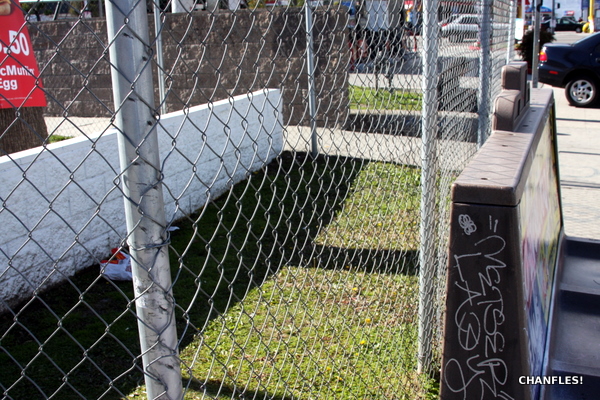 Why put a fence on such a small piece of greenery? To keep out those repulsive bus riders of course!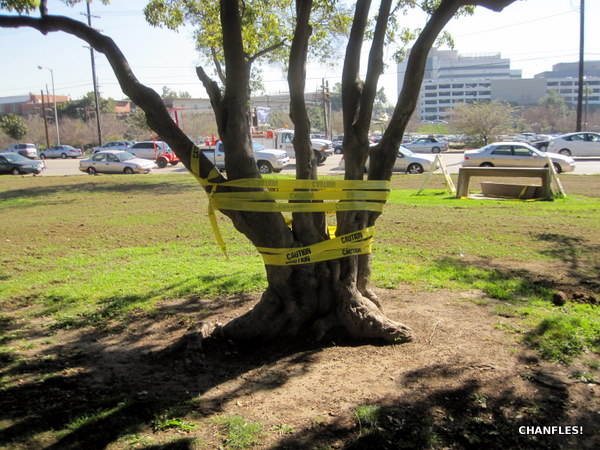 A bit off course, but over at LH park we see a cautionary tree.
A closer inspection reveals a gang of bees hanging out in the center of the tree. This picture sucks but I wasn't getting any closer.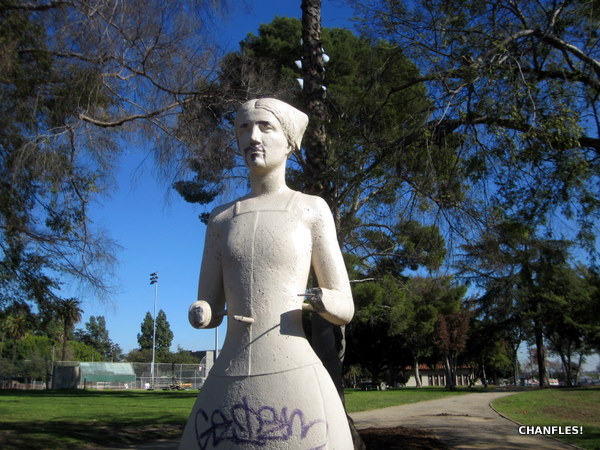 Nearby I see that the lady of the park has been tagged up in the most messed up way. Someone gave her a goatee and a mustache, and some eyebrows. My friend Ana S. alerted me to this sad situation of defacement of public property. But I cannot deny that it also made me laugh a bit. Yes, I'm an ass.
"Those bottles look familiar!" My environmentalist friend is going through his green loot to help save the planet. He came by earlier in the day and I hadn't heard him calling. When I finally came out he said "were you asleep or taking a crap?" No nonsense this man. Here we see him laughing at some of the stupid names on the bottles. He thought Arrogant Bastard was funny, now I owe him a full bottle so he can taste it. I could probably get back a bit of money from recycling these bottles on my own but his stories about his lady friend up north, dealing with the County Hospital, getting "violated" by the parole officer, and the "Chuppy Luppy" are more than worth the CRV.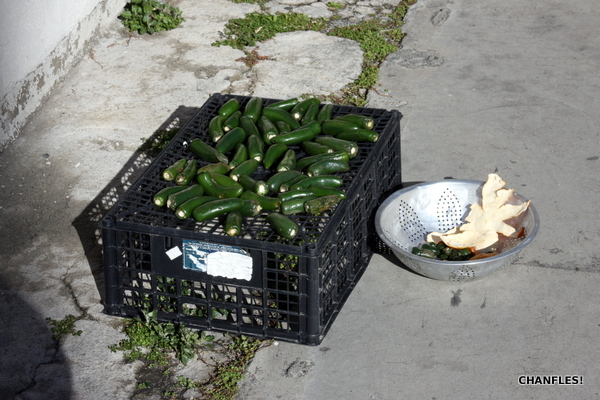 Sun dried Jalapeños? I guess so. Hmm, I wonder how they use them?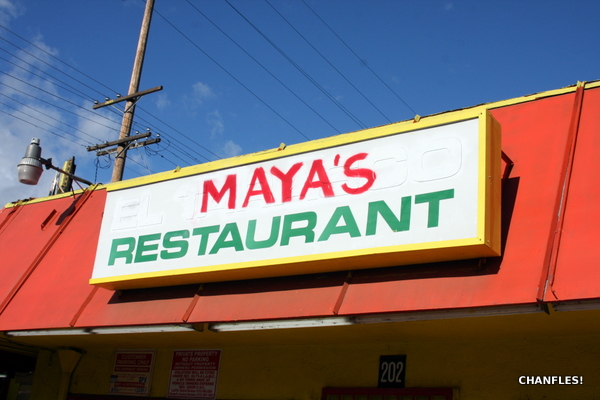 El Tarasco sign painted over by Maya's. Not a bad reuse.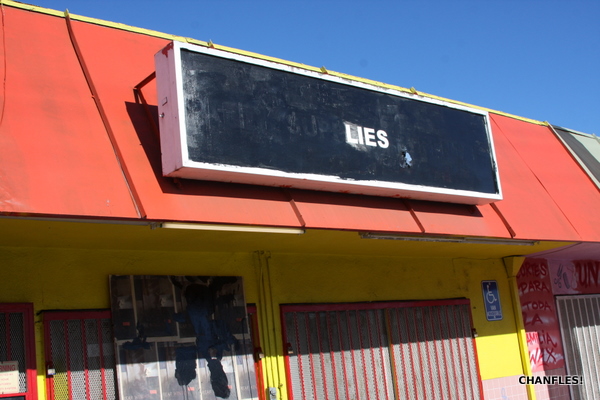 Next door the Lies shop. I went there hoping for some excuse to call in sick, but they were closed. But it wasn't necessary anyways, I somehow managed.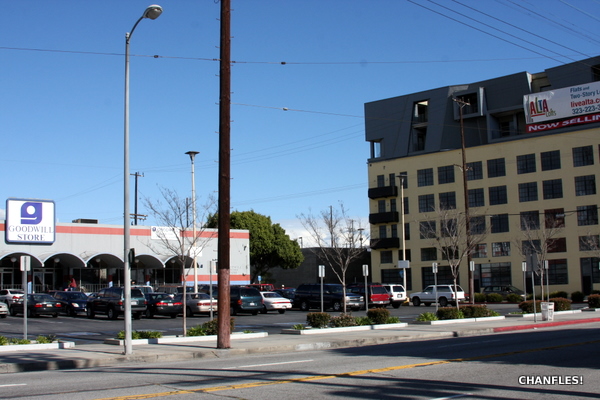 I've noticed that the Thrift Store Lofts (aka the "Alta Lofts") are advertising in downtown publications claiming to be in downtown. I feel sorry for them.
Some aspiring starlet getting some exposure in the gritty LA River. How unique.
The old jail has seen better times. It seems to be going from bad to worse. At least when there were cultural events happening here the place was maintained. Now its just the pigeons that visit.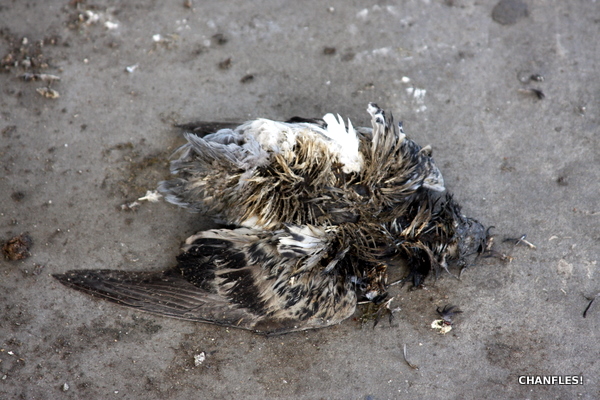 And some don't stay for too long.
That's what I seen.