It's been some time since I've suggested an HR place that I thought was seriously worth a visit, many of the recent ones have been average and mediocre, certainly not examples that inspire an appetite. This time out we find a spot that turns my downward trend around, a nice homey spot that is my type of eatery. Yup, Lupita's in Cypress Park.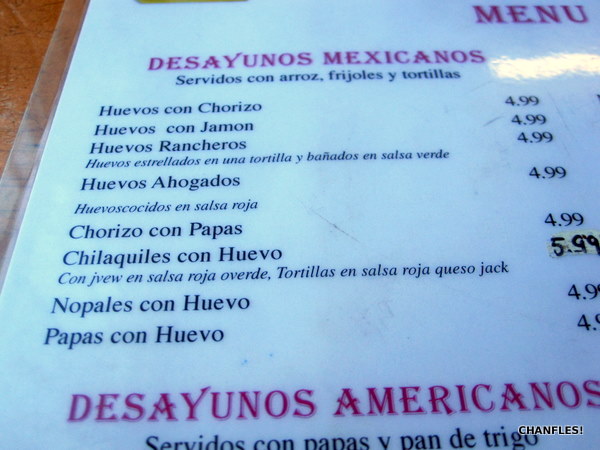 I found this place via one of those new and seemingly pointless phone apps that help you locate stuff around you via GPS.  Since this place is on a side street in a residential neighborhood in between Ave 26 and Ave 28 there's no particular reason to turn down this way. And I can't remember being down this street though I go by the area all the time. Yes, I suppose technology has some uses.
A basic menu. And HR's are only $4.99!
As we wait for our food we get to see the going ons thru the window. No chips and salsa at this spot. Kinda like Llamarada.
The bus yard is right in front. Guess this is a good spot for Bus Spotters, assuming that hobby exists in Los Angeles.
My plate of green eggs and no ham. There are a few places that favor a green sauce on their Huevos Rancheros (like Metro Balderas) even though red is the norm. I prefer red but I like when a place takes a stand against it, insisting this is how they want it to be. The salsa verde was well rounded, hearty, flavorful, and not too acidic as can often happen with tomatillo based salsas. Best of all, the eggs were perfectly cooked and tasted extremely fresh, as if they had their own backyard chickens. The tortilla was lightly fried giving the dish an extra bit of texture. And look, no cheese on the HR's!
Their Mexican rice is one of the tastiest I've had in awhile, its not treated like just another throw away side but as an opportunity to do something worthwhile with the popular grain. Igual con los frijoles, they are a solid feature.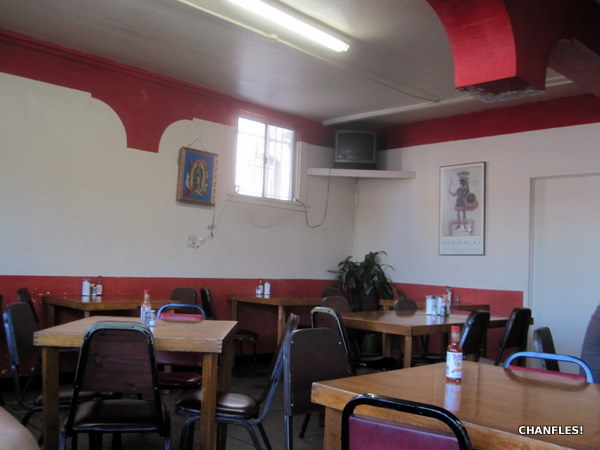 A rare empty room. It filled up again before we left.
I've come back a few times to Lupita's because its the kind of place I like: no nonsense, simple but tasty food, affordable prices. It reminds me of LH's La Llamarada, except open on Sundays. And with tastier food. Yes, I think so. They provide good meals for working people. Lupita's also has a dish called Huevos Ahogados which is fried eggs in a red salsa. Basically my ideal HR's sans the fried tortilla. These were also very tasty. Next time I might try asking them to make me some HR's but with red sauce instead, that might just be perfect. $5 for honest food. No wonder foodie places feel like a scam.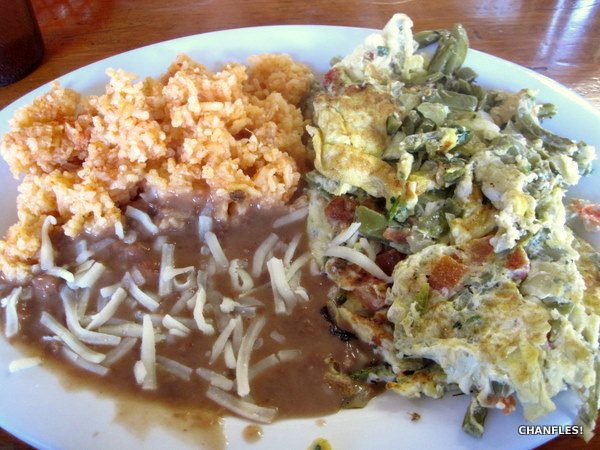 They also make a great Nopales con Huevos. Classic breakfast. Your daily dose of vitamin Nopal in a fun package of flavor and texture. I could start all my weekends this way.
Lupita's Restaurant  323.223.7835
2634 Idell St.
Cypress Park, CA 90065