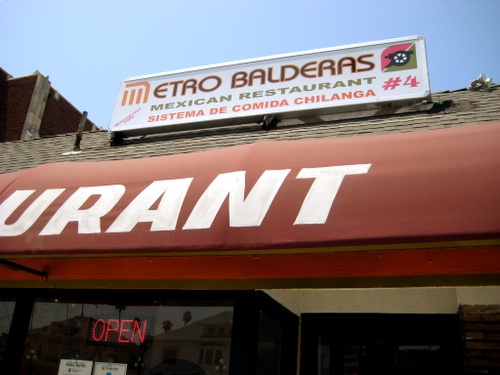 Only a few weeks ago, this place used to be a taco stand. When I noticed this new sign above I knew I was gonna have to visit very soon: any place that makes an accurate reference to Mexico City has to have some sort of legitimate connections to the place. And of course, it turned out the food was very much in keeping with the D.F. spirit; tasty, unique, and fresh. This place really just shows the difference between Mex-American food (the stuff that has been known as Mexican Food for way too long) and Mexican food, that fresh but simple fare that actually tastes like food. It turns out this is the 4th of a few restaurants based mostly in the San Fernando Valley, and though I expected this place to suffer from the usual expansion woes, it seems they have hit the ground running.
But how were the Huevos Rancheros?
Unique and totally satisfying! Notice how they put each egg on a separate tortilla, like it's supposed to be done! Plus, these were fried tortillas, and I could actually lift the whole thing like a tostada to take my big bite. This is how I know HR's, this represents the form that I consider authentic: if you can eat them with your hand, yer likely at the right place. Considering they gave me flimsy plastic forks that couldn't cut thru the tortilla, I'm glad I could use my hands. I'm sure I've mentioned it somewhere before but I am a fan of hand-to-mouth eating, the tactile intricacies and pleasures of this common food delivery system cannot be reproduced by a knife and fork. I'm aware of the class and cultural tenets that condemn this practice, but if my 'apa, 'ama, and abue' did it, then I'm still in good company. And I don't give a fuck.
Despite my fondness of the form, I would still prefer a ranchero instead of a tomatillo sauce over my HR's. It was a good sauce but the acidity of the tomatillos over huevos estrellados is a bit overwhelming, a tomato and chile concoction would certainly be more to my liking. But since I'm not the cook here, I'll take these HR's as they come! They also add some nice black beans and a homemade escabeche (pickled jalapeños. carrots, onions) that is just a wonderful explosion of fresh and tangy flavors, it's the sort of side that makes you realize you are eating actual food! Though my personal preference for HR's might skew a bit differently, in a few ways that I consider important, this is a perfect plate of Huevos Rancheros.
Though they have a wide menu, there are only a few veggie options. But I'm sure you can ask for a few changes to fit your needs. Having been a vegetarian for almost 20 years, I know it's possible to train your local eatery to consider your needs. I've been laughed at more than a few times because I asked for a "torta sin carne" at an East LA truck, and after sending more than a few friends there, they no longer even blink when that request gets made.
I've already gone back a few time to sample their different items, this one above is the huarache con hongos. They add a layer of black beans inside of the masa, and it's a really good meal. I also tried the quesadilla which has the a bit of epazote in it, which makes it that much more exquisite.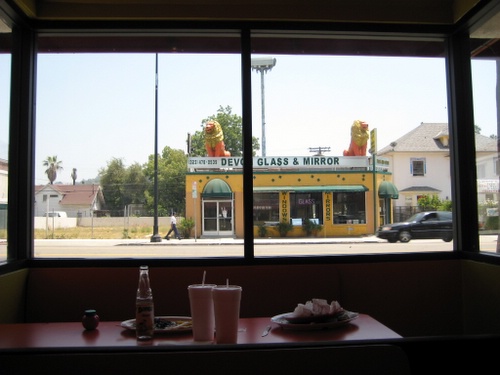 Best of all, from this spot you can contemplate the roof lions of Devon Glass and their changing colors.
Metro Balderas #4 323.478.8383
Sistema de Comida Chilanga
5305 N Figueroa St. 90042