I go up to Frisco about once a year, at least. Mostly to check out the often interesting Anarchist Bookfair that happens in Golden Gate Park. Sometimes there are good speakers, sometimes there is good radical literature. Sometimes I don't care about any of it and mostly settle for the luxury of seeing old friends. There's absolutely no reason why you, dear reader, should care about any of this but I did take a few pics. Click ahead if you think you must.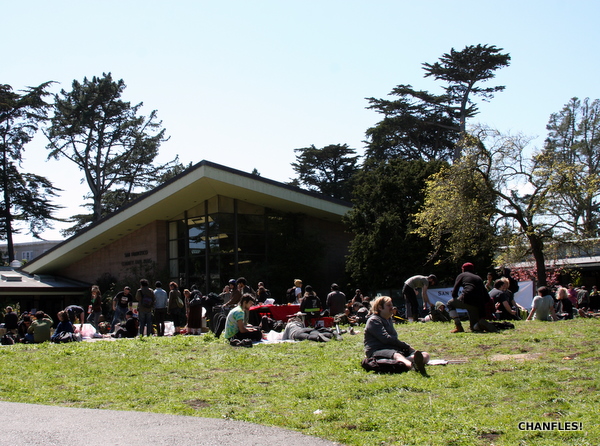 Anarchists enjoying the grass and sun. How Bourgeois!
Tourists came by on a bus to safely see the Anarchists. Park Rangers stayed in their vehicles to avoid the odor assault from the unbathed masses, which can be quite brutal.
Rebel Caffeine Fiends promoting their revolutionary agenda. Uh, silver text on white board is hard to read. Plus it reeks of scrapbooking.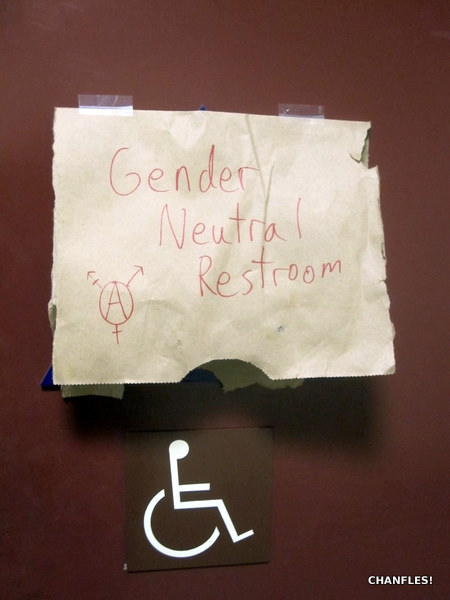 Always with the challenging everything. The one good thing about gender based restrooms: woman don't have to deal with the mess that man-slobs make. I wish I didn't have to deal with it. Only in Frisco!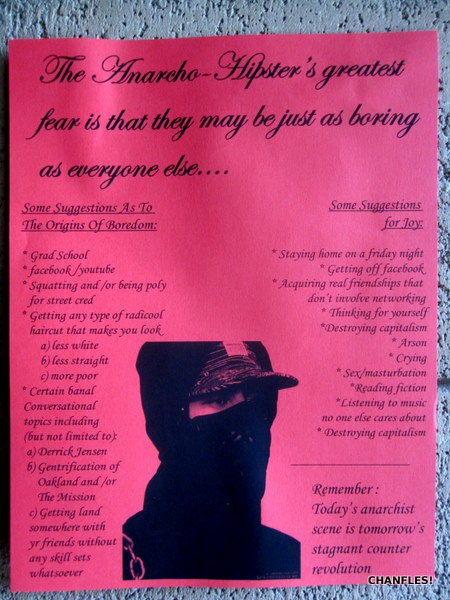 A tirade against the Anarcho-Hipster. The main flaw: they are not "just as boring as everyone else", they are even more so. Plus some of the suggestions for joy might fit in the first category.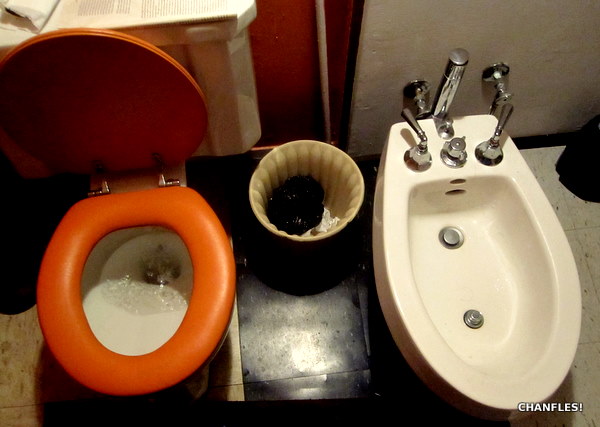 I got invited to an after bookfair party at a place that has a functional bidet. Proper!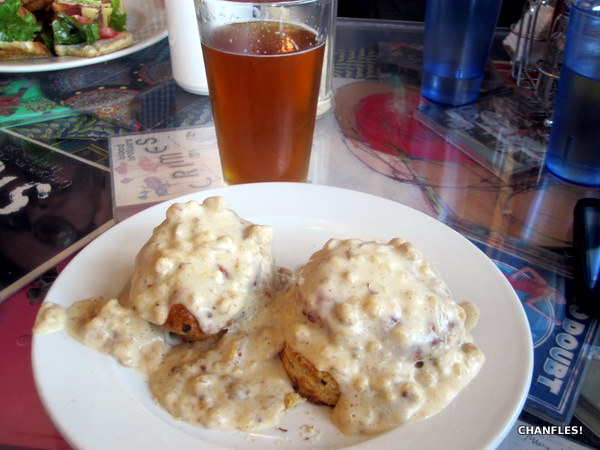 The next day we headed to Berzerkley for the BASTARD conference, a yearly event featuring workshops and discussions of interest to Anarchists. After the morning sessions it was time for some food. One of the few things the Bay Area does better than Hell A: biscuits with veggie gravy. This plate is the object of my desire on late drunken nights, a craving that always stays within the realm of dreams. One of these days I shall make this dish and truly liberate my desires! Or did I arm them? I forget. I had one of the decent beers on tap to really fuel my passion.
These gravy laden nuggets of desire available at Saturn Cafe.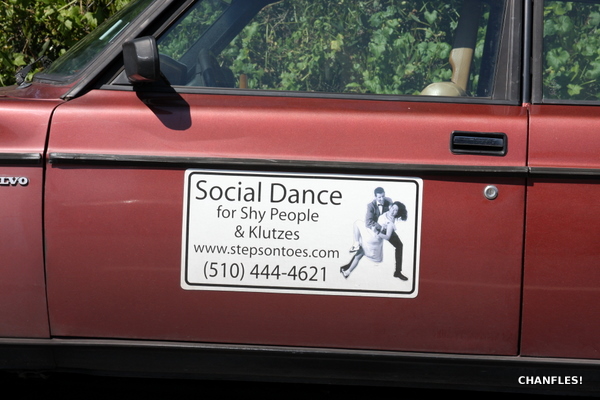 We headed back to the place the locals call The City for some extra-curricular activities. I spotted this sign on some old Volvo. Only in Frisco! As my comrade Vlad sez, "Frisco has soo much culture."
Leaders of lil' car culture, fer sure.
After my lunch of soup in a sourdough bowl (AWESOME!) we checked out the suicide bridge. Locally known as Golden Gate Bridge. It seems everyone is interested in this morbid span, here we see some folks snapping a memento. Did you know that most jumpers die because of the massive damage to their internal organs from the splinters of their rib cage? Brutal!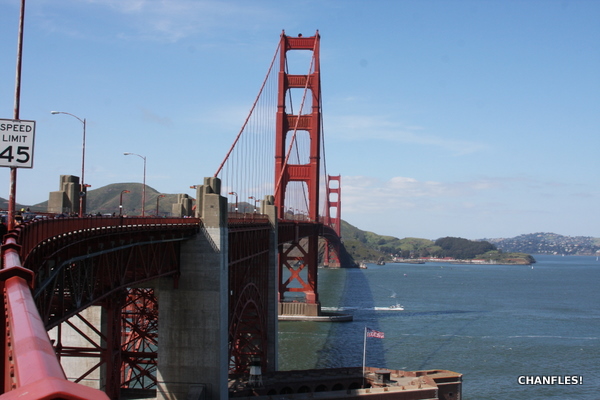 Do not get any ideas.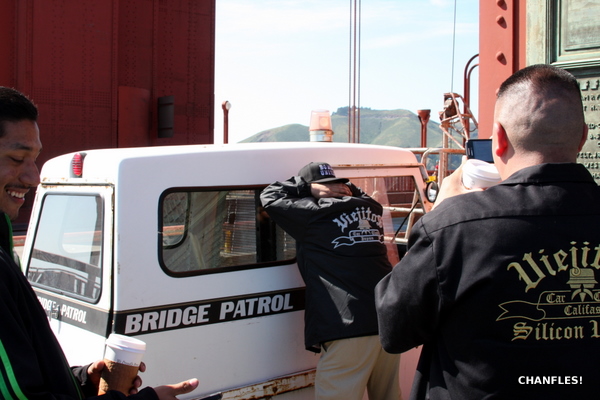 With the Bridge Patrol on site, a member of the Viejitos Car Club takes the pose. Ha ha!
Lots 0 wires on Frisco streets. The one picture I really wanted to take but didn't/couldn't was of some guy in a T-shirt that read "I (middle finger) LA", I turned back to follow him but he crossed the street even though cars were flowing against his direction. He got annoyed that they honked at him. Only in Frisco! After I could cross the street on a green light (not all Anarchists disrespect red lights you know) he dashed into a damn Starbucks. Fucking figures.
The pervasive anti-Los Angeles attitude in Frisco, be it from the general population and even more so in the radical tendencies, is pretty funny. They seem to think their snubs somehow affect us, but instead we just like them even more with all that cute and endearing provincialism. It just makes me want to pinch the cute out of a Friscoans cheeks!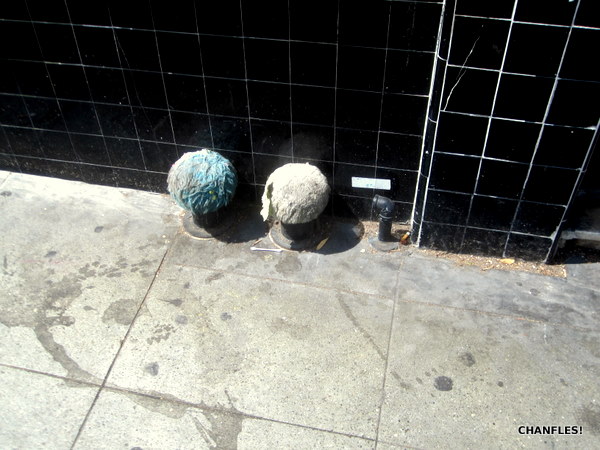 Speaking of cute, check out these darling handcrafted beanies to fit on sewer pipe endcaps. How adorable! If only LA took this much care of our shit tubes then maybe we would be close to the awesomeness that is the city of San Frisco. If only.
In the end, we left "The City" (haha!) with our Ugly Angeleno-ness intact. It's almost a badge of honor to be correlated with the scum of the earth because we chose to live in a misunderstood city, to live in the shadow of its media representation, to live in a wide and culturally diverse city that doesn't look to Frisco for anything. I almost feel bad for the Bay Area for how irrelevant it seems from down here.
But we still love it.
Here we see some Frisco Cows attacking the Giant Angeleno myth. I'll check in next year to see how that ferocious battle is going. It's gonna be an adventure for sure!
Panza out!