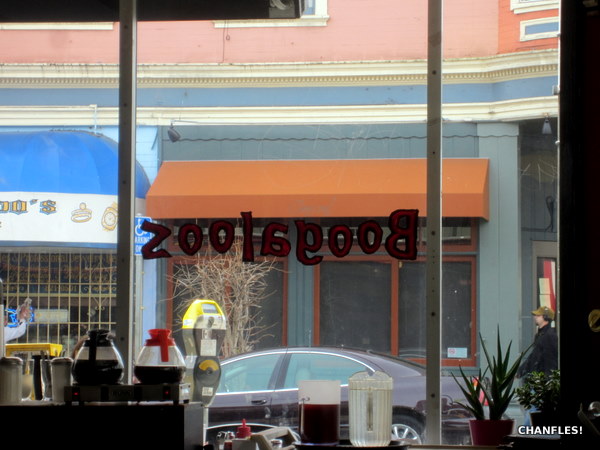 I have eaten HR's this year, quit regularly actually, but it seems like this is the first one I'm reviewing. I wonder why? I have eaten some good examples, like the ones from Rocio's on Maywood, but the photos linger on my desktop while the memories of that experience begin to fade. I really should take notes. Eh.
Here is a recent outing, over at that fair city by the Bay known as Frisco.
One of our regular stops before heading down south is Boogaloos in the Mission District, cuz they make a good breakfast and a very good cup of regular coffee and its usually hard to find both in the same location. Is it too much to ask?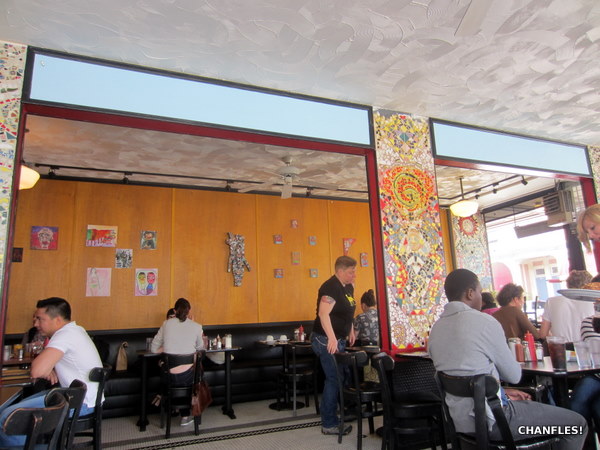 Nothing too fancy about the place, just your typical SF scene of young urban professionals starting their day. It's like visiting parts of LA that I avoid on purpose. I guess I find it easier to visit these spots when I can put a few hundred miles of separation rather quickly.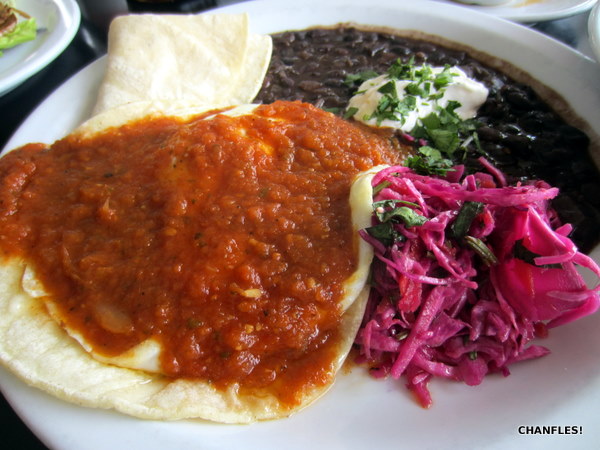 While I usually stick to their excellent American style breakfast I thought it would be good to change it up a bit, stick a wrench in the dietary routine. It was Anarchy weekend after all. So yes, I deserve what I got for straying from the path: Gringo HR's.
The eggs were good, the salsa ranchera ok but lacking much in the way of flavor or spice. The tortilla underneath? Not even a hint of being fried, basically just warmed up for a taco. Nope. Their idea of an appropriate side was some pickled cabbage salad, haha! Serio? Y para cabarla de chingar, they throw on some undercooked black beans, a staple of Whitey-Cooking-Mexican food. A properly cooked bowl of pintos is a truly satisfying and incomparable meal that is almost impossible to find outside your own kitchen. It seems strange that almost all Mexicanish food done by non-Mexicans tends to favor black beans. Are black beans gourmet? Are they a way to disassociate from pedestrian Mexican fare? Or a conscious decision to be more like those exotic-er Mexicans from the south and not that riff-raff from the north?  I'd like to know.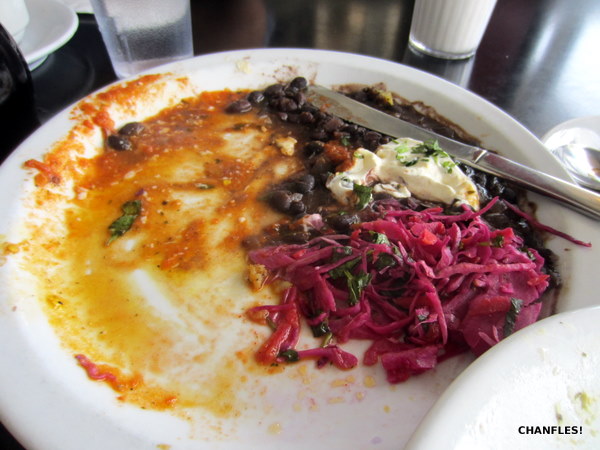 You can keep your cabbage salad and under cooked beans.
I like black beans – WHEN THEY ARE DONE RIGHT!  (Maybe with a little bit of epazote for flavor.) Don't just fucking read the package instructions for cooking times, taste the damn beans and see if they are still hard or not. They are easier to eat and digest when cooked properly, aka not hard, aka soft, aka flaccid. This must be related to the American fascination with "chili", that disgusting stew of hard beans, chiles, and sometimes meat, that seems to have taught people that undercooked beans are okay to eat. No wonder you make fun of bean eaters and their tootiness.
Whatever, I'm ranting now. But pay attention to this black/brown divide next time you find yourself at an American joint that dabbles in South of the Border.
Luckily I hedged my bets and ordered a biscuit with veggie gravy. It's good.
Stick to the biscuits.
Boogaloos  415.824.3211
3296 22nd Street @ Valencia
Frisco, CA 94110
www.boogaloossf.com