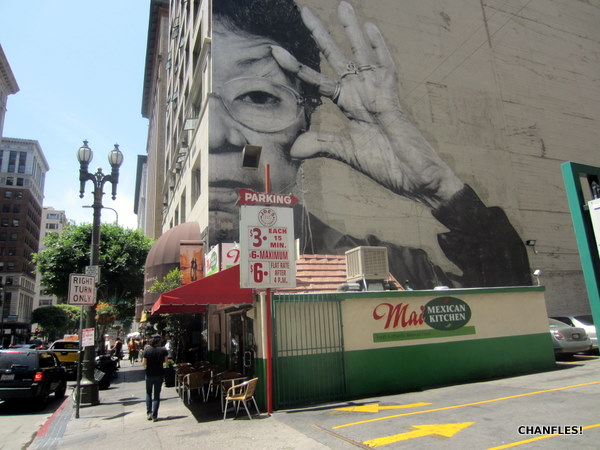 I am at a point where I prefer functional food most of all. I just want something semi-tasty to abate the hunger pangs, preferably at a reasonable price. If I want something fancy I will make it myself, at home. Unless I can't. I think people that go out on a weekend night for an eating "experience" filled with great service, pleasing atmosphere, and notional eats are not "foodies" but maladjusted weirdos. Food serves a vital function: life, culture, community. Foodies want to have a curated breakfast experience with a Walt Disney Concert Hall backdrop just so they can have a story to tell their co-workers come Monday morning. Cuz life is otherwise so, so boring.
In Downtown Los Angeles you can find many eating experiences but its much harder to find just food.
Luckily there are still some places that haven't been kicked out yet to make room for the next organic seasonal sandwich you can't afford. I've been coming to this food shack in a parking lot for a year now, mostly for their quite decent vegetarian torta (with queso panela even!) but had yet to make it in time for the breakfast menu. Today I headed out early to score my lunch/breakfast.
$5.25 for HR's in Downtown LA is a bargain.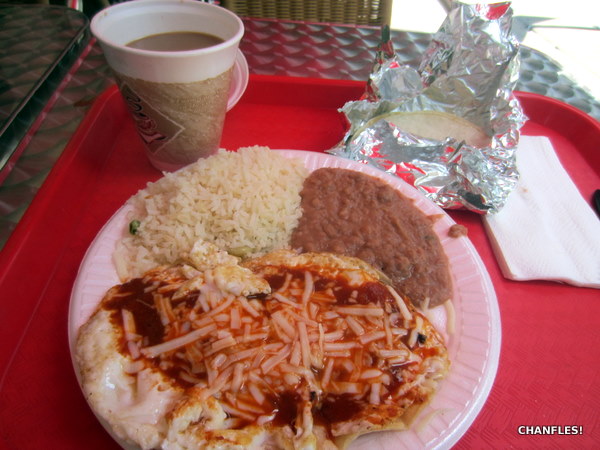 Right after I ordered my food the cook threw a bunch of tortillas on the grill, I thought she was making some previous order for tacos. But no, she was heating up my extra tortillas and left two on the grill to get crispy and crunchy, which would be the base tortillas for these HR's. Thus, no fried tortilla underneath which is the way things should be in a perfect world. But grill crisped tortillas are a decent and healthier alternative to frying, much better than the usual lukewarm and soft variant. I approve of this innovation.
It came with free coffee even. And those 5 mini corn tortillas, cuz I forgot to ask for harina. Doh!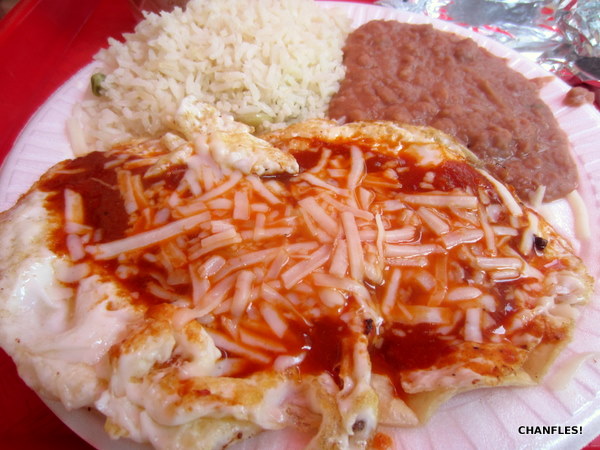 And just as those two torts were crisping up the cook cracked two eggs onto said grill then turned them over at just the right time, aka eggs over easy, aka huevos estrellados. She then plated them over the grilled tortillas and doused them with a red salsa picante (my choice) that was flavorful with hints of chile California or New Mexico. It's probably their basic red sauce which they use for all their red sauce purposes, a simple to make but still tasty condiment that you might not find it in most places. Over perfectly cooked runny egg yolks, this sauce did what it had to do, delivering a punch of piquant and savor to the richness of flavor that comes from your basic egg. Simple is often perfect. And this time it was.
There was some cheese on top but not so much that it detracted from the course at hand. They advertise no lard, and the beans were good enough. The rice was more in the 7 mares style but good enough as well. But the grand performer of this breakfast were the properly cooked eggs smothered in chile sauce. I felt satiated and pleased at the reasonable pricing, a working man's breakfast. I would have it again.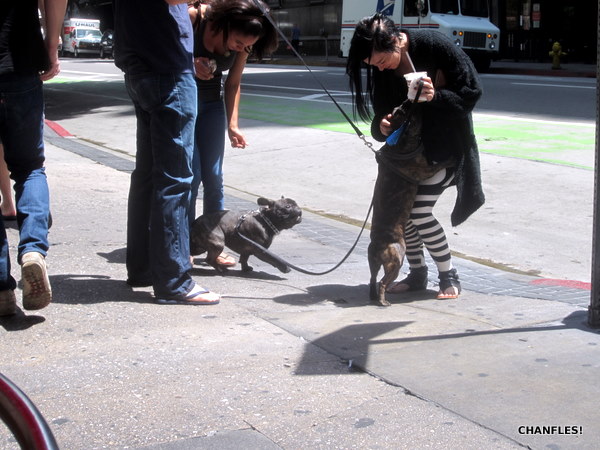 The only problem with this place is that it's in that area of Spring St. full of lofts and their corresponding yuppies, many of whom love to bring their ugly dogs out for walks and to sit at this eatery. Others will stop by with their own accoutrement canines and exchange banalities about dog breeds, years the animal has spent in captivity of this dull owner, the frivolous/whimsical name chosen for the pet, and if the conditions are just right, maybe some personal exchange about the people handlers themselves! It's a putri dish for a world I want no part of.
But I will likely suffer the neighborhood again for a decent plate of Huevos Rancheros while I escape the tedium of work. Cya there!
Mai Mexican Kitchen  213.688.0011
633 S. Spring St  Downtown LA, 90014