Please excuse my lack of HR reviews lately, I've been trying to stick to a mostly vegan diet. Yeah, how dumb, I know huh, it's sooo stupid! I haven't had eggs in my fridge for the last two months, it's weird and I don't like it. I do like challenging myself and my stupid habits so I will stick to this new way of eating for a bit. But I will never be a vegan, again, and I'm pretty certain about that. Today I planned to have some HR's, I was in Pasadena, and I sought them out. My first two choices didn't work out but the sense of exploration will lead you to the third option. So here I am.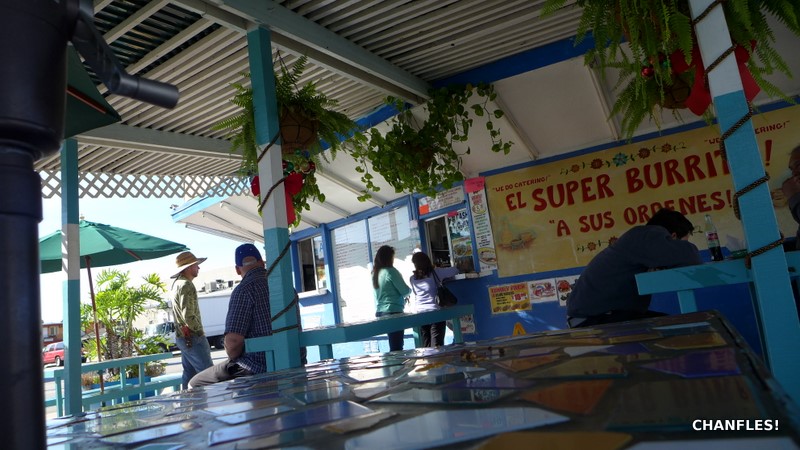 They have a sizable menu but I knew they had Huevos Rancheros and asked for that. They give you the option of corn or flour tortillas, dish comes out to around $6 plus whatever you want to tip in their little jar. So a $7 breakfast for me.
I've driven by this place probably hundreds of times but never thought about stopping to check it out. When I got there around 10:30 am there was only that sleeping dude and his dad in the pic above but it quickly got swamped with customers.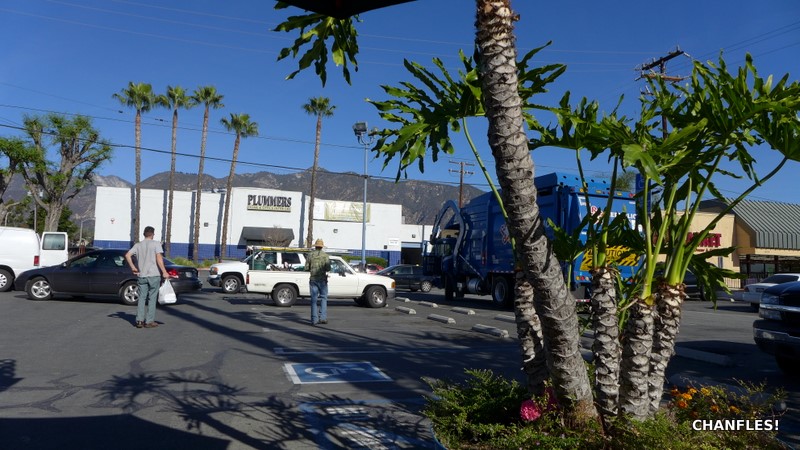 While I waited for my meal two garbage trucks parked nearby to get their meals, I spotted at least 2 gardening crews also picking up an early lunch. If a bunch of working class Mexicans eat here then it can't be that bad of a Mexican joint.
I like how they put in a little garden full of plants to act as a visual separation to the ugly asphalt parking lot.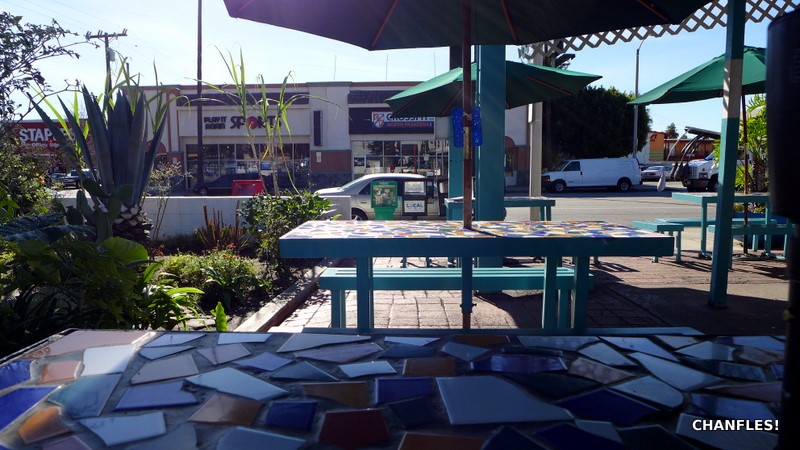 It's outdoor seating only, but they do make it look nice. The seating seems much nicer than you'd expect for this shack of fast and affordable Mexican food.
All those other positive aspects about this place kinda dip down into a low kneel once you actually have the dish. It's not bad, ok rice and beans, extra chips as decoration. The eggs are done well. The main problem is with all the pickled jalapeños they put on top as a replacement for a salsa ranchera. Note that they do give you a little tumbler of red sauce which I used and was fine but that doesn't take away from the fact that they loaded up the HR's with a bunch of pickled peppers. Doesn't really work.
Not a bad affordable breakfast dish to fill you up for the day. But this is not the subtle and refined dish you want from a proper plate of Huevos Rancheros!
El Super Burrito 626.792.4482
631 E Colorado Blvd
Pasadena, CA 91107