I've reviewed the Huevos Rancheros from Loteria Grill before, way back in 2008, mostly because I was so far from my usual areas of eating interest that I had to explore the local terrain. I wasn't planning to dabble in double dipping with this outlet of Jimmy Shaw's growing collection of eateries but I did find myself here on a day I was craving a savory meal that resonated with my palate. Awwfugit, I have my camera, I'll make it an adventure.
Does absence makes the heart grow fonder?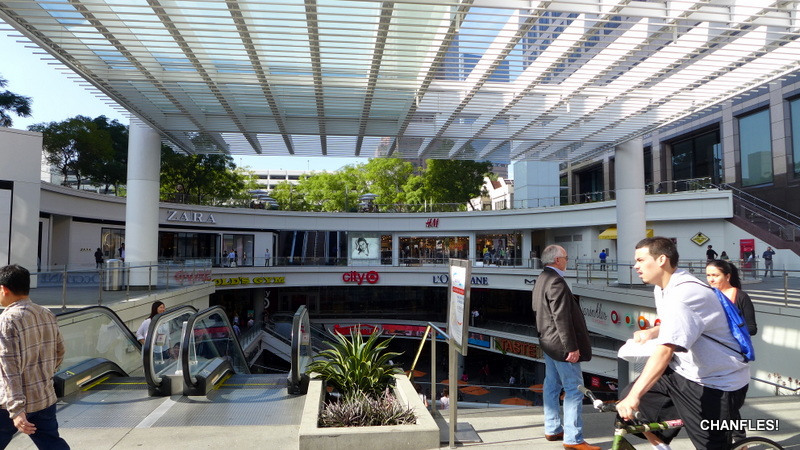 This place is not that easy to find, I would not recommend you consider it a destination unless you happen to be in downtown, somewhere near 7th and Figueroa. Then possibly you might want to make your way down this mall pit to get to the food court. This is the view from the sidewalk.
Down one level and now you can see the next level you need to find. Loteria Grill is right through those doors under the Taste sign in the middle of the picture.
12 bucks for HR's. Yeah, I know, it's fucking crazy. Downtown Los Angeles has quickly been morphing into a food desert for the working class but nobody wants to talk about that little detail that might make a bunch of liberals feel a tad guilty. The term "food desert" is reserved for the places poor people live, not where they work. Let them bring their home-made foil wrapped burritos! Or let them starve, who cares? This is downtown, where hefty recreational eating prices are the norm.
If you don't bring your lunch to work on any particular day, for whatever stupid reason ("I had to take my child to the doctor", "My car broke down yesterday and had to take the bus", "The landlord is finally fixing the plumbing")  you have to find something to eat somewhere, somehow. You'll be lucky to find a healthy veggie option, even more so a vegan one. Affordable fast food / junk food suddenly seems like a lifesaver.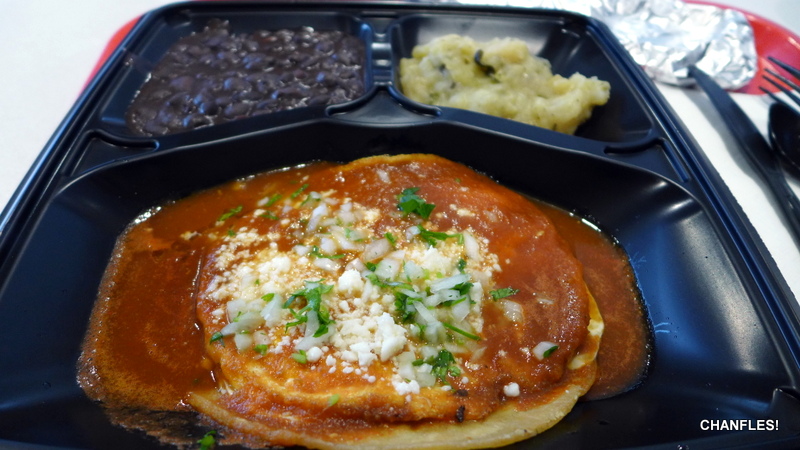 Despite the expense, I willingly paid the Disneyland style captive audience prices so I could curb my hunger. I was grateful to hand over all those dollars for a satisfying and savory vegetarian meal.
That being said, I have issues with this plate of HR's. Loteria Grill still advertises "crisp tortillas" as part of the huevos rancheros dish. I have yet to encounter a crisp tortilla in their HR's, it tends to be a thick tortilla softened in hot oil. Del Taco's $1 Crunchtada offers more crispy crunch than this plate. But since almost everyone else sucks at doing a proper crisp tortilla for HR's I'll just add them to that long list of expected disappointments.
As a human that needs nutrients, this dish was within the parameters of my dietary needs. In a different context, and with better choices to fill in for the variables, this coulda been turned into a decent dish. The black beans were alright. The mashed potatoes with poblano chiles were an odd but tasty side. The salsa ranchera was serviceable, well rounded, slightly piquant. The eggs were not overcooked. Shocker! But they only used one tortilla for two eggs. And these 12 dollar HR's come on a plastic plate that you eat with plastic cutlery, Ugh. Bunch o' cheapskates. This is too much money for an average plate of huevos rancheros.
As a prisoner of working downtown, I foresee paying good money, yet again, to eat these HR's that I would not otherwise revisit. The commisary knows that they have a stranglehold on the supply. We comply and enjoy whatever they offer.
Loteria Grill  213.438.0200
735 S. Figueroa Street
Los Angeles, CA 90017
www.loteriagrill.com/fig-at-7th