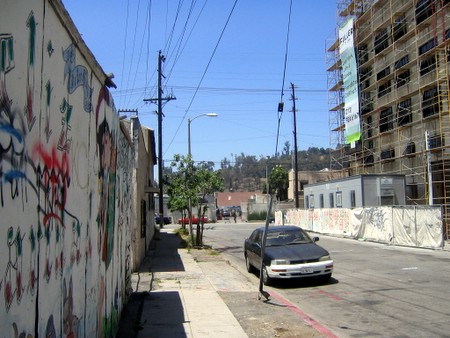 This is a picture of something missing. If you don't know the area you might drive by and not look twice, but if you've lived in Lincoln Heights for any length of time, you'll wonder about the sidewalk vendors that used to set up shop here. This small street leads to the St. Vincent thrift store, which gets heavy traffic from antique hunters and vintage clothing resellers. And for at least the past 10 years, a few men would set up their own shop on this small stretch of sidewalk, selling all kinds of castaway items like video tapes, kitchen wares, rusty wrenches, and old bikes just to try and catch some of that extra money that comes driving by on the weekends. But for the past few months they've not come back to take their usual spots, having been effectively chased away by harassment and ticketing. What an odd thing, after all these years, for that to suddenly happen. I wonder how the cops got wind to suddenly start enforcing one of those many random laws? Could it -by some freak coincidence- be related to that building on the right that is being altered into a box to house suburban suckers?
One of the commentators over at la.curbed.com has dubbed them the fulla' shit lofts since they pretend to be building some "affordable housing" units, yet you need to be making around 84K to qualify for those, doesn't sound affordable to me. Fulla' shit, that just rolls off the tongue. But back to our story.
The vendors used to be based out of this red garage, now they set up a massive spread over on Ave 26 and Humboldt. I talked to one of the sellers and he didn't know who called the cops, he just knew that he had to move. The new spot is not going to last either as there's another shitty loft right around the corner. Nothing kills the loft-shopping-buzz like seeing a bunch of poor folk in the neighborhood trying to scratch out a living!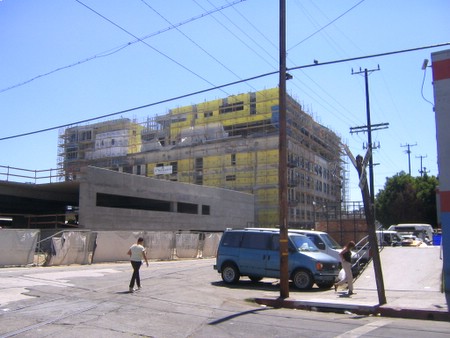 Massive parking structure being built for the cars to come. Lofties take the Metro? Doubt it.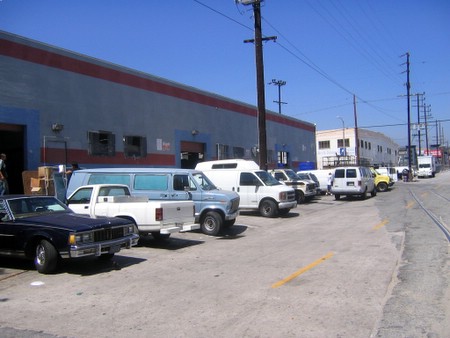 And on the other side of the building is another thrift store, only this one is the Goodwill. How long before the unsightly vans and trucks filled with trash becomes too much of a nuisance for the new residents and owners of this building? Not long. How telling that the artist rendition of this block just happens to forget all the thrift stores and junk collector activities. Must have been an oversight.
While some debate floor plans, sq. footage, or whether Lincoln Heights is cool enough to take over, I'm just watching the small things that I enjoy about my neighborhood disappear. The villainous tag team of money and access to power strikes again.
P.S. For another take on the gentrification experience, check out sicklyseason.com
Bonus! Bonus!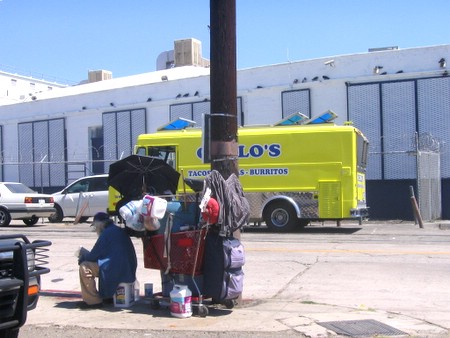 Across the street I snapped a picture of the guy that ran the office, he was looking over some religious book. No, not reading it, just looking at the book. I wonder if developers are planning some shopping cart lofts? He needs a place to start the next office.