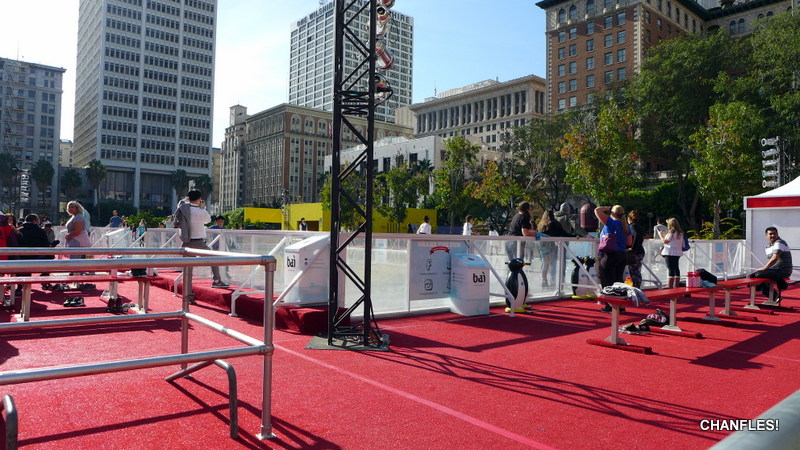 Los Angeles is full of shit.
It pretends to be something it ain't. It wants cred for doing supposedly cool things, when in fact it can't stand the actual practice of people doing cool things. Take for example this scene I happened upon, just walking thru Pershing Square to see the yearly, semi-dumb, Ice Skating rink that is geared towards tourist dollars. A private enterprise taking over half a public park. Oh, did I mention that this fake frozen lake in Downtown LA is already in place even though some of us have just started looking at our sweater situation? Doesn't it require energy to create fake cold in a place that is known for it's warmth? Ugh, I don't even want to think about this cuz it's a waste of my energy. But god damn is it super annoying to see a bunch of tourists skating around a fake lake …
…right after you see the rent-a-cop stopping city kids from using their skateboards in the same park. The kids were having fun, skating around 5th St and up onto Pershing Square, when they were scolded into compliance, aka NO SKATING! So they just stood around watching lil' tourist kids fall in a sanctioned ice zone.
Never mind the fact that this fake ass ice rink costs $16 to use, assuming you want your shoes back after the skating. Oh, and if you need to rent some ice skates cuz you left your fitted skate boots back in Lincoln Heights – like a fucking dunce – then that extra $4 tax for you is totally appropriate. How could an Angeleno forget their pair of Ice Skates at home???