I started following the #huevosrancheros hashtag on Instagram just to see what that even means these days. It's mostly what you would expect: Australians putting canned salsa on an egg-bean slop and thinking it's some sort of fucking dish; lot's of cheese; black beans stuffed into inappropriate places; sour cream squirters. Occasionally there's something that looks good. I recently paid attention to one cuz the woman in the photo looked like someone from a documentary I saw somewhere, about drug recovery, jail, and adopting your siblings to take them away from parental dangers. I tried finding the documentary but failed. It might not have been her, but I thought it was. Then I looked at her HR dish and it seemed legit.
A bit of internet sleuthing and it turned out the place was in Pasadena, I don't mind driving in that direction. It had replaced some other eatery at this spot and a year later, they only had about 15 Yelp reviews, even though they have an active Social Media presence. Hmm, what gives?
The menus seems pretty good, with a DF slant towards their fare. But check this out – "Fried eggs on crispy tortillas" OH SHIT!! Here we go! You order up front, pay, and take a seat. They don't even give you a number cuz they are sure they'll remember your ugly mug.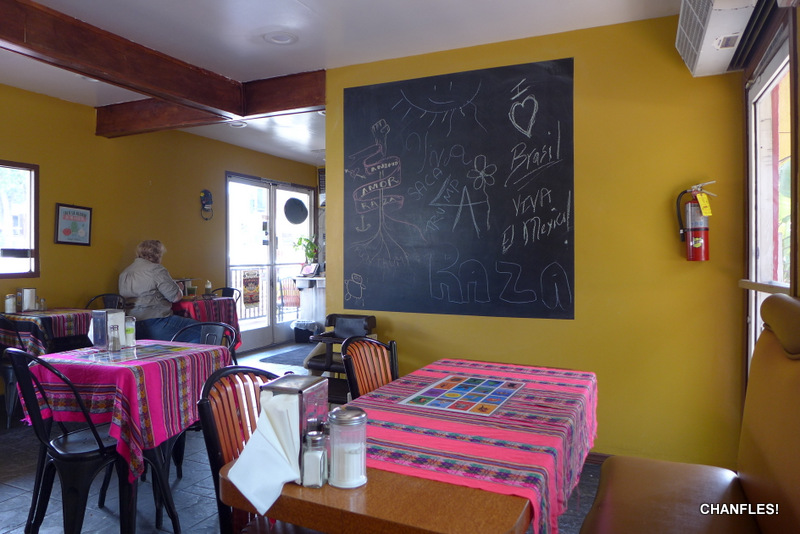 The place is cozy with a good amount of tables inside, and a few on their porch. But this being one of the hottest weeks of the year we opted for the struggling-but-maintaining AC inside. We went right after the first of the two quarter final World Cup matches of the day, Mexico had already been eliminated so whatever. Some West Covina types sat next to us and attempted to be current with the news with their talk about the "FIFA games" and it took great resolve to Let-It-Go and try to ignore them. We were eager to get back to see the other match.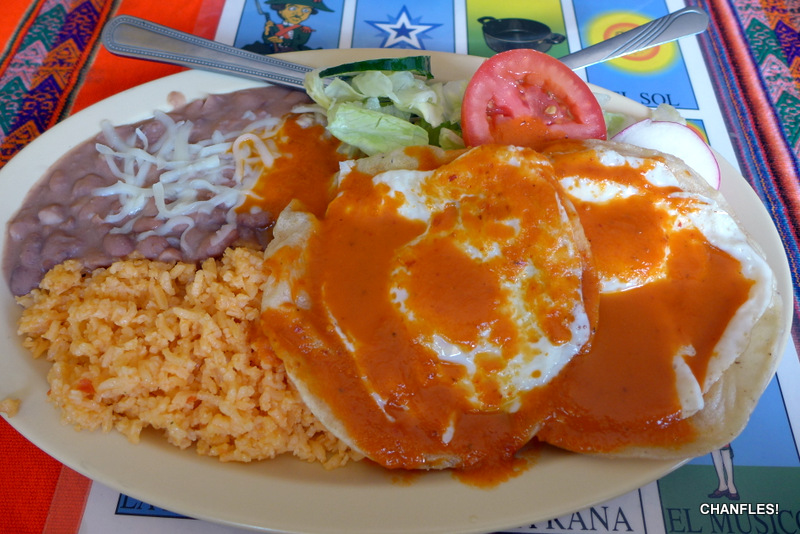 I'm glad I don't give much weight to Yelp and that I took a chance on this place. The HR's are exactly in line with my ideal of perfect Huevos Rancheros: crispy tortilla underneath, properly cooked eggs, and a tasty and slightly spicy tomato based salsa ranchera bathing the eggs. How hard can this be? No need for a 1/4 lb of cheese. Nobody wants those black beans layered into the dish, that's some foolish concept created by idiots that think more is more. Beans on the side, please! No need for Pico de Gallo or Avocado. Good HR's are basic and simple, do that simple thing well, bathe it in a good Ranchero sauce, y Sas! You are golden. This was a proper plate of HR's.
I'm looking forward to going back.
Mi Rinconcito Azteca  626.535.9595
687 N. Raymond Ave.
Pasadena, CA 91103