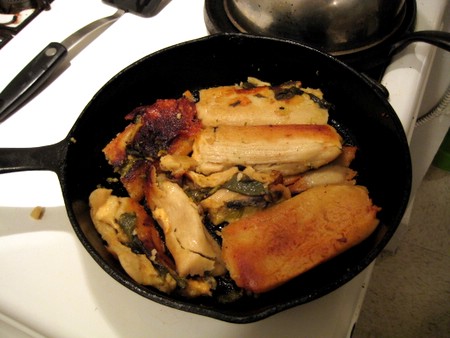 Maybe most of you already know this, but I'm going to repeat it for the few of you that might not have heard. If you're like most tamaleros, even after you've had your fill of freshly steamed holiday tamales you're still going to have a bunch of lil' masa presents leftover in plastic bags crowding out your fridge. And you'll get sick of eating them non-stop after the first few days, no matter how good they taste. But until that dreaded day when you decide to finally throw the rest out, after you realized the futility in trying to push your excess tamales on friends and family, or worse, down your own throat, there's a better way to heat them up. Sure you can steam them up again but that's more effort than its worth, as a fry up in just a small amount of corn oil will not only be faster, but tastier as well. In fact, I much prefer tamales that next morning just so I can fry them up, nothing beats that crispy exterior. You can see some of that crispiness in the picture above, along with some broken up made-by-an-amateur chunks of queso con rajas, that nonetheless still taste good. So yeah, that's my civic duty for the day.
Well, since you bothered to read this far, here's an mp3 for you, my favorite song from Latcho Drom, El Pajaro Negro by La Caita (Remedios Silva Pisa), it's a 12 MB download (right-click, save link as..) and an 8 minute long track with some powerful lyrics. Long enough for you to cook up your breakfast and maybe to give some thought to the plight of the much maligned Gitanos.
In case flamenco with tamales doesn't work for you, go ahead and try this little morsel by Los Originales de San Juan, a song about an Aguacatero. It might be a little old but it's still fun and one of my favorite tunes.