I should probably be using this little bit of online real estate space for grand themes: explorations on the meaningful life, detailed reasons for my refusal to vote, the necessity of killing god, you know, important things like that. But if you do even a cursory look at my past posts, I seem best suited to become an insignificant master of the mundane, and I acknowledge my calling. A satisfying wave of relief washes over when you accept the inevitability of your lackluster social standing. Come to terms with limited expectations, you'll wonder why you waited so long. So to further cement my role as purveyor of the banal, I give you pictures of random flyers!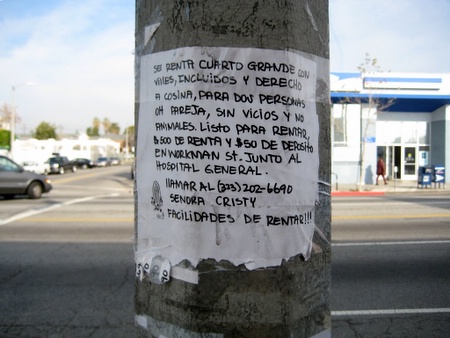 Ah yes, the utility pole, modern nexus of popular dialogue, and the resource you turn to when the eviction notice finally arrives. I took most of these pics during a two week span, to try and capture a sense of the light pole discourse going on, but it changes constantly. Even as a diligent pole reader I can barely keep up. But the housing options are always there, like the apartamento in "Lincon Heighs" (if you know Spanish, this spelling makes total sense) or the cuarto for the pareja "sin vicios", that's a common sight. Somehow I doubt an alchie or druggie is going to fess up about their vices.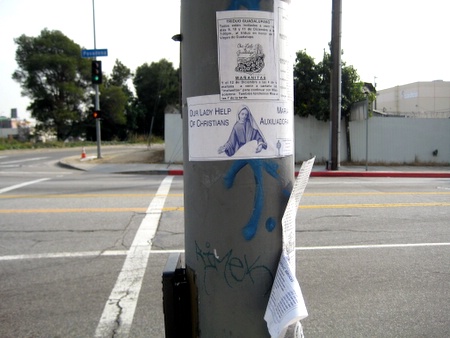 There's been a rash of Catholic themed fliers lately, maybe some young wheat paster told the parents how easy it was to spread a message.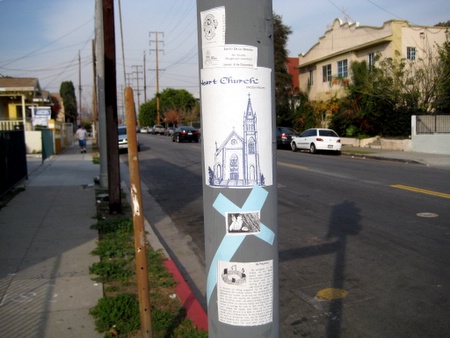 And they're intricate even, like this one with a cross, text, and images. Now that's a committed Catholic!
The walls aren't safe either.
I think the Catholic tagger is just clipping images from a newspaper or making xerox copies since the subject matter is just random.
Dresses for the baby God, sold here. Gotta love the highlighter action!
This is one of my favorites: besides the terrible use of space on a letter size sheet of paper and the poor choice of a highlighter instead of a proper marker, I just enjoy the very fact of advertising for a dentist via utility pole. I've blotted out some digits, just in case this dentist has yet to get all the proper licenses. For some, that's the only affordable way they can take care of a health concern. Welcome to the USA.
My other favorite type of flier; those I can barely read. Some people get upset when stuff isn't in English, it just makes me wish I knew more languages.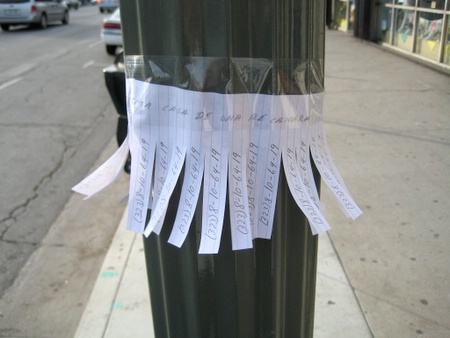 I love how the dangling phone numbers match with the look of those new light poles. If you squint, you'll also notice the Mexican style of phone number hyphenation.
This was a floor flier, but I sure do feel bad missing out on the tostada sale at recess. Warm and Delicious!
More religious postings, though someone has already tried to take them down.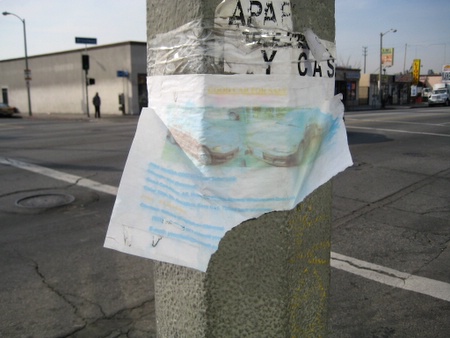 Never post ink jet printed ads before a rain storm. Besides, its probably cheaper just to do a xerox.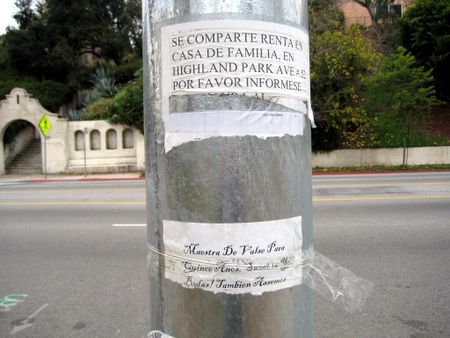 Over at Sycamore Grove Park, a flier for a Waltz instructor has found many interested parties.
Another example of bad use of space. Might as well draw a little picture of the house for rent.
Stencils and lined paper. Over to the corner there's a scribbling of "cristiano"; $500 for a room plus you have to be Christian? Plunder of the wallet and soul.
SeRen Ta cuaRTo PrE FERible Muje Muje Sola o PaREJa. My other favorite type of sign.
Info on learning English for the citizenship exam. Of note: Lo/a Esperamos could be condensed to Los Esperamos. "Learn English and Prepare for the Citizenship Exam" seems to miss the mark, since it's in English! A for effort though.
Casino Spotlight 29, leaving from LH.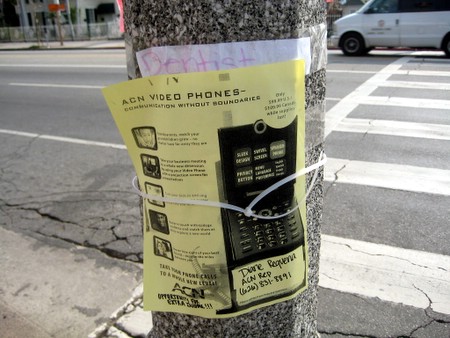 Okay, a cell phone ad isn't too rare, but one that is held up on a light pole with plastic straps? That's a first for me. They must be loaded.
And finally, an ad for a car. "Exelent Cond…Everithing Work." It's one of a kind alright.