I hinted I was going to do this last week but as you can see, I didn't. So here is a quick wrap-up of some HR's I've had recently that I wanted to mention but have neglected to do so, and before I forget all the details I better just sum it up. Please forgive my drive-by reviews. If you want to follow along, click ahead.
The first pic above is of the HR's at La Placita del DF, (1859 E 1st St 323.780.8232) a great place for pambazos and quesadillas in the DF style. I wrote about the spot for blogging.la but the site is currently being migrated to a new and better service so I'll put the link in afterwards. (Here it is.) I never get to try their HR's as they stop breakfast promptly at 11am, but since the normal stuff I get there is so superb, I made a special early trip to try 'em. They turned out adequate but I was disappointed as I expected something miraculous. Okay tomato sauce with bits of serrano chiles, and they did have a fried tortilla underneath. But I was expecting more.
Next up is Tila's in East Los, near Salazar park. (3909 Whittier Boulevard 323.264.5513) A Chanfles! reader sent me this recommendation via the contact me page, feel free to submit your own.
They make some great warm chips!
The beans are quite tasty but they are made with lard. The chiles on top were a nice touch and the sauce was spicy and tasty, but there was no tortilla underneath! Maybe it was an oversight? I plan on going back so I'll see what happens then. $4.95 for the plate.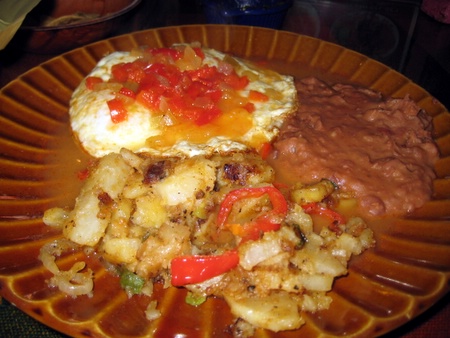 El Huarachito (3010 1/2 N. Broadway 323.223.5317) is easily my favorite Mexican restaurant and nothing ever disappoints, though the sauce on these HR's seemed almost as an afterthought. But with the side of delicious seasoned papas and tasty beans (manteca?) eating here is always a pleasure. They have so many other options that the HR's are rarely my first choice, and lately I've been going for their tortas de camaron.
These are just my opinions, nothing should stop you from trying these places out for yourselves. Of the three, I suggest you start with Tila's, and let me know what you think!