I admit it. It's true: as was correctly noted on some thread, I am not very objective. Take for example this next post, it's totally biased, subjective, and uncritical. Why? Because even though I haven't been back to Tio Pepe since I was a young mocoso, I went there today with the express purpose of liking my HR dish, no matter what. And as my life coach always tells me "take the time to develop and envision your dreams, then all your pendejo ideas will come true." I took a deep breath, got in the HR zone, and made the magic happen.
Chips and two salsas to chose from, am I on the right track or what? Though the green one was interesting and super tart, I preferred the red salsa. I used to come here quite regularly with my 'apa to eat burritos de chile colorado, but it's been a really long time since I've been back, luckily the layout is still the same. And the service is just as friendly and chatty as I remember it; the server was telling me that he thinks this hot weather is peculiar and how it might be the reason for his sore throat. I appreciated the attempt at conversation; after so many tables served you'd think he would be utterly jaded.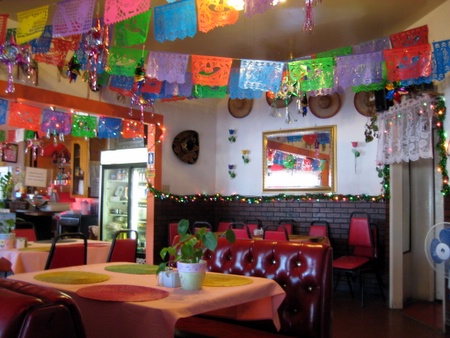 They did add some festive plastico picado to the place. It was lonely this Saturday afternoon, just a few regulars sitting at the counter. That's where we used to sit.
Y los huevos? Hardly any sauce on the eggs, unusually thick cuts of bell pepper, lardy beans, one egg was perfect while the other was over cooked, no crisp tortilla-just oil dipped. But like I told you, my mind was set and I loved it. If you happen to have fond childhood memories of this place, of the good people you used to share a meal with but have now moved on to other lives, than you might like it just as much as I did. An objective person will likely enjoy the meal as well, but a bit of subjectivity might enhance the experience. That's just what I think.
Tio Pepe 323.264.6453
3578 E. 8th St.
LA, CA 90023