They keep bringing on the hate towards our fine-feathered chicken friends, but my love for pollitos in the city will not be undone. Some white people think keeping chickens makes you a redneck, a signifier of trashiness and general backwardness. Little do they know that these "backward" habits are on the upswing as they make sense to those contemplating the issues related to our food sourcing and those not scared by what the nosy neighbors are gonna think about your own victory garden. For me, chickens and roosters are also great pets. Call me a paisa; cringe at yet another embarrassment to the Chicano people; laugh at my lack of sophistication, I can take it. I know I'll be laughing, a few years down the line, when some magazine or celebrity deems this good idea acceptable enough for you. I'm sure a bunch of viejitas are laughing at all the people just now getting into knitting.
Pic above: me in the garden with one of my many chickens. Click ahead for even more pics of my trashy upbringing!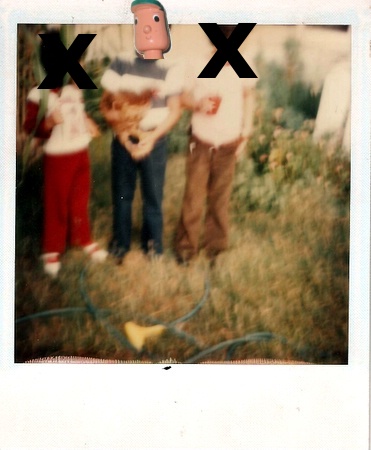 A bit blurry but this is the chicken I hatched myself in a light bulb incubator from Toy's R Us. I was there to see it hatch, thus the pollito was imprinted on me and would follow me wherever I went, even when I was just taking out the trash. And it would also ride along with me on the handlebars of my bike, so long as I didn't go too fast. One day I fed it too many butterflies, it got sick and died. I found it amongst the fully grown stalks of corn my dad was growing, just to the left of the frame of this pic. Yeah, It was a sad day.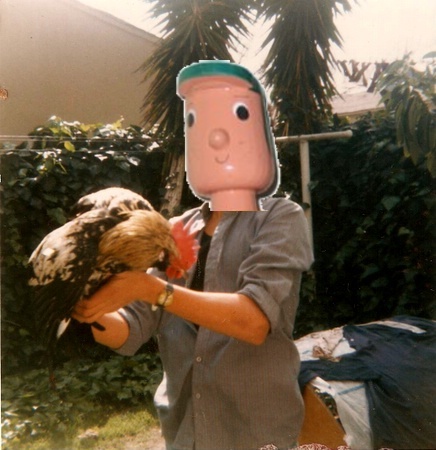 Same yard, many years later. Yup, all grown up and still into chickens. This was one feisty rooster but it knew when to behave. We had a few visits from Animal Control (one of those led to me eating my pets) but I still managed to have some pollitos around, and I'm looking forward to eventually getting some more. It sure beats picking up after a shitting dog.