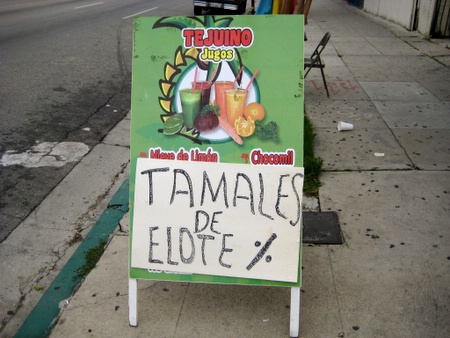 When it comes to tamales, the lowly and simple elote variety never seem to get the respect they deserve. You'd be hard pressed to find them at the usual locations where you get the big boys of the tamal scene; the puercos, polllos, and queso filled maiz tubes rule the roost. So when I saw this sign for just tamales de elote at the Raspados Nayarit I had to give them a try. Let's take a closer look…
..at a hot tamal de elote. Right away you can tell these are different as they have that wonderful earthy aroma of fresh cooked sweet corn. Unlike most tamales that are made from the dried, soaked, and milled maiz that is the staple of most mexican cooking, the tamal de elote is basically made by steaming fresh sweet corn and contains no filling. Some people think of these as dessert tamales but they're not, they're just different. There used to be a man at El Mercadito that used to sell some from a push cart by the front entrance (many years ago) and these reminded me of those delicious treats. At only $1.25 each I had one on the spot and took a few to go.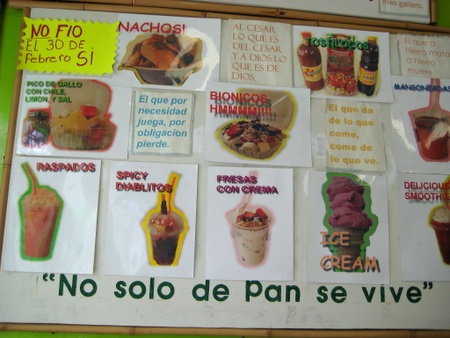 If you take a seat at the one table you can enjoy the varios dichos and the usual bunch of ways to tell you to pay up; "No Credit except on February 30th", "Man cannot live on bread alone." Tamales though, that may be another story. 😉
PS. They only have the tamal de elote available on weekends.
Raspados Nayarit
3426 N. Broadway Lincoln Heights, 90031